Easy Beef Stroganoff - The absolute best mouthwatering stroganoff recipe!  This traditional dinner is so quick with tender beef and the best sauce!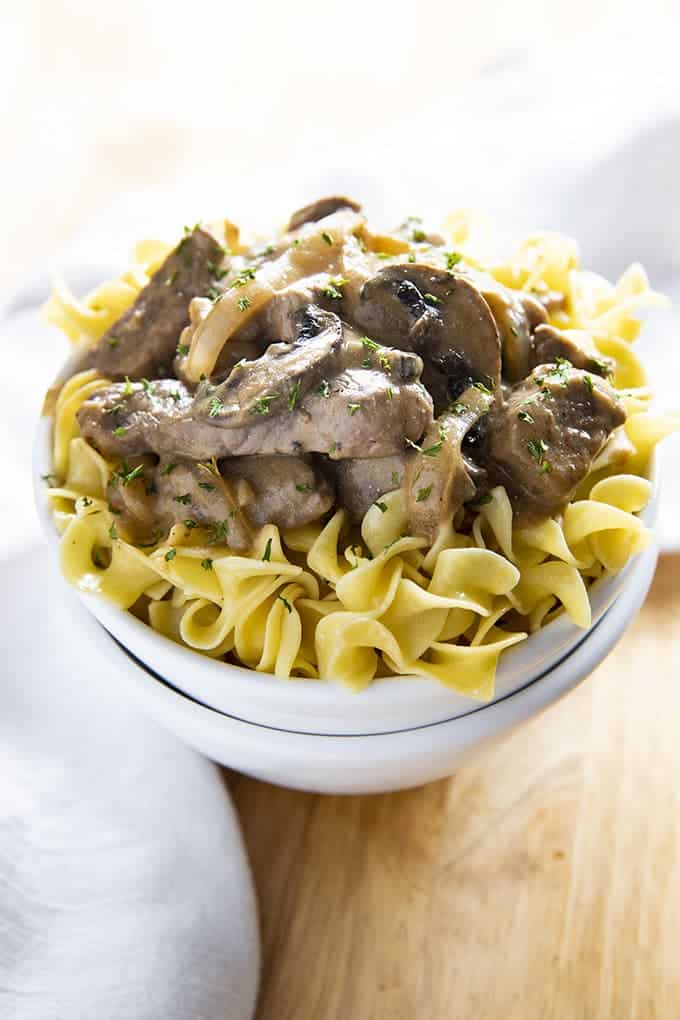 Beef Stroganoff:
While beef stroganoff is traditionally a recipe of Russian origin, there are a lot different ways that it is prepared around the world today.  The traditional version that we all are accustomed to in the United States combines thin strips of steak that are seared to perfection with mushrooms, onions, and a sour cream gravy!  Beef stroganoff is a dinner that has been around for ages but never gets old.  Everyone in my family adores this classic dinner recipe full of tender beef in a rich and creamy brown gravy.  This comfort food is so perfect for the upcoming fall and winter months!  If you're looking for cozy vegetarian version, try out our mushroom stroganoff too!  Note that I first posted this recipe in August of 2018, after a few questions from readers, I decided to update the post with more info!
What is Stroganoff Sauce Made of?
Stroganoff sauce is quite simply made of an easy butter/flour roux.  This is flavored with softened mushrooms, onions, garlic as well as seasonings.  Then, you finish the sauce with beef broth and sour cream!
What is the Best Meat for Beef Stroganoff?
This was the biggest question I was asked about after posting this recipe!  So, I've made some updates here to chat about the different types of beef you can use, and the difference between them.
The first cut is round steak, and it's definitely the "classic" meat used in stroganoff.  You can see that it isn't a super fatty cut of meat.  It has plenty of flavor, and it will have a little bit more "chew" in this recipe because it takes longer to become tender.  It's a great option if you're looking for something budget friendly.
The second cut is a little more pricey, but only by about 2-3 dollars per pound.  This is a sirloin steak, and it's the second most tender option for beef stroganoff as it becomes tender pretty quickly.  Another note, color is not always a good way to determine freshness of meat!  This steak in my photo was just 2 days old from the butcher, and was plenty suitable for eating!
Third is a ribeye steak.  This is going to be the most expensive cut, but will also give you the most tender meat here.  It's worth it for sure with the nice marbling throughout the meat if you want a really melt in your mouth stroganoff.
How to Make Beef Stroganoff:
Once you have pan nice and hot you will sear your sliced steak just until browned. Work quickly on this step, you want a nice sear on the meat, but it shouldn't be cooked completely through yet.  I find it fastest to use tongs to turn the meat fast.
Next, you will remove the steak from the skillet and cook your vegetables until tender.  This step will take about 5-6 minutes, since the dish doesn't simmer for long you want to make sure the mushrooms and onions get nice and soft here.  Then, you will sprinkle flour over the vegetables and allow it to cook for one minute.  This will be what thickens your sauce.
Stir in your beef broth slowly until your sauce is nice and smooth.  Then, you will add in your seasonings, the sour cream, and add in your reserved beef along with any juices that have accumulated on the plate.
At this point, turn your heat to low and let the beef simmer for about 10 minutes. The gravy will continue to thicken, and the meat will finish cooking all the way through.
What Goes with Beef Stroganoff?
Typically it's served up with a nice starch to soak up all of that delicious gravy!  Mashed potatoes, egg noodles, rice, or even toasty French bread are great options.  We really love these Cream Cheese Mashed Potatoes with it for a change instead of noodles.  If you're looking for a veggie side I love these Roasted Green Beans and our Honey Roasted Carrots.
Enjoy!
~Nichole
Check out our video for how to make Beef Stroganoff below and follow us on FACEBOOK where we share the tastiest recipe videos every day!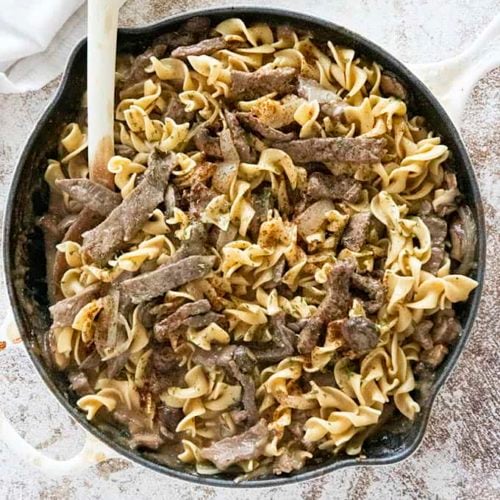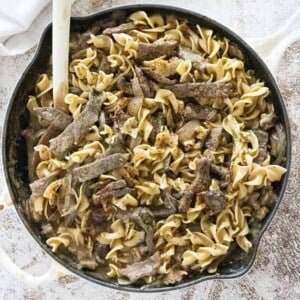 Easy Homemade Beef Stroganoff
Easy Beef Stroganoff - The absolute best mouthwatering stroganoff recipe!  This traditional dinner is so quick with tender beef and the best sauce!
Print
Pin
Rate
Instructions
Slice the beef across the grain into thin strips. Salt and pepper the beef to taste.

Melt 2 Tablespoons of the butter in a large skillet over medium-high heat.

Sear the beef strips until browned on all sides. Remove from pan to a plate and set aside.

Melt the remaining 2 Tablespoons of butter in the same skillet.

Cook the mushrooms, onions, and garlic until tender.

Sprinkle the flour over the cooked vegetables in the skillet and stir for one minute.

Turn the heat to low and whisk in the beef broth slowly.

Allow the broth mixture to come to a simmer and thicken.

Once the mixture has thickened, stir in the Worcestershire sauce, dijon mustard, paprika, and sour cream.

Stir in the reserved strips of beef and simmer over low heat for 10 minutes.

Serve over hot cooked egg noodles.
Notes
NOTE ON MEAT:  For this recipe you can use round steak, sirloin steak, or ribeye.  Round steak will be tender, sirloin is second most tender, and ribeye is the most tender.  
NOTE TO STORE FOR LATER:  The recipe, made as directed is good in the fridge for 3-4 days.  To freeze, make as directed leaving out the noodles, then allow to cool completely.  Store in a freezer safe bag or container for up to 3 months.  Thaw in the refrigerator overnight, then re-heat on medium-low until warmed through.
NOTE ON SERVING:  The egg noodles are most traditional, but optional.  This is good served over mashed potatoes, rice, or with bread and your favorite veggies.
NOTE that you can use low fat or fat free sour cream if necessary.  Keep in mind that full fat is best, I've found that it holds up better without curdling in the gravy.
Nutrition
Serving:
1.5
Cups
|
Sodium:
648
mg
|
Calcium:
75
mg
|
Vitamin C:
2.8
mg
|
Vitamin A:
525
IU
|
Sugar:
2
g
|
Fiber:
1
g
|
Potassium:
794
mg
|
Cholesterol:
138
mg
|
Calories:
427
kcal
|
Saturated Fat:
9
g
|
Fat:
20
g
|
Protein:
40
g
|
Carbohydrates:
20
g
|
Iron:
4.3
mg