Best Grilled Pizza - learn how to make our easy grilled pizza at home with step by step photos using our 30 minute homemade miracle pizza dough!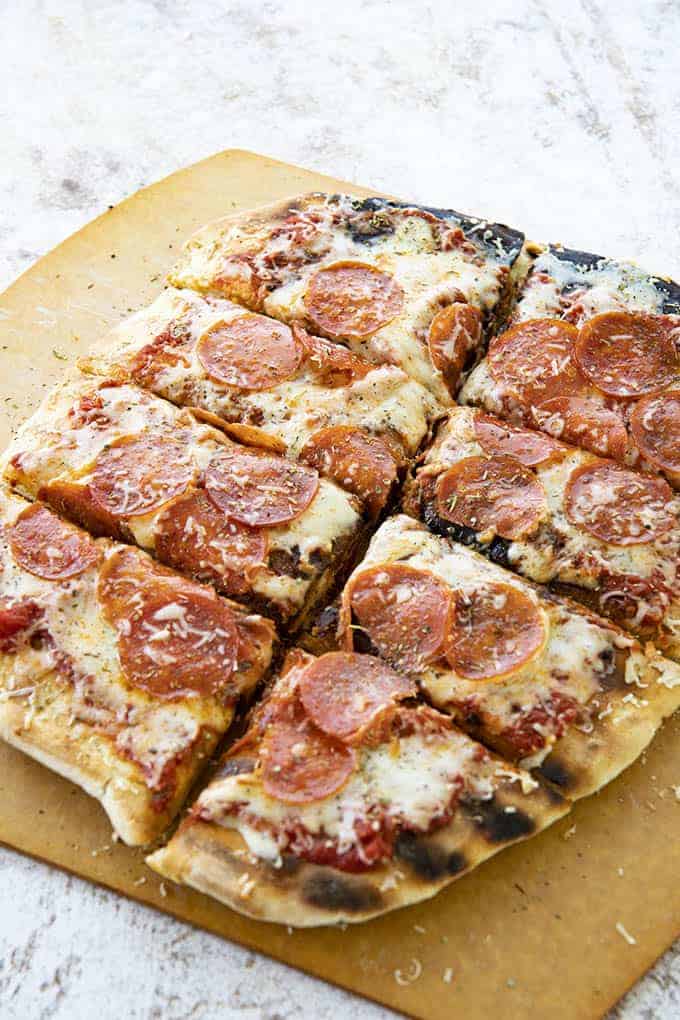 YES, I'm BACK with more pizza!!  Just a few days ago I gave a little facelift (better process shots to walk ya through) to one of our reader favorites, our Miracle Pizza Dough Recipe!  Since we have always baked that dough I was super curious how it would turn out on the grill, and it came out just how I imagined!  I love that slightly charred crust and grilled flavor.  This is a thicker dough so it still comes out somewhat chewy but the crust is crisp!  So good, and I have done some process shots so you can see our steps for grilling, as well as some tips if you haven't grilled a pizza before!
How to Make Grilled Pizza:
I think what I love most about this recipe is that there's no special equipment required.  You can use a gas or charcoal grill, and should have everything that you need at home!  The steps below are going to be how to grill the pizza, if you are looking for the step by step for the dough itself, click on over to that post, I linked to it in red above.
So, we are starting from the point that you have your dough mixed up.  Go ahead and pre-heat your grill.  It should be on the highest heat possible or around 500 degrees.  Once the grill is nice and hot, soak a folded paper towel in olive oil and use tongs to hold the paper towel and grease the grill grates well.  You can also use a grill brush for this if you prefer.
Now, place your rolled out dough onto a well floured pizza peel if you have one.  If you don't have a pizza peel, that's fine, just place it on a large flat cookie sheet, this makes it easier to transport outside.
Carefully pick your dough up off of your pizza peel or pan, gently place it on the grill.  You can also try simply sliding the dough off of the peel or pan first if that's easier for you.  You will now go ahead and close the grill, the pizza will take 3-5 minutes on the first side.  Take a peek after 2 minutes, and then check every minute after that.  Keep an eye on it, and lift it gently with tongs to check underneath, it should be a nice dark golden brown.
Once golden, you are ready to flip!  Use your pizza peel (or cookie sheet) carefully to slide the pizza off the grill.  Keep in mind your grill will be SUPER hot, you may want to wear oven mitts, especially if using a metal pan!
Now, flip your pizza over onto a clean pan so that the grilled side is up.  Work quickly and spread on your sauce and add all of your toppings as desired.  For this pizza we used our homemade Pizza Sauce Recipe, it's also great with Homemade Pesto, and of course some cheesy and indulgent Alfredo Sauce!
Once you have your toppings on the grilled side of the pizza, carefully carry it back outside and place the raw side down on to the hot grill.  You may need a spatula to help you with this.  Now, cover the grill and cook for just about 2-3 minutes until your cheese is nice and melted and the crust is dark golden all the way around.
Toppings for Grilled Pizza:
I linked above to some of our favorite sauces, you really can't go wrong with any of them!  Feel free to change it up to your families preferences.  I personally have been kind of obsessed with the idea of making our Cherry Tomato Salad to put on top of this pizza, with plenty of melty mozzarella of course!  This is a thicker dough, so it can handle toppings pretty well.  If you really load it up with lots of meats and cheeses, I'd use two spatulas to get it off the grill so it doesn't break.  This is also great with a little garlic butter added on the crust at the end!  Whatever you do, just make sure you have your toppings cooked, out, ready to go, because this pizza cooks fast!
Enjoy!
~Nichole
Best Grilled Pizza
Best Grilled Pizza - learn how to make our easy grilled pizza at home with step by step photos using our 30 minute homemade miracle pizza dough!
Print
Pin
Rate
Ingredients
1

Recipe 30 Minute Pizza Dough

or 1 pound store bought pizza dough

2

Tablespoons

Olive Oil

½

Cup

Pizza Sauce of Choice

1-2

Cups

Shredded Cheese

Pizza Toppings of Choice
Instructions
Prepare 30 minute pizza dough as directed.

If using store bought dough, make sure to thaw completely if frozen.

Pour the olive oil into a bowl and set aside.

Preheat grill to the highest heat setting**. Once the grill is hot, use a brush or a paper towel to grease the grill grates generously.

Prepare all of your toppings and have them ready to top the pizza.

Roll or pat out your dough into desired shape on a lightly floured surface. Lightly flour a pizza peel, or a flat cookie sheet.

Place the dough on the peel or cookie sheet. Slide the dough (or lift and place if necessarcarefully onto the hot grill.

Close the lid and allow the pizza to cook for 3-5 minutes, until golden brown.

Remove the dough from the grill using your pizza peel or flat cookie sheet. Flip the dough over with a spatula so that the grilled side is facing up.

Cover the pizza with about ½ cup of sauce, cheese, and toppings as desired.

Reduce the grill heat to medium and slide the pizza gently back on to the grill. Note: if using a charcoal grill instead of gas, close the vents all the way.

Place the lid back on the grill and cook for 2-5 more minutes until the cheese is bubbly and the bottom of the pizza is browned.

Remove the pizza to a cutting board using a pizza peel or a spatula.

Allow the pizza to rest for 2-3 minutes, then slice and serve.
Nutrition
Serving:
1
Slice
|
Calories:
200
kcal