Best Cornbread Recipe is a super easy to make cornbread that is tender, buttery, and moist.  Serve it with butter, honey, and syrup or your favorite soups and stews!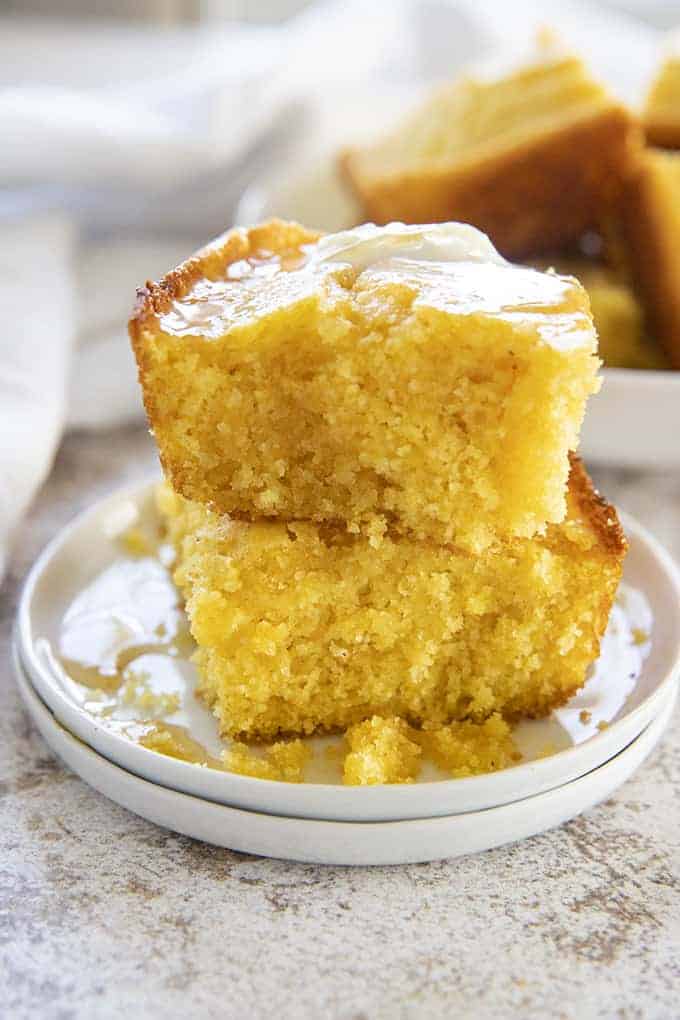 Can you believe this is one of the first recipes to ever grace my blog way back in 2016?  It deserved a little love and an update, because if you haven't tried this you're about to be in LOVE!  I know right now a lot of you have some extra time on your hands, but even if you don't this cornbread is really fast/simple to make any night of the week. It's especially handy if you suddenly find yourself cooking more from scratch! This cornbread tastes slightly sweet, but not overly so.  I don't like my cornbread super sweet like cake and you can always slather it in honey and syrup to get that sweet taste! This recipe totally blows the boxed mix out of the water and is great served up with a big bowl of White Chicken Chili or a good, hearty Classic Beef Stew!
Making Cornbread From Scratch:
You can follow along with the photo collage below if you need.  It will just give you a feel for what your batter should look like during the process!  First things first, which is self explanatory, so no photo....you'll want to preheat your oven and then add two Tablespoons of butter to either a large cast iron skillet or a 9x9 inch baking dish, place it in the oven and let it melt to coat the pan.
Now, grab two bowls!  One will be to mix together all of your dry ingredients.  You don't need to spend a lot of time on this at all.  Just whisk for about 30-60 seconds until everything is combined.
Whisk your eggs next until they're frothy.  This will take 2-3 minutes but you really want to make sure that they are well mixed and that you don't have any streaks of bright yellow or egg white remaining.
Now, we use milk and buttermilk for this recipe and those are what you will want to mix in next.  I'll leave a tip below for you, if you need to make buttermilk because you don't have any.
Now we simply combine the wet/dry ingredients, along with one whole stick of melted butter.  Don't over mix, that's important.  You don't want to see any dry bits throughout your batter, but don't beat it hard.  It should just be moist, and it's ok if you have some lumps!
Note on Buttermilk:
You do need buttermilk for this recipe to turn out best!  If you don't have any, it's really simple to make.  Just combine 1 Cup of milk (whole, or 2% preferably) and 1 Tablespoon of either fresh lemon juice or white vinegar.  Allow the mixture to sit for 10 minutes and it will thicken, then you can use it in place of buttermilk.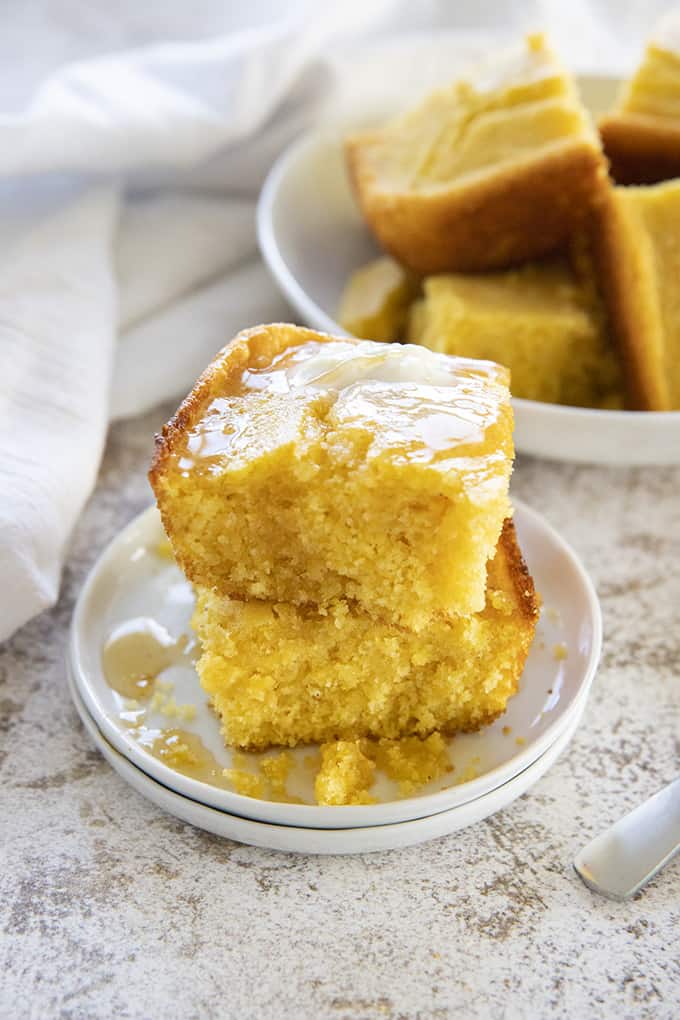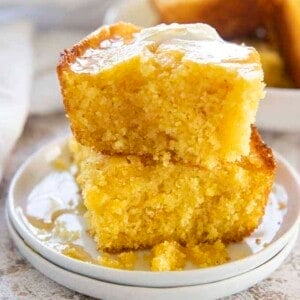 Best Cornbread Recipe
Best Cornbread Recipe is a super easy to make cornbread that is tender, buttery, and moist.  Serve it with butter, honey, and syrup or your favorite soups and stews!
Print
Pin
Rate
Instructions
Arrange oven rack in the middle of the oven. Preheat oven to 450 degrees.

Place 2 Tablespoons of butter in the bottom of a 9x9 inch baking pan or large cast iron skillet and place in the oven to melt. Once melted, remove from the oven and swirl the butter around to coat.

In a large bowl, whisk together the cornmeal, flour, sugar, baking powder, baking soda, and salt.

In a medium bowl, whisk the eggs until frothy. Whisk in the milk and buttermilk until combined.

Pour the egg mixture into the flour mixture. Mix just until dry pieces are incorporated. Do not overmix.

Fold in the remaining stick of melted butter. Allow mixture to sit for 5 minutes.

Bake 15-20 minutes, until knife inserted into center comes out clean.

Serve warm cornbread with butter, honey, and syrup as desired.
Notes
NOTE:  This recipe makes 9 squares of cornbread.  You can double the recipe and use a 9x9 inch baking pan.  To freeze, allow the cornbread to cool completely.  Then, remove the bread from the pan and wrap tightly in plastic wrap and a layer of foil.  Freeze for up to 3 months, thaw in the refrigerator or on the counter overnight before serving.  
Nutrition
Serving:
1
Slice
|
Calories:
105
kcal