Best Carne Asada is made of flank or skirt steak soaked in a flavor packed marinade and grilled to juicy perfection!  This recipe is so easy, and perfectly tender every time!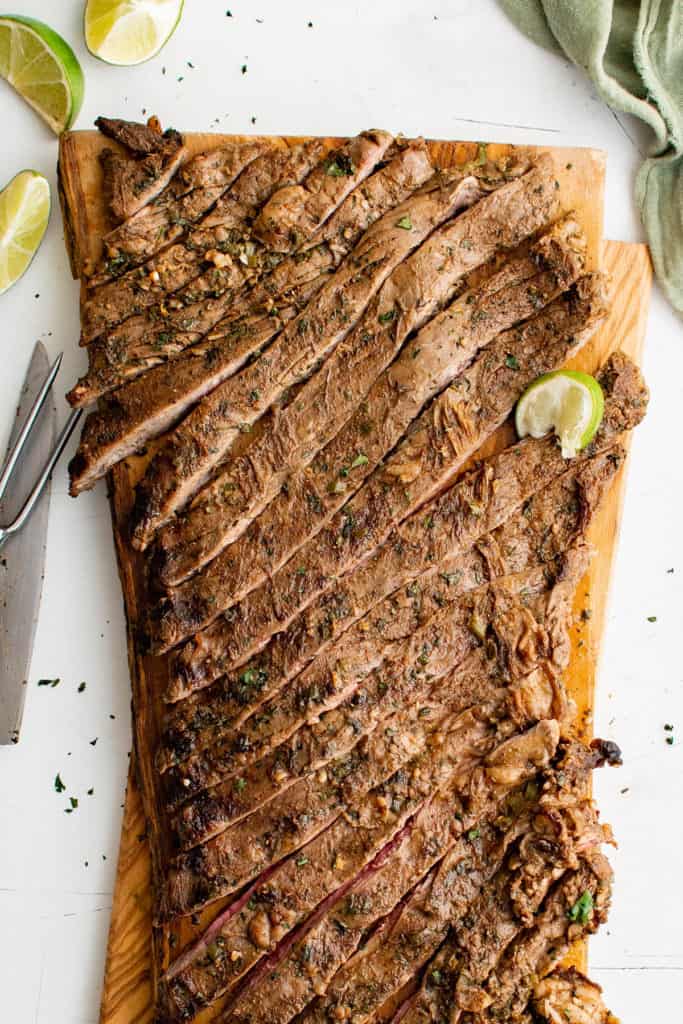 What Meat is Carne Asada:
Carne asada translates out to mean "grilled meat" no mincing of words here, that's exactly what it is and it's so easy to make at home!  You will want to use either a flank steak or skirt steak for this recipe.  I've used both, and the meat comes out great either way, although skirt steak is a bit more tender.  This steak is really a regular in our house during the summer, it's perfect because you can serve it however you want!  We do also really love Grilled Chicken Thighs, but honestly I'd rather have steak any day!  The one thing to know for carne asada is you don't want to skip the marinade!  It gives the meat the flavor you are looking for and also helps to tenderize it.  Our marinade uses mostly pantry ingredients like olive oil, lime juice, Worcestershire sauce, garlic, cilantro, a few seasonings, and a jalapeno or just some hot sauce for heat.  A great pairing with this meat is our Pineapple Salsa, it give the best of both worlds with sweet and savory!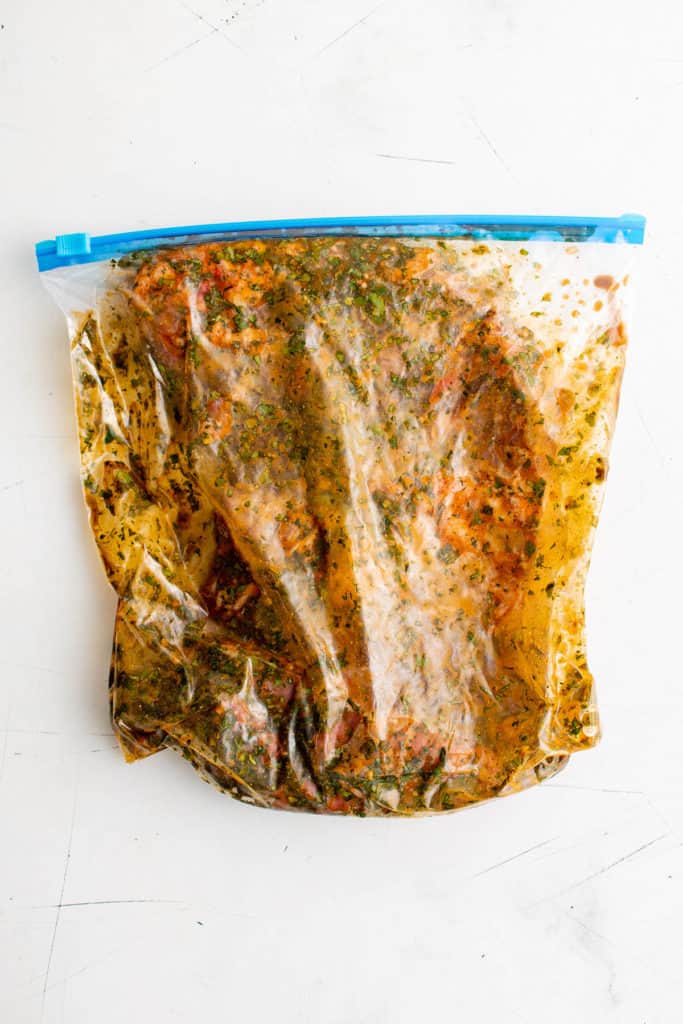 Flank Steak or Skirt Steak:
Either cut of steak works perfectly for this recipe!  You'll find that skirt steak is more marbled and does come out a bit more flavorful and tender.  Whichever steak you choose, keep in mind that they are both best cooked rare.  If you over cook either one of these cuts, they will be a little on the tough side.  Our marinade also helps to keep this meat extra juicy and tender.  One of the most important things to remember (which I mention a couple of times in this post) is to let your meat sit out at room temp 30 minutes before cooking!  Don't skip this step, it leads to a more tender steak.  Another important tip is to make sure you slice your cooked steak across (against) the grain, not with the grain.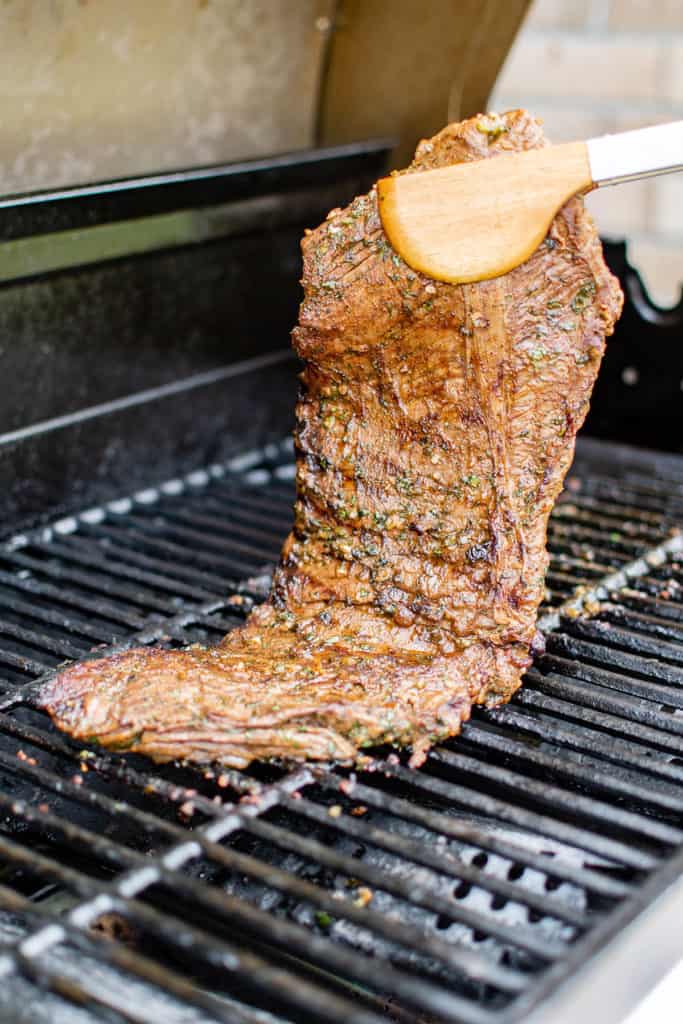 Carne Asada Recipe Notes:
As I said above, you can use flank or skirt steak for this recipe.  Either one tastes great!  You will find that skirt steak is a bit more flavorful, because it has more fat marbling than the flank.
As you can see from my photos we cooked our steak to Medium, because that's our preference.  You can shave 2-3 minutes off of the cook time for a medium rare or rare steak.
This recipe calls for 1 ½ to 2 pounds of steak.  If you use more than that, double the marinade for the best flavor.  Depending on what your store has, you might need to purchase two steaks to get two pounds total.
Make sure to use the most fresh ingredients for your marinade!  Use fresh cilantro and not dried, and definitely use fresh lime juice and not the stuff that comes in a bottle.
You'll want to marinate the meat for at least four hours.  You can also leave the meat in the marinade for up to 12 hours at the most.
A very IMPORTANT step is to make sure to remove your meat from the refrigerator for 30 minutes before grilling.  This allows the muscle to relax, and the meat to come to room temp.  If you skip this step, your steak may not be tender at all.
This dish is most commonly served in tortillas as tacos or burritos, or on chips as nachos.  I recommend serving it with a side of easy homemade Spanish Rice, and of course Pico De Gallo, and even maybe Black Bean Salsa!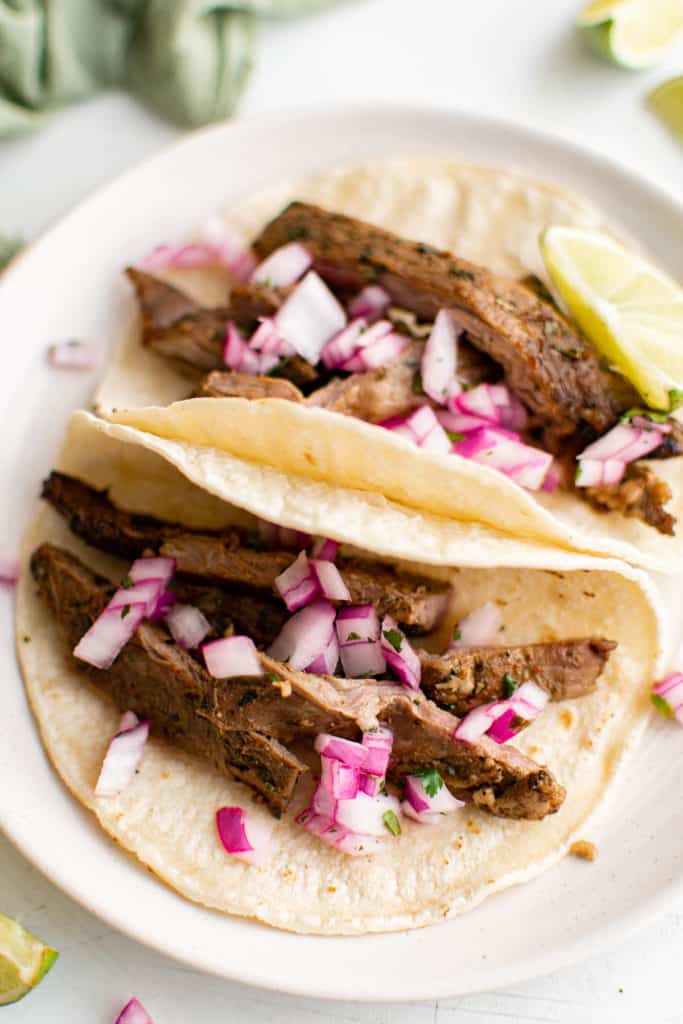 Enjoy!
~Nichole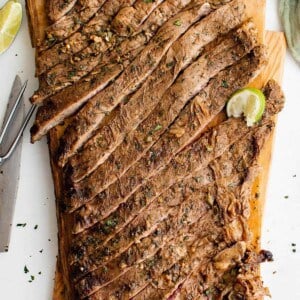 Best Carne Asada
Best Carne Asada is made of flank or skirt steak soaked in a flavor packed marinade and grilled to juicy perfection!  This recipe is so easy, and perfectly tender every time!
Print
Pin
Rate
Instructions
In a medium bowl whisk together the olive oil, cilantro, lime juice, worcestershire sauce, garlic, jalapeno, salt, chili powder, cumin, and pepper to combine.

Add the steak to a large zip top plastic bag, or a long shallow dish and cover with the marinade, turning a few times to coat.

Refrigerate for at least 4 hours, up to overnight.

Remove the steak from the bag to a large plate and discard the marinade. Allow the steak to sit at room temperature for 30 minutes before grilling.

Preheat your grill to high heat. Cook the steak for 5-8 minutes per side, only turning once until seared and cooked to your desired doneness.

Place the steak on a plate and tent with foil. Allow the steak to rest for 10 minutes. Remove the foil and slice the steak against the grain into thin strips.

Serve immediately with your favorite tortillas and toppings.
Notes
NOTE ON STEAK TEMPERATURE:  You should cook your steak for about 4-5 minutes per side for rare to medium rare.  Cook longer for a medium to well done steak.  COOK STEAK TO RARE FOR BEST/MOST TENDER RESULTS.
Nutrition
Serving:
3
Ounces
|
Sodium:
353
mg
|
Calcium:
11
mg
|
Vitamin C:
2
mg
|
Vitamin A:
99
IU
|
Sugar:
1
g
|
Fiber:
1
g
|
Potassium:
62
mg
|
Calories:
90
kcal
|
Saturated Fat:
1
g
|
Fat:
9
g
|
Protein:
1
g
|
Carbohydrates:
2
g
|
Iron:
1
mg