Amazing Lasagna Pizza Recipe is so easy to make from scratch with an easy 30 minute dough!  Your family will love all of the lasagna flavors in this fun pizza!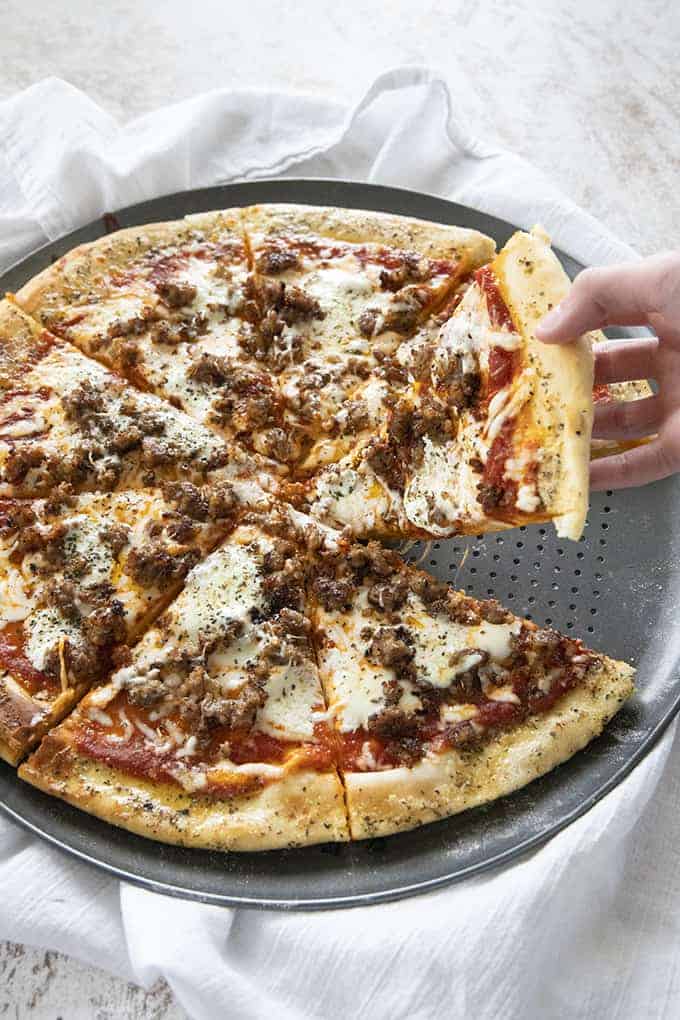 Amazing Lasagna Pizza Recipe:
Since we're all at home, doing a lot more cooking from scratch right now it seemed like the perfect time to share a new pizza recipe!  Our Miracle Pizza Dough Recipe is one of our most popular and is perfect here.  You can also use our Thin Crust Pizza Dough if that's your preference.  The toppings are what really sets this one apart anyway!  This amazing lasagna pizza recipe was a huge hit with my family, especially the kids and of course they can help you make this, including the dough, it's foolproof.
Speaking of the dough!  If you click the links above it will take you directly to the actual pizza dough recipes that you need for this pizza.  Those posts are full of info and have process shots to walk you through.  A little hand holding if you will, in case you haven't made pizza dough before, or just like to have photos as a reference.  Whichever you choose, they're both super easy, no rising and waiting involved.  You can also make extra and freeze for later!  So, be sure to check those out.  If you have a ball of frozen pizza dough from your grocery store, that works just fine for this recipe too!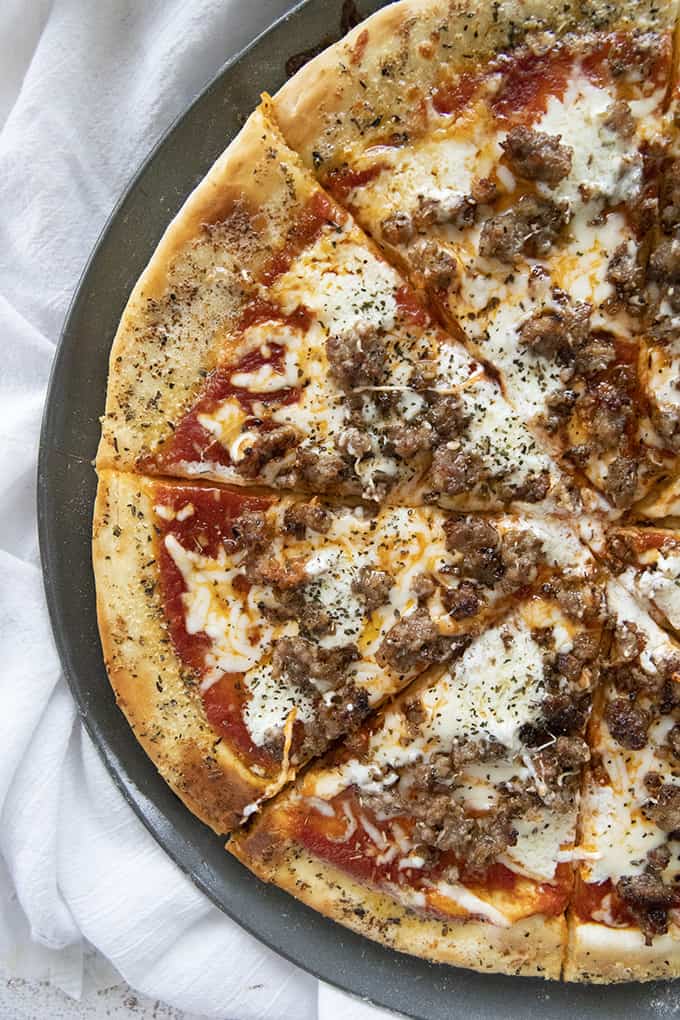 Let's talk about what's on this pizza and substitutes:
I used ground Italian Sausage, and it's probably the best if you have any on hand.  Otherwise, you can use ground beef or even ground pork sausage.  Sweet, mild, or hot sausage is fine.
For the cheeses, I used shredded mozzarella, shredded parmesan, and dollops of mascarpone because that's what I had on hand.  I know not everyone keeps mascarpone around so feel free to sub it out with dollops of cream cheese, ricotta, or even cottage cheese!
I do have a recipe for homemade Pizza Sauce that's great, it makes a decent sized batch and you can freeze if you want to make extra.  Otherwise, just use your fave marinara or pizza sauce from the store.
I did use all dried herbs because that's what I always have in my pantry.  Dried oregano and basil sprinkled over the garlic butter crust and the entire pizza really make this heavenly.  You can always use fresh herbs if you have some!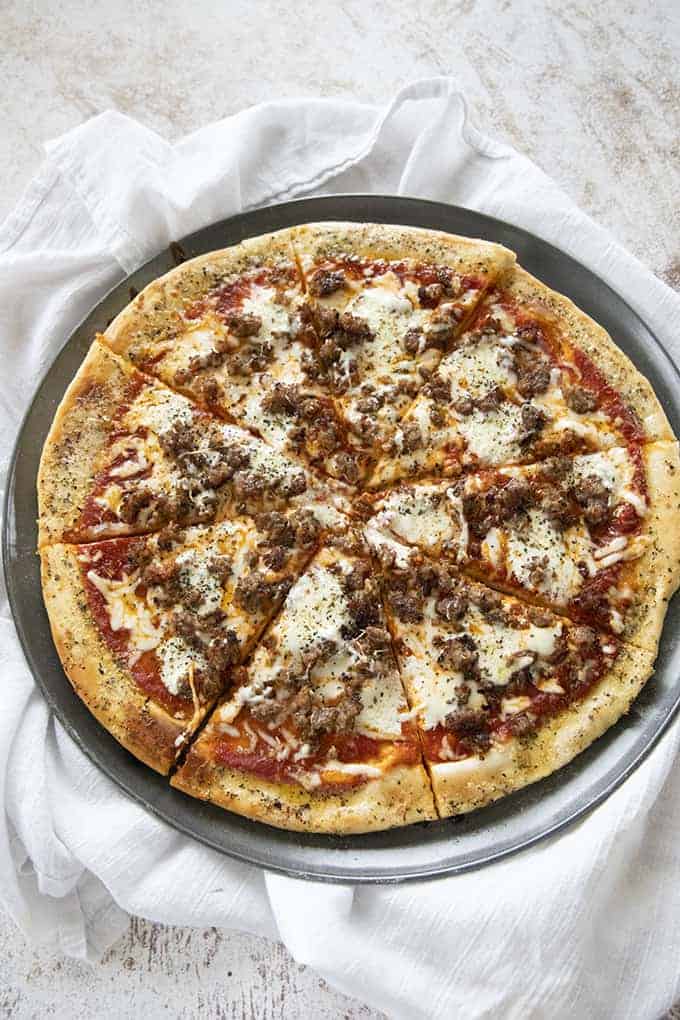 Enjoy!
~Nichole
Amazing Lasagna Pizza
Amazing Lasagna Pizza Recipe is so easy to make from scratch with an easy 30 minute dough!  Your family will love all of the lasagna flavors in this fun pizza!
Instructions
Preheat the oven to 450 degrees. Click the link above to prepare the pizza dough as directed.

If using store bought dough, simply roll out as directed onto your pizza pan.

Cook the sausage, crumbling as you go along with the garlic, oregano, and basil until no longer pink. Drain any grease and set aside.

Top the pizza evenly with the sauce, then dollop on the mascarpone, ricotta, cottage, or cream cheese depending on preference. Top evenly with shredded mozzarella, parmesan, and cooked sausage.

Bake in preheated oven for 10 minutes until cheese is melted.
Notes
NOTE ON DOUGH:  This is the PIZZA DOUGH RECIPE that is used for this recipe.  You can also use store bought dough if preferred.  The dough recipe is quick and is included in the 30 minute cooking time total.  Please refer to that post for notes on cooking and adding garlic butter to the crust.
NOTE ON CHEESE:  You don't have to use mascarpone for this recipe!  You can use dollops of ricotta, cottage cheese, or even cream cheese in it's place!  If using cream cheese, I recommend about 4 ounces.
NOTE ON HERBS:  I sprinkled about 1/2 teaspoon each of dried basil and oregano over the cooked pizza, this is optional.
Nutrition
Serving:
1
Slice
,
Calories:
250
kcal
Nutrition information is automatically calculated, so should only be used as an approximation.
Like this? Rate & review this recipe below!