Super soft and fluffy yeast rolls in only 30 minutes! These rolls come together quickly for a delicious addition to your weeknight menu. Amazing tender rolls topped with garlic, parmesan, butter, and seasonings to send them straight over the top with flavor!
Follow The Salty Marshmallow on Pinterest for more recipes and all the things that make me hungry!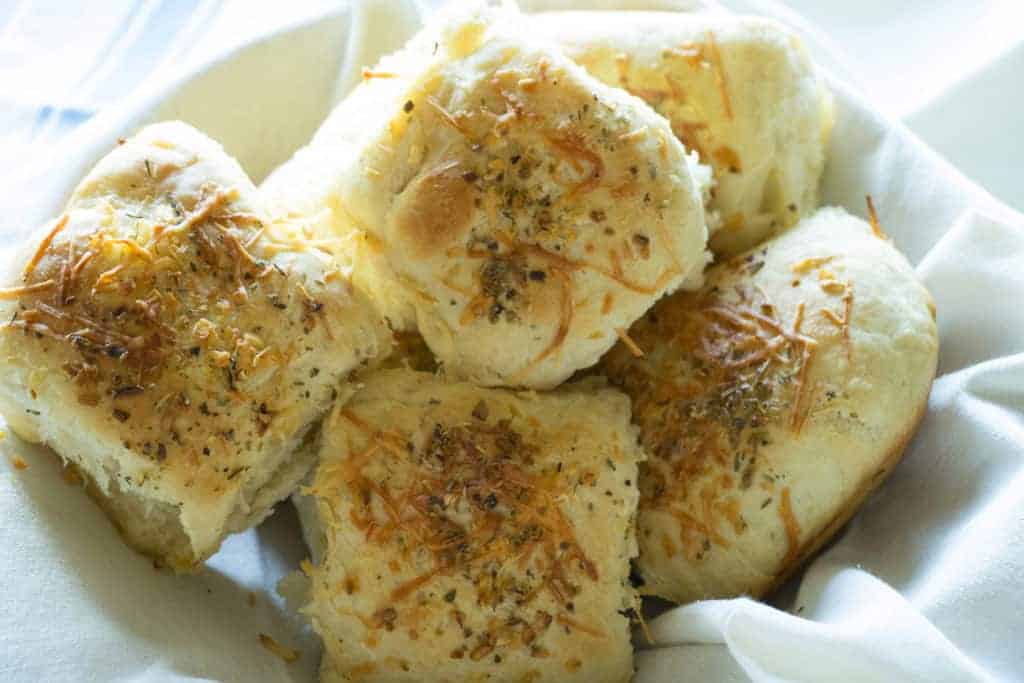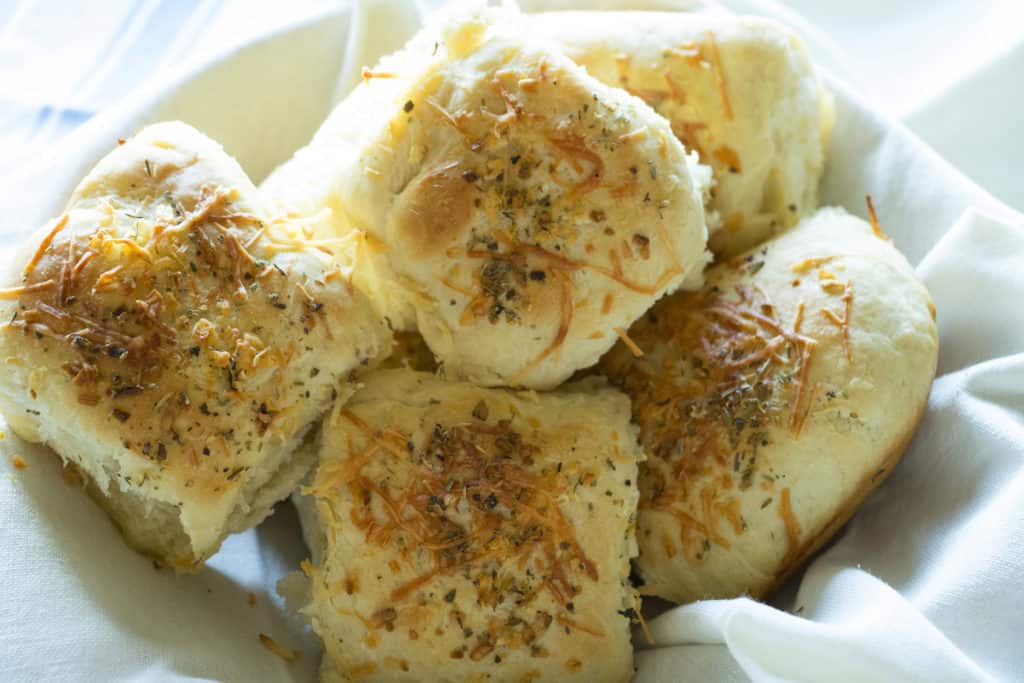 You guyssss!  I have been dying to share these rolls with you.  How often do you find yourself desiring some soft homemade rolls with your dinner during the week?  If you're like me, probably every single night.  But, I really don't like buying canned or store bought rolls unless I have too.
Why?  Because, I know that I can make them at home and see right in front of me what I am putting in them, and they're so perfect and warm out of the oven, and I can literally just make them  in 30 minutes or less.  Minimal ingredients, no headache, these are a weeknight win.  Or, ya know, a weekend win.....
They are a "whenever" win.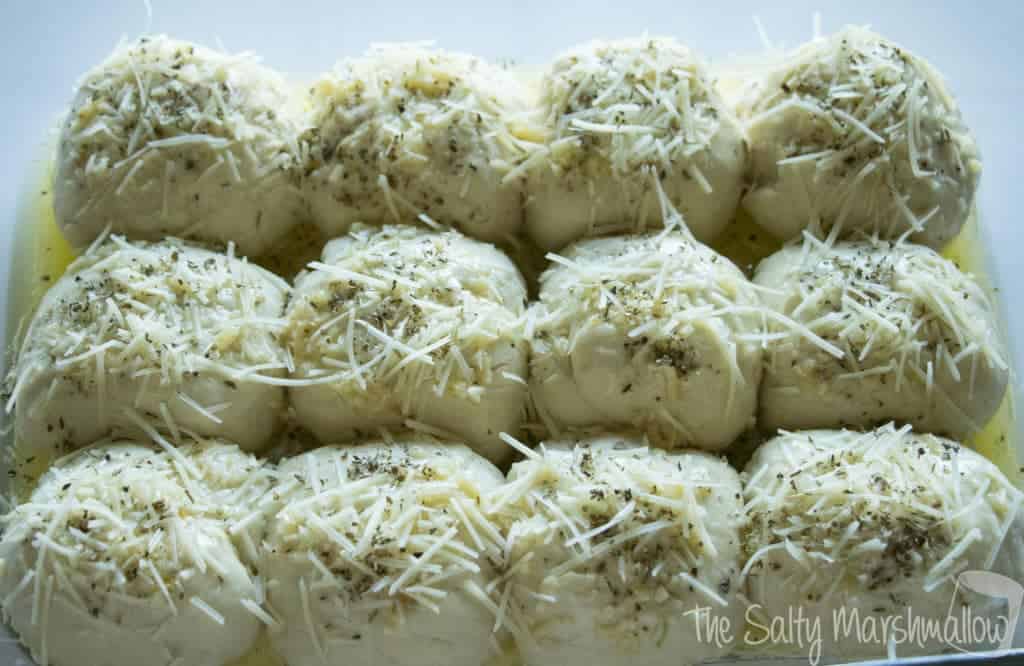 Ok, don't get me wrong, store bought biscuits and rolls absolutely have their place in my life.
But, for me, there is something just really rewarding about making the rolls myself.  I bring them to the table all wafting delicious roll smells in everyone's faces and announce really loudly that these are indeed, homemade.
I could probably quit pointing that out to my family at this point.  They're like, yeah ok we know you made them from scratch....thank you....you're awesome.....for the fifth time this week.....can we eat now??
Me = always fishing for compliments.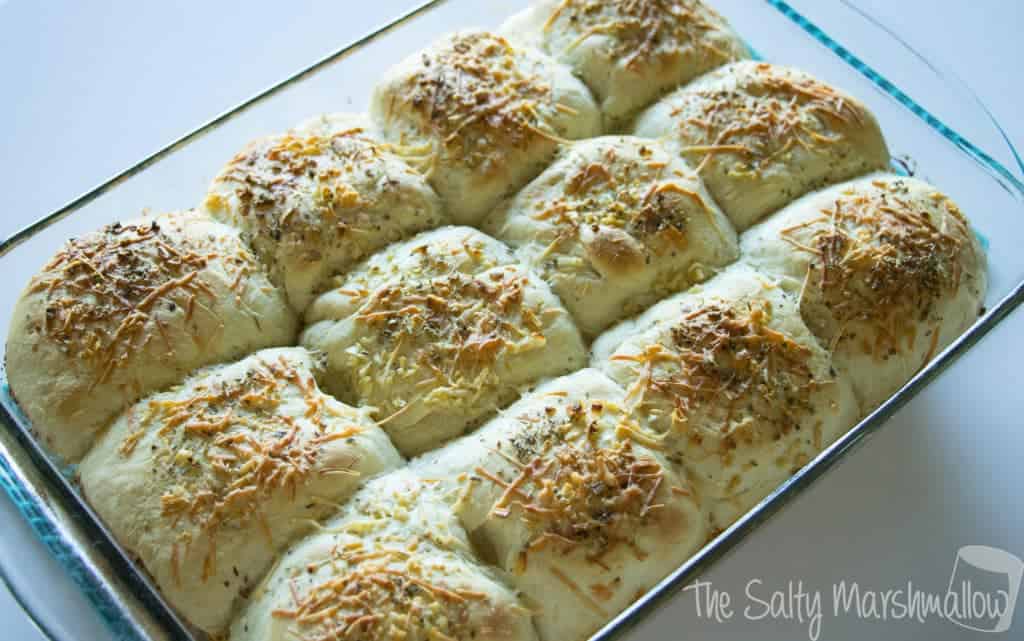 Another great thing about these guys, is the leftovers!  Unless you get a little crazy and eat four rolls at time like I have been known to do.  Shame, shame on me.
But, really, the savory topping on our rolls here brings out the best in any sandwich.  I use the leftover rolls the very next day in my kids lunchbox. Turkey? Ham? Veggies?  Any of those are amazing, and I find it's a welcome change for my kids from the standard bread.
Then, put a little sticky note in the lunch box to again remind your kids that these are homemade.  You slaved away in the kitchen for a whole 30 minutes so that they could have this extra special roll as their sandwich bread for lunch. You are the best parent, ever.
Just kidding.....I'd never do something like that.....I mean, probably not.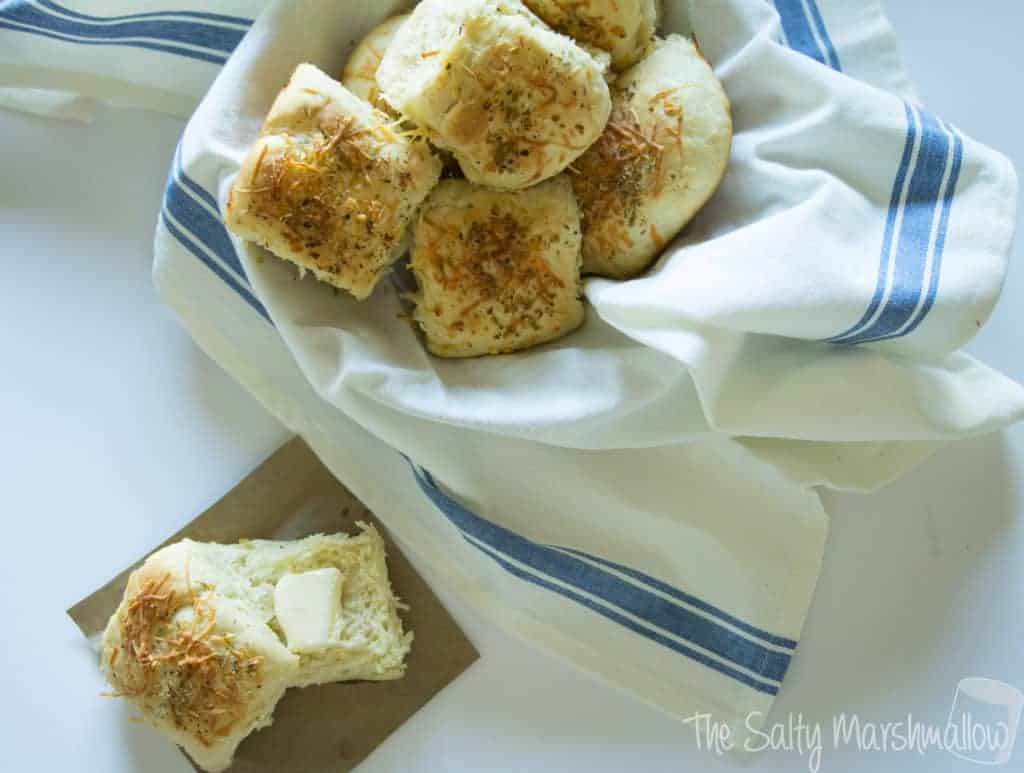 A few notes here for anyone who has never worked with yeast, never made yeast bread, or has and found it intimidating:
Yeast bread isn't scary.  It's really simple.  It does not have to be stressful.  Follow the recipe directions and you will believe me, I promise.
One step you definitely do not want to skip is the "proof" time.  After you mix your water, yeast, and sugar, please let it sit for the whole 10 minutes.  This is basically a "test" to make sure that your yeast is alive and active and that your rolls will rise beautifully and taste their very best.
 I never get my mixer out for this recipe.  I do it all by hand, and honestly I encourage you to do the same.  I hate cleaning that dough hook!  It's rewarding to plop the dough on the counter and mix it by hand.  It also doesn't take any bit longer than using your mixer, and hey, less dishes!
Your dough will be a tad bit sticky.  Flour your hands up to make your life easier when you roll the dough into balls.
Enjoy! Printable recipe for you below.
Remember, sharing is caring....don't for get to PIN IT!
You can find The Salty Marshmallow on Instagram HERE and our Facebook page HERE.
***Never miss a recipe!  Sign up right HERE for our email list to be kept in the know (we will never spam or sell your email).***
Ingredients
Rolls:

1

Cups

and ¼ warm water

¼

Cup

butter

melted

2

Tablespoons

active dry yeast

1

Tablespoons

sugar

1

Teaspoon

salt

1

egg.

3

cups

and ½ flour (preferably bread flour can use all purpose)

Topping:

1

stick butter

melted

2

Teaspoons

minced garlic

2

Teaspoons

dried minced onion

¼

Cup

parmesan cheese

2

Teaspoons

parsley

optional
Instructions
Preheat oven to 400 degrees and prepare a 9x13 inch dish with non stick spray or butter.

In a medium bowl (or bowl of stand mixer) combine the warm water, yeast, and sugar and allow to proof (rest) for 10 minutes.

To the proofed yeast mixture add the butter, salt, egg, and 2 cups of flour.

Begin mixing on low with dough hook, adding in additional flour ½ cup at a time.

Mixture is ready when dough has pulled away from sides of the bowl, and all of the flour is incorporated

NOTE: If you are mixing by hand, add flour as directed and stir in with a spoon. When you are no longer able to stir, place the dough on your floured counter top and knead the rest of the flour in by hand until well incorporated. (2-3 minutes).

Shape your dough into 12 balls and place into prepared pan.

Allow dough to rest for 5 minutes, before placing in the oven.

For the topping:

Mix together the melted butter, garlic, onion, parmesan, and parsley and brush over your rolls right before they go in the oven.

Bake for 12-15 minutes, just until golden brown.