Soft Sugar Cookies are a simple, classic, drop style sugar cookie that are better than any bakery!  You'll love how the soft centers melt in your mouth!
It's cookie season and I'm so excited to share my favorite classic sugar cookie!  These are so easy to make, and taste just like the one's Grandma always made for the holidays.  If you are looking for more cookie recipes be sure to try our Sprinkle Christmas Cookies, the perfect Chocolate Chip Cookies, and our favorite Molasses Cookies too!  I'm giving a few of my best tips/tricks so that your cookies turn out thick and perfect every time!
How Long to Chill Sugar Cookie Dough?
Don't skip the chilling if a recipe calls for it. Depending on the recipe, it is an important step so that your cookies don't become flat.  For these cookies, you will want to chill the dough at least 30 minutes, so plan ahead.  If preferred, you can chill in the refrigerator for up to 24 hours.  Or, you can whip the dough up, scoop into a freezer bag, and freeze for up to 3 months!
Why is My Sugar Cookie Dough Crumbling?
While mixing up your dough, if you find that the dough is crumbly, that is ok!  This happens because unless measuring by weight, flour measurements are never going to be 100 percent perfect, so you may have had a little extra flour.  Simply add in another Tablespoon of milk, gradually until the dough comes together.  At this point, it may be easier to use your hands to get the dough into a ball.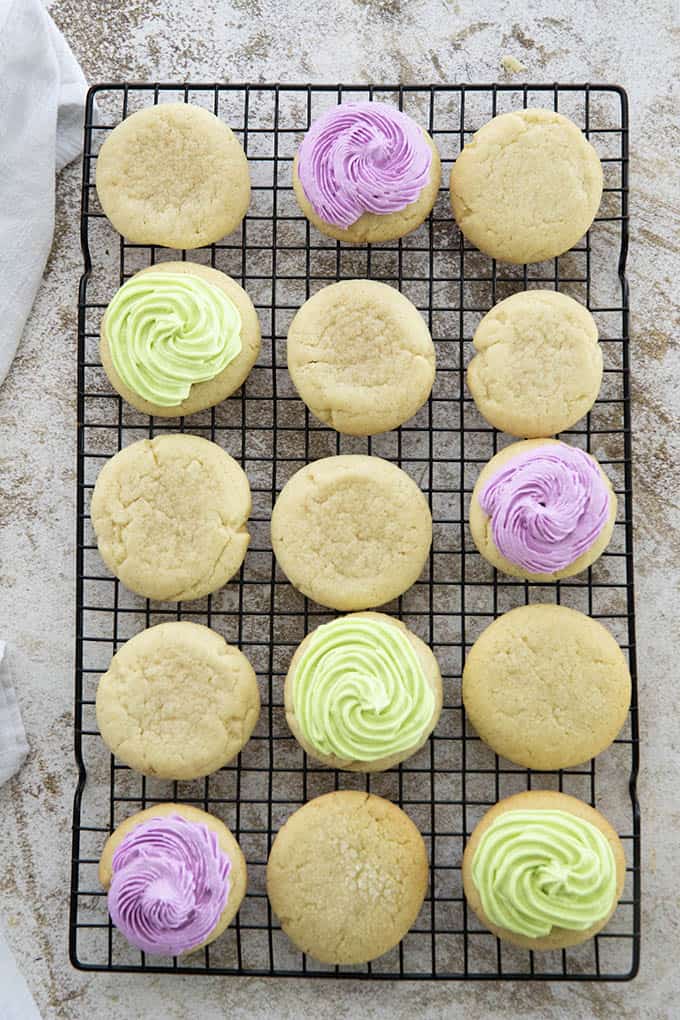 Why are My Sugar Cookies Flat?
There are a few tips to make sure you avoid flat, crispy cookies.  These are simple tricks that you should always follow, and they're the most common culprits for cookies that spread way too much!
CHILL THE DOUGH:  Like we talked about above, super important so the cookies don't over spread.
ROOM TEMPERATURE BUTTER: Your butter and eggs need to be at room temp, and let's talk about what that means.  Allowing the butter and eggs to sit out at room temp for about 30 minutes to one hour at the most will do the trick here.  If you let your butter sit on the counter for longer than an hour (or several hours) before baking, it's no longer "softened butter" at that point it's basically melted.  You will end up with flat cookies that are crips and sometimes greasy.  Proper room temp butter is still cold to the touch, but your finger/butter knife should leave a deep imprint.  If you don't have time to let your butter sit for an hour, you can place the sticks in a bowl and microwave on defrost for 5 second intervals, just until soft.
BAKING POWDER AND BAKING SODA:  Check your dates!  If you have a box of baking soda that has sat in the back of your fridge, or your pantry for more than a month, you may want to replace it before baking.  Same with the baking powder, check the date, if it is expired you will most likely end up with flat cookies that spread.
ROOM TEMPERATURE EGGS:  Cold eggs won't affect the taste of the cookies, but bringing them to room temp is easy and worth it.  I let mine sit out for 30 minutes to 1 hour with the butter.  If you don't have time for that, place the eggs in a bowl of warm (not hot) water for about 5 minutes.  This will result in a much thicker/fluffier cookie.
Soft Sugar Cookies
Soft Sugar Cookies are a simple, classic, drop style sugar cookie that are better than any bakery!  You'll love how the soft centers melt in your mouth!
Print
Pin
Rate
Instructions
In a large bowl, or bowl of stand mixer fitted with paddle attachment, cream together the butter and sugar until smooth and fluffy. About 2-3 minutes.

Beat in the egg and vanilla until well combined.

In a medium bowl whisk together the flour, baking soda, baking powder and salt until combined.

Using a hand mixer or stand mixer on low speed gradually add the dry ingredients to the wet ingredients until the dough comes together.

Drizzle in the milk, 1 Tablespoon at a time until dough is soft, not wet.

Cover the dough and chill for 20 minutes, and up to 24 hours.

Preheat the oven to 350 degrees.

Line a large baking sheet with parchment paper or a Silpat liner.

Roll rounded Tablespoons of dough into balls and place on prepared baking sheet 2 inches apart.

Bake in preheated oven for 10-12 minutes.

Move the cookies to a wire rack and allow to cool completely before frosting as desired.
Notes
NOTE ON MAKING AHEAD:  You MUST chill this dough for at least 30 minutes for best results, and can refrigerate for up to 24 hours.  This dough can be frozen for up to 3 months.  Thaw in the refrigerator overnight before baking.
Nutrition
Serving:
1
Cookie
|
Calories:
110
kcal