Sausage Balls are the perfect holiday and game day appetizer!  This recipe is made from scratch, full of juicy sausage, cream cheese, and cheddar with a simple maple dijon dipping sauce!
Sausage Balls:
This simple appetizer is a total classic that has been around for ages!  Traditionally, they are made using a baking mix, but mine are made from scratch!  Making them from scratch keeps it simple and easy because not everyone always has baking mix on hand.  We have a simple ingredient list of flour, baking powder, some seasonings, pork sausage, cream cheese, cheddar, and butter.  These are budget friendly too, and they make 24-26 but you could definitely double the recipe for a bigger crowd.  Trust me, they are always the first thing to disappear!  If you're looking for more appetizers while you're here try out our Dill Pickle Bacon Cheeseball, it's a family fave!
Why Won't My Sausage Balls Stick Together:
You'll notice that the sausage mix is somewhat crumbly when you first mix it up.  You will squeeze the mix together in your hands and roll into balls.  My recipe calls for cream cheese which keeps the mix nice and moist and they will not fall apart while baking! I also have only made this recipe with freshly shredded cheese, and that's what I'd recommend for best results.  You could try pre-shredded but it may not clump or stick together as well. Also, just make sure to gently press with the palms of your hands while you roll them into a ball, just like you would a meatball!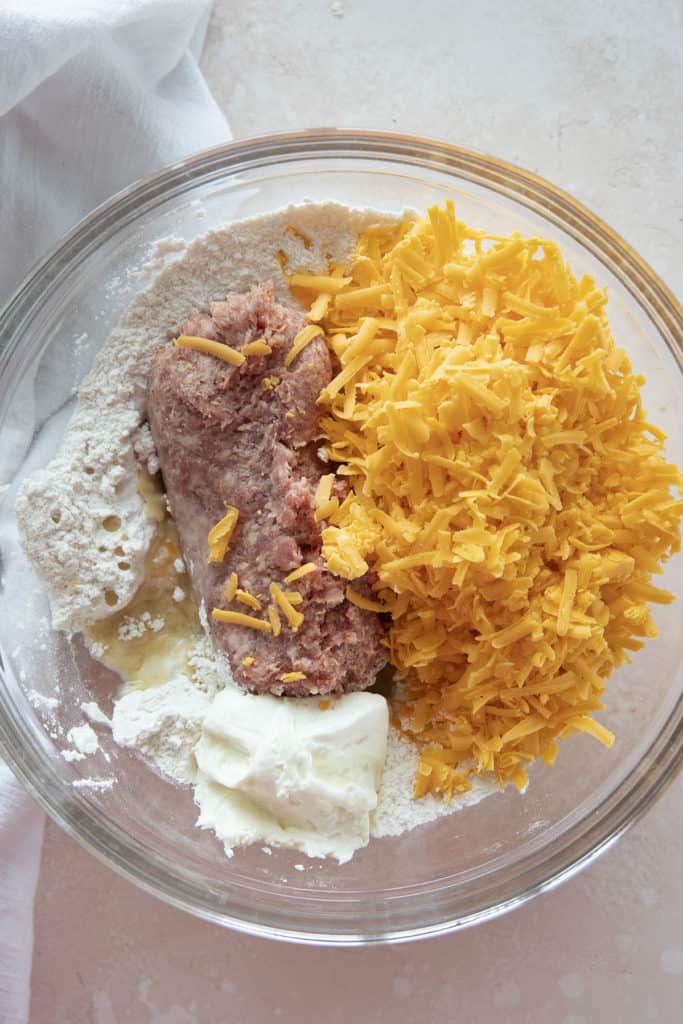 Sausage Ball Recipe Notes and Tips:
I used a roll of pork breakfast sausage for this recipe.  You can use mild, hot, sage, or maple.  Whatever you love the most!  I do think that this would work ok with a good ground turkey sausage as well.
These babies can be made ahead!  Just whip them up and roll into balls, then put them on a lined cookie sheet and freeze for about 30 minutes.  After that, you can place the semi-frozen balls into a bag or container that is freezer friendly.  Freeze for up to 3 months and thaw in the fridge overnight before baking.
Once these are made and cooked up they last for a good 3-4 days.  You can keep them on the counter at room temp, or in your refrigerator if you prefer.  Just pop them in your microwave, oven or air fryer if you want to reheat them.
I used my hand mixer to mix these up and I find it the easiest way!  I like that it blends everything together really well with the cream cheese.  You can also use your stand mixer with the paddle attachment.  Or just get in there with your hands if you don't have a mixer, it will just take a little longer.
I usually get anywhere from 24-26 sausage balls out of this recipe.  I form them about 2 inches or so each, you don't have to be perfect.  You can also make them a bit smaller if you want to stretch the recipe further.
Enjoy!
~Nichole
Sausage Balls
Sausage Balls are the perfect holiday and game day appetizer!  This recipe is made from scratch, full of juicy sausage, cream cheese, and cheddar with a simple maple dijon dipping sauce!
Print
Pin
Rate
Ingredients
FOR THE OPTIONAL DIPPING SAUCE:
Instructions
Preheat the oven to 350 degrees Fahrenheit. Line a large baking sheet with parchment paper and set aside.

In a large bowl whisk together the flour, baking powder, garlic, onion, and salt. Add in the remaining ingredients and use a hand (or stand) mixer to beat everything until well combined.

Use your hands to scoop up the sausage mixture and form into 2 inch balls. Space the balls evenly on the baking sheet and bake in preheated oven for 20-30 minutes until golden.

Serve immediately. Leftovers can be saved for 3-4 days. See post above for freezing instructions.
Notes
NOTE:  The sausage mixture will be a little bit crumbly after mixing.  Use your hands to gently press and roll into balls, they will stay together in the oven!
Nutrition
Serving:
1
Ball
|
Sodium:
299
mg
|
Calcium:
97
mg
|
Vitamin C:
1
mg
|
Vitamin A:
296
IU
|
Sugar:
1
g
|
Fiber:
1
g
|
Potassium:
121
mg
|
Cholesterol:
40
mg
|
Calories:
202
kcal
|
Trans Fat:
1
g
|
Monounsaturated Fat:
5
g
|
Polyunsaturated Fat:
2
g
|
Saturated Fat:
7
g
|
Fat:
15
g
|
Protein:
7
g
|
Carbohydrates:
9
g
|
Iron:
1
mg