Cheesy Smoked Sausage One Pot Pasta – An easy and flavorful one pot pasta that is ready to eat in 20 minutes!  This hearty one pan dinner is full of delicious smoked sausage, egg noodles, broccoli, and cheese!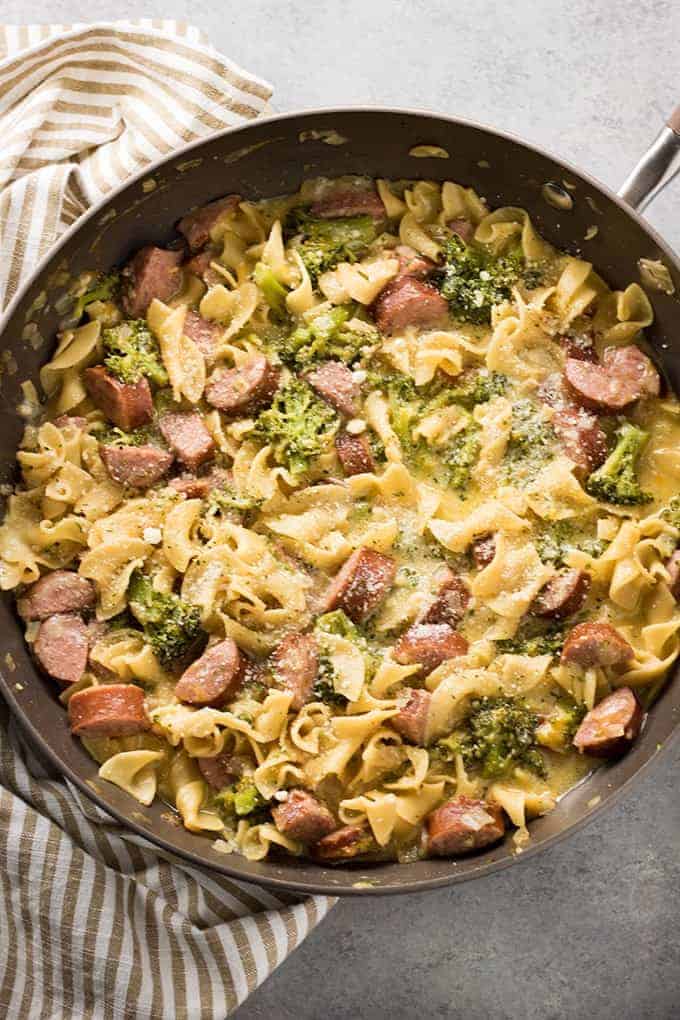 One Pot Cheesy Broccoli Sausage Pasta
I'm back from our super fun trip to Las Vegas with another easy one pot meal!  I happen to LOVE smoked sausage and always have some hanging out in my refrigerator or freezer at all times.  It's pretty versatile, but my all time favorite way to eat is with noodles!
You can use your favorite kind of sausage for this recipe.  Chicken or turkey sausage is great, some spicy andouille sausage is also amazing if you and your family like that kick of spice!
As far as pasta, egg noodles are going to be best in this dish as written.  They will cook up nice and quick and absorb almost all of the liquid.  There is just a small amount of liquid that will be left and this is perfect for coating the noodles with the shredded cheese!
Everyone in my house is really into broccoli, especially ME.  I will cook it and eat it for breakfast, even without noodles involved!
I also really think this simple dish looks and tastes great with a green veggie in general.  If you aren't a fan of broccoli or have any picky eaters, feel free to switch your veggies up.
This is great with asparagus, fresh green beans, peas, chopped bell peppers.  Just make sure you cut your vegetables into bite sized pieces so that they get cooked properly along with the pasta.
One Pot Pasta:
One pot pasta dishes are a complete meal in a pan, pretty much every ingredient gets tossed in at once!  For this one pan meal we just add the diced onion, sausage, and some garlic to the pan first.  Let the onions get soft and the sausage start to turn golden brown.
Next, you'll add in your minced garlic.  Side note, garlic powder will do if you don't have any garlic cloves laying around.  Add your garlic after the onion and sausage and stir for just a few seconds, this will keep it from burning.
Then comes the rest!  You'll add your chicken broth, milk, noodles, and broccoli right to the pan.  Push the noodles down slightly with the back of a spoon if necessary to make sure they are covered by liquid.  Bring your mixture to a boil, turn the heat to low, cover and let it do its thing for about 10-12 minutes until your pasta is completely cooked.
Remove the lid from your pot and stir in the cheddar!  Feel free to add more than one cup of cheese if you are a major cheese lover.  I used grated parmesan for this right on top.  You can also use shredded if that's what you have.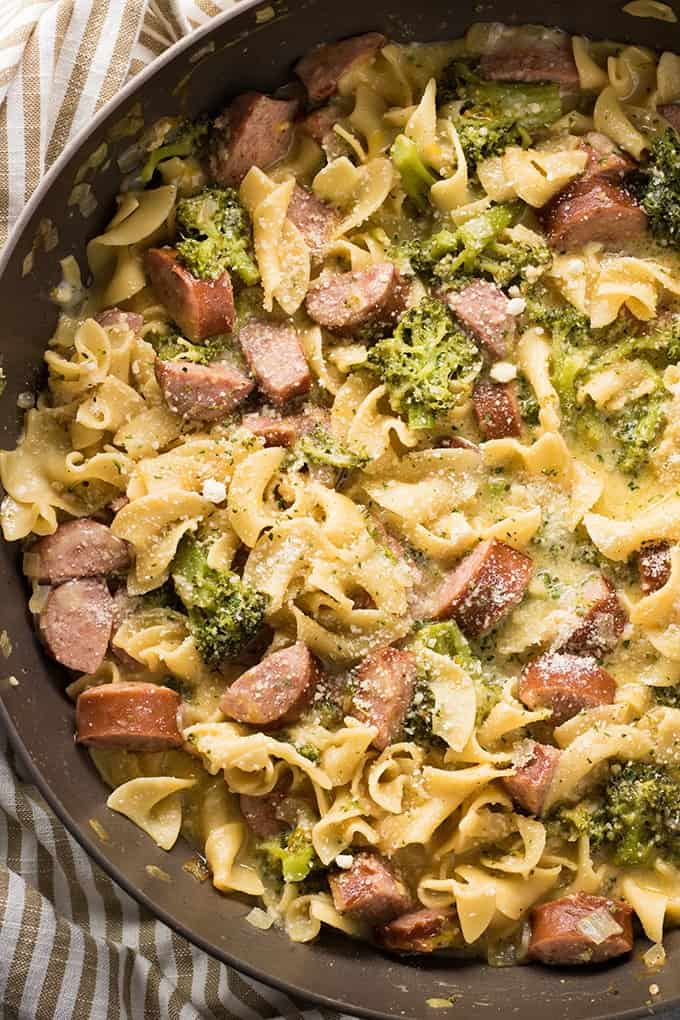 Enjoy!
~Nichole
If you're looking for some other fantastic one pot meals, check out these 26 best one-pot dinners for lots of great recipes from me and some of my food blogger friends!
Be sure to follow along with us on Facebook too, we always share the best dinner recipes!
One Pot Cheesy Broccoli Sausage Pasta
One Pot Cheesy Broccoli Sausage Pasta - An easy and flavorful one pot pasta that is ready to eat in 20 minutes! This hearty one pan dinner is full of delicious smoked sausage, egg noodles, broccoli, and cheese!
Ingredients
1

Tablespoon

Olive Oil

1

Onion,

Diced

2

Cloves

Minced Garlic

1

13 Ounce

Package Smoked Sausage,

Sliced into rounds, then in half

2

Cups

Chicken Broth

1/2

Cup

Milk

Salt and Pepper,

To Taste

8

Ounces

Egg Noodles

1 1/2

Cups

Broccoli Florets

1

Cup

Shredded Cheddar Cheese

1/4

Cup

Shredded or Grated Parmesan Cheese
Instructions
Heat the olive oil in a large skillet over medium high heat. Add the onion, garlic, and sausage to the pan and cook for 3-4 minutes, until the sausage is lightly browned.

Stir the chicken broth, milk, salt, pepper, egg noodles, and broccoli.

Bring to a boil, then cover, reduce heat to low and simmer for 10-12 minutes until the liquid has reduced and the broccoli and noodles are cooked through.

Stir in the cheddar cheese.

Top with parmesan and parsley as desired.
Nutrition
Nutrition information is automatically calculated, so should only be used as an approximation.
Like this? Rate & review this recipe below!