Homemade Oatmeal Creme Pies are an amazing copycat recipe with fresh soft oatmeal cookies and perfectly sweet marshmallow creme filling.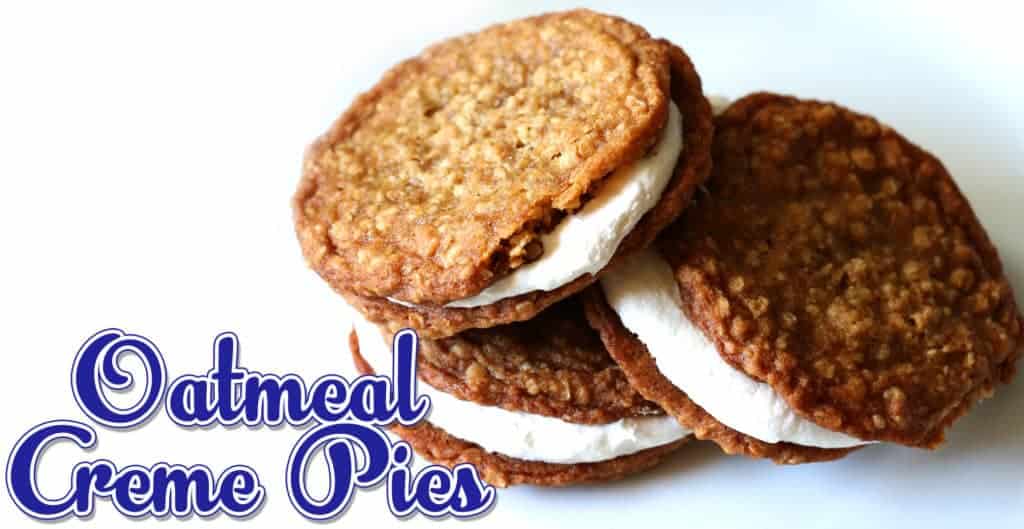 Hey everyone! Happy (late) Father's Day to all the dad's out there!
Let me tell you about my dad.  He's a pretty tough guy.  A true hard worker, always out in his shop working on a new project, likes to ride his Harley kind of guy.  Now, let me tell you a little secret about my tough guy dad.....he eats Little Debbie oatmeal creme pies for breakfast, every. single. day.  Just one usually, with a cup of tea.  "Tea and crumpets" he says.  I love this about him.  It's totally a quirky dad thing to do.  So, in honor of him this Father's Day I decided it was only right to make him a fresh homemade batch of the treats he loves so much.  They are absolutely delicious.  Forget Little Debbie (not really, we just can't do that, it's too nostalgic) but, the homemade version is truly where it's at you guys.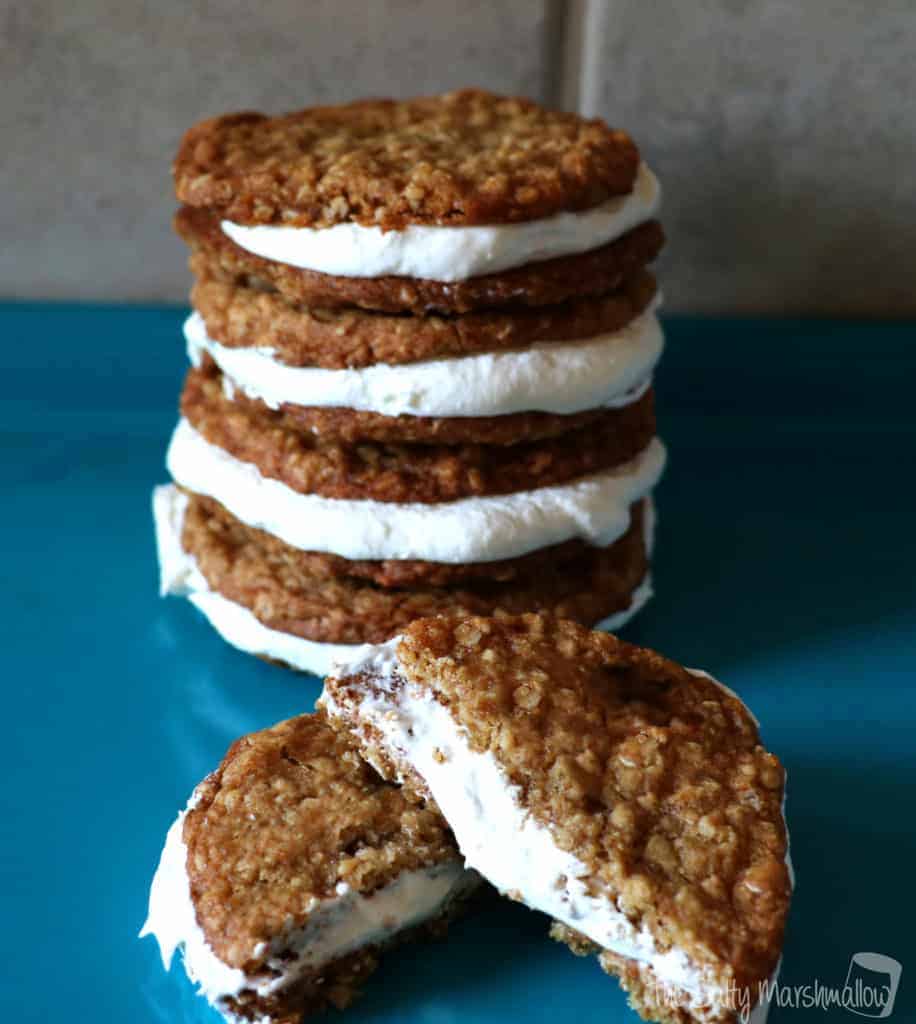 Let's talk about these cookies!  They are a little chewy, like a cookie is supposed to be.  But not too chewy, still very soft, little chewy on the edges and ruh-diculously soft in the middle.  I like the original boxed cookies, but I personally like a little bit of girth to my cookies.  I want some bite to it.  That's what these have.  Soft, chewy, chewy soft. Ok, you get it. I'll stop now.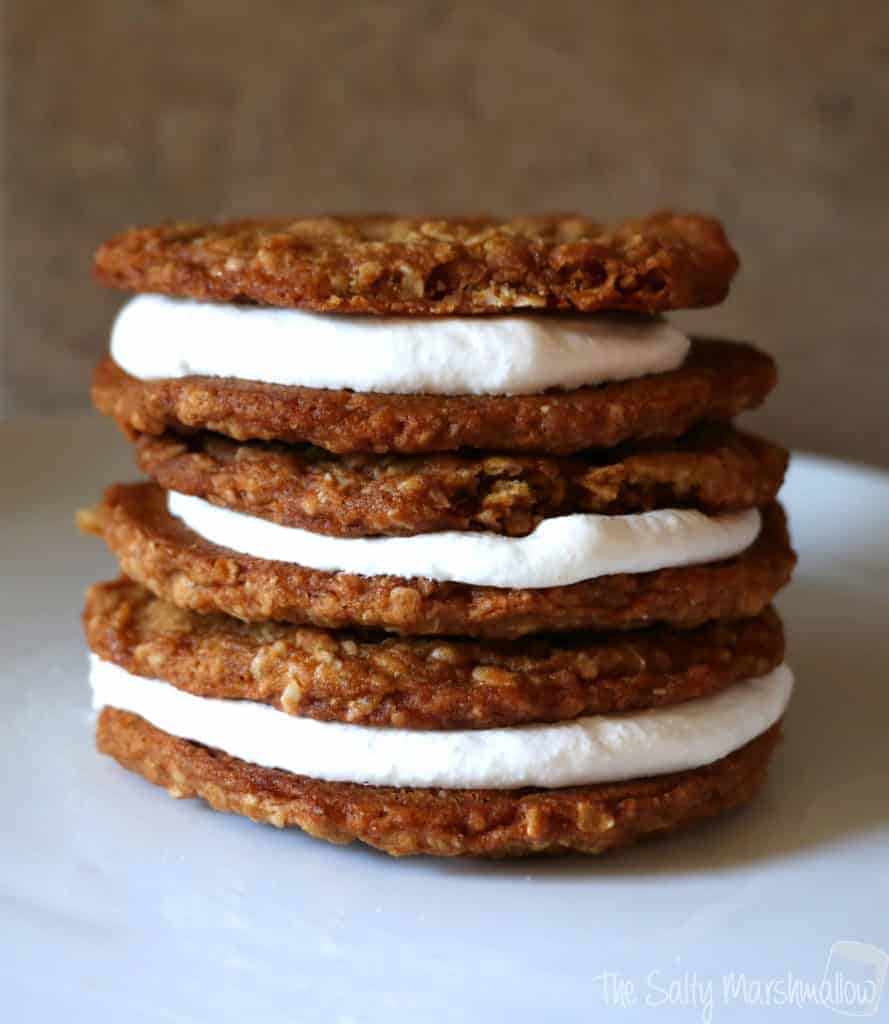 Now, of course we have to talk about the filling and it's not chewy so you're safe from that word. But it is soft!  It's so pillowy and creamy and everything that your filling dreams are made of.  Super easy to make, vanilla buttercream, stir in a jar of marshmallow cream. Boom. Best marshmallow creme ever. A lot of other marshmallow filling recipes called for shortening.  I bet they are delicious.  But, personally, I couldn't wrap my brain around stuffing a bunch of shortening in my mouth.  Since these were for my dad I definitely don't want him to eat a pile of shortening.  The thought of it really disturbs me!  No, I do not want any lard with my cookies, thanks!  Let me get off of my shortening soapbox.  Seriously, this frosting is fresh, just as marshmallowy, and doesn't taste greasy or processed. YUM.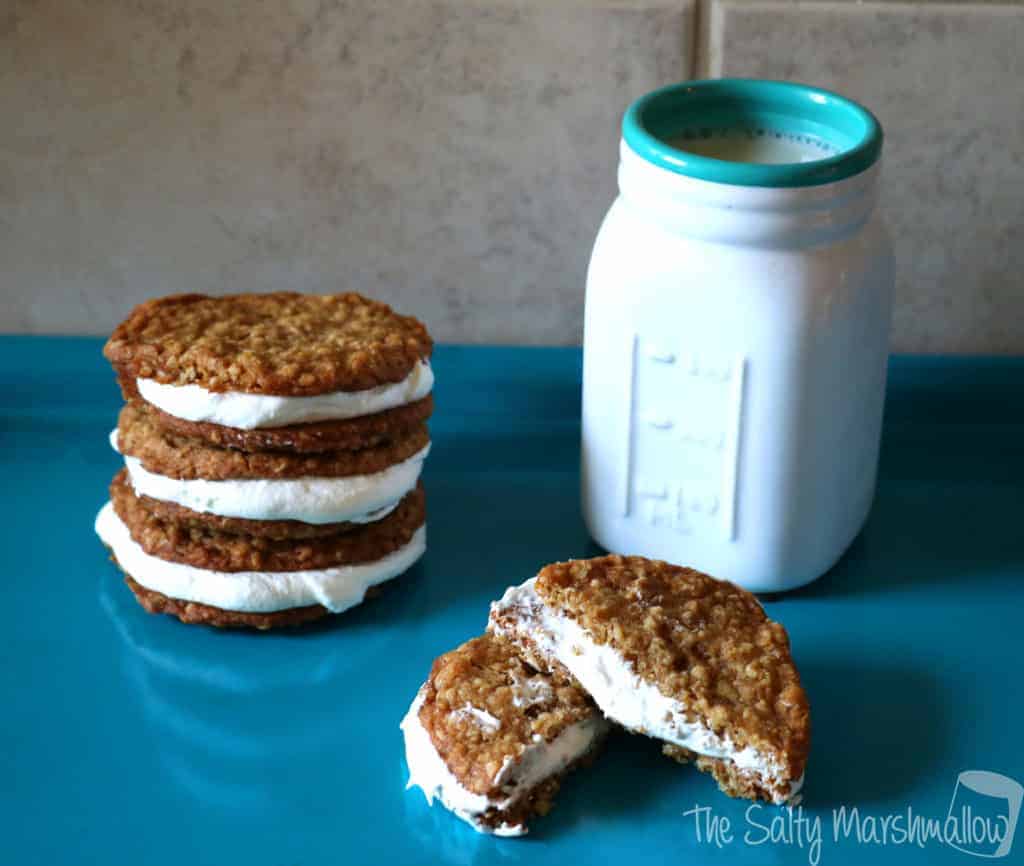 Go ahead and get these guys made up for your tea and crumpets tough guy dad....or any other special person in your life.  Or just for yourself, because you need these homemade oatmeal creme pies in your life and in your mouth right now.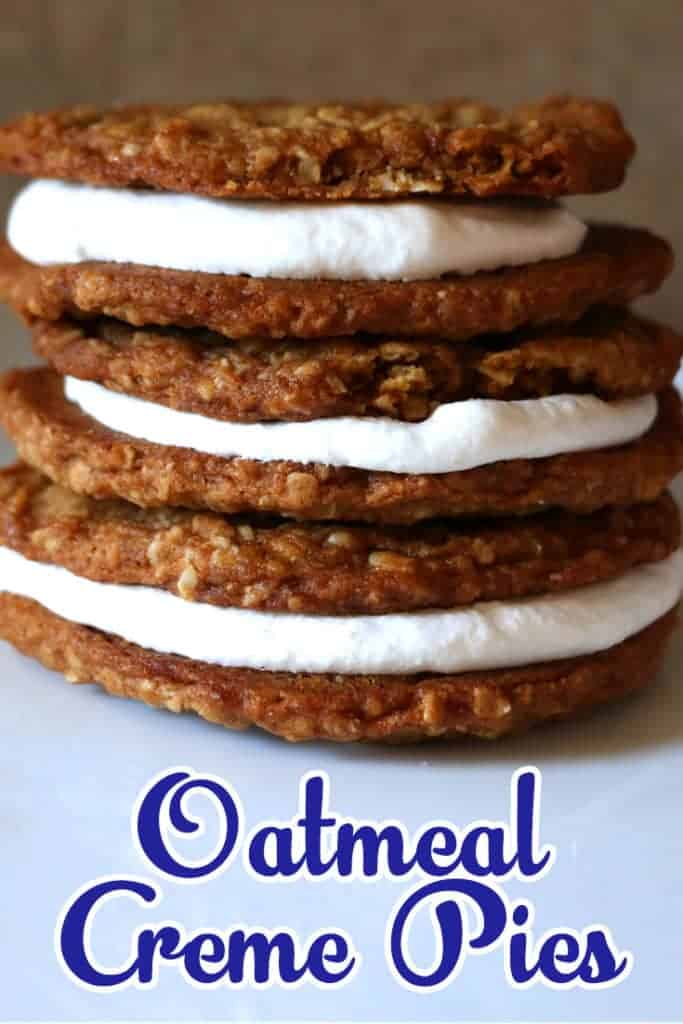 **Come on over and find me on Pinterest and Instagram!**
Note:
1.These are a thin soft cookie.  If you want a "puffier" cookie you can refrigerate your dough for an hour before baking.
2. As always, don't skip the salt in your filling.  You'll find it overly sweet if you do.
Enjoy! Printable recipe below.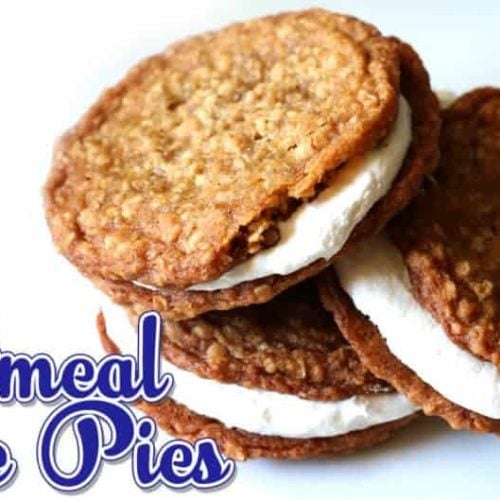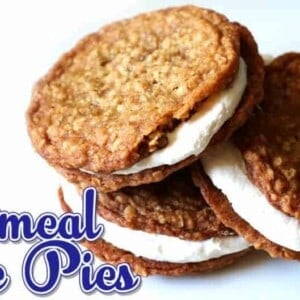 Instructions
Preheat oven to 375 degrees and line a baking sheet with parchment paper.

With a stand, or handheld mixer, cream together the butter and sugars at medium speed until fluffy.

Add the eggs and vanilla and continue to mix until everything is combined.

In a medium bowl, whisk together the flour, baking soda, salt, cinnamon, and nutmeg.

Stir the quick oats into the dry ingredients.

With mixer running on low, add the dry ingredients to the wet ingredients in thirds and continue mixing, or mix by hand just until all ingredients are incorporated.

Drop balls of dough (2 Tablespoons for each ball) onto prepared baking sheet.

Bake for 8-10 minutes until slightly golden around the edges.

Allow cookies to cook for 3-5 minutes on pan, then transfer to a wire rack to finish cooling.

Creme filling:

With a stand or handheld mixer, beat the butter and confectioners sugar together until fluffy.

Add in the vanilla and salt, and beat for another minute until combined.

Gently fold in the marshmallow creme with a spatula or large spoon.
Cookies adapted from Sally's Baking Addiction via myrecipes.com