Super easy made from scratch cinnamon rolls with the irresistible flavors of maple, peanut butter, and bacon!
Come on over and follow me on Pinterest right HERE!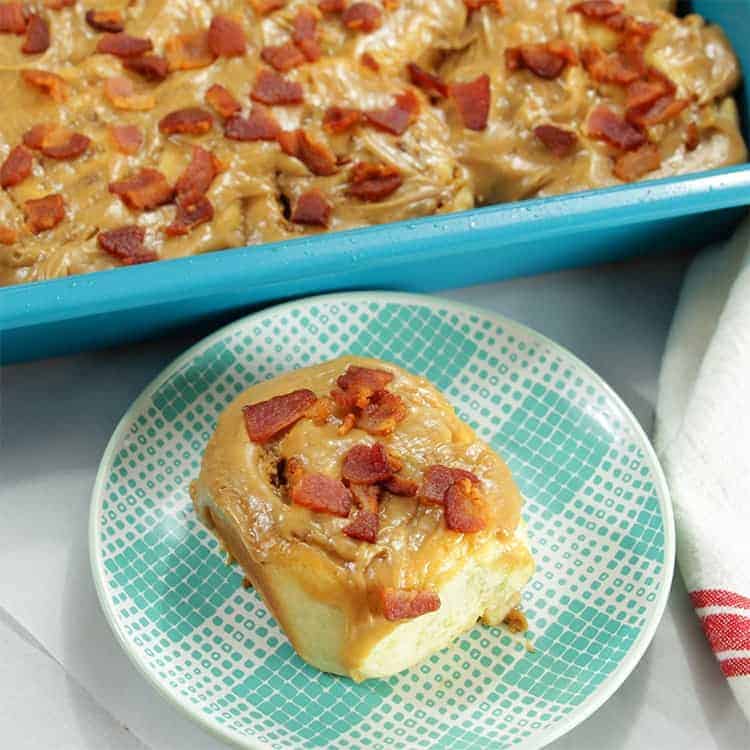 YOU GUYS.  Cinnamon rolls….
Cinnamon rolls with creamy, sweet peanut butter filling….and bacon.
Then, more bacon and maple/peanut butter frosting on top.
These rolls, they're crack.  I'm just warning you.
Try and only eat just one, I dare you.
Now that we have gotten that out of the way.  I originally posted these rolls as a contributor post over at All She Cooks!
If you remember, I also have done my Butternut Squash Lasagna Soup for her as well.
I'm really thrilled to be doing some work over there, and will keep you all posted for more!
Printable recipe for these rolls is below as always.  If you'd like to see the original post and all of the photos you can find it right HERE on All She Cooks.
~Nichole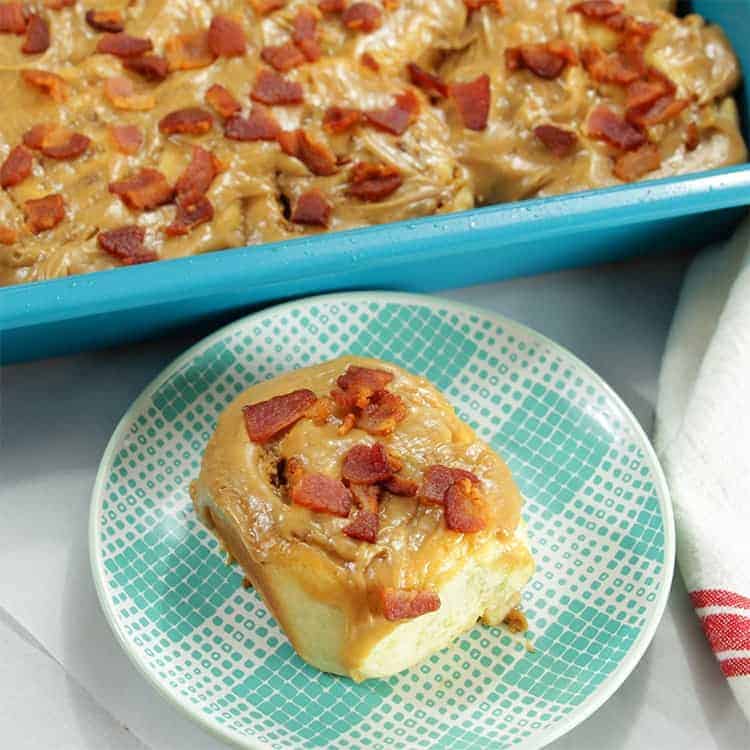 Maple Bacon Peanut Butter Rolls
Ingredients
Dough:

1

Cup

milk

4

Tablespoons

butter

cut into cubes

3 - 3 1/2

Cups

all purpose flour

2 1/4

Teaspoons

yeast

1/4

Cup

white sugar

1/2

Tsp

. salt

1

Egg

Filling:

1/2

Cup

creamy peanut butter

1

Cup

packed brown sugar

1

Tablespoon

ground cinnamon

1

Pound

bacon

cooked and crumbled

Frosting:

2

Cups

powdered sugar

1/2

Cup

creamy peanut butter

1

Tsp

. maple extract

2-3

Tablespoons

milk
Instructions
Place the milk, sugar, and butter cubes into a medium microwave safe bowl. Microwave mixture until warm but not hot. Butter should be at least mostly melted.

Add the yeast to the warm milk and allow to sit for 10 minutes, until foamy.

When your yeast mixture has proofed (is foamy) pour into the bowl of your stand mixer.

Add 1 cup of the flour, along with the salt and egg.

Using paddle attachment (or a large spoon if you're not using a mixer) start to blend ingredients together while adding remaining flour in 1/2 cup intervals.

When the dough starts to leave the sides of the bowl, switch to your paddle attachment and allow dough to knead for 5 minutes. Or, pour dough out onto a well floured surface and knead by hand for 5-7 minutes.

Pat dough into a ball, and place in a large, lightly oiled bowl to rise for 1 hour, or until doubled in size.

While dough is rising, mix together the brown sugar, cinnamon, and crumbled bacon in a small bowl.

When dough is doubled in size, remove from bowl onto a floured surface and roll out from the center into a large rectangle (about 12x14).

Spread the dough evenly with 1/2 cup of peanut butter and sprinkle with the brown sugar/cinnamon/bacon mixture.

Starting at the long side of the rectangle, roll dough up tightly, and pinch the seam to seal the dough.

Slice the dough into 12 equal rolls.

Preheat oven to 350 degrees.

Spray a 9x13 inch pan with non-stick spray, and place rolls in the pan.

Allow the rolls to rise for 20 minutes.

Bake rolls 15-20 minutes until lightly golden brown.

When rolls come out of the oven combine all of the frosting ingredients with a hand mixer or whisk until well combined.

Spread frosting over warm rolls as desired.
Like this? Rate & review this recipe below!