Loaded Cauliflower Casserole is easy to make, creamy, cheesy, and loaded with flavor!  This is a great weeknight side dish and a tasty way to get more veggies!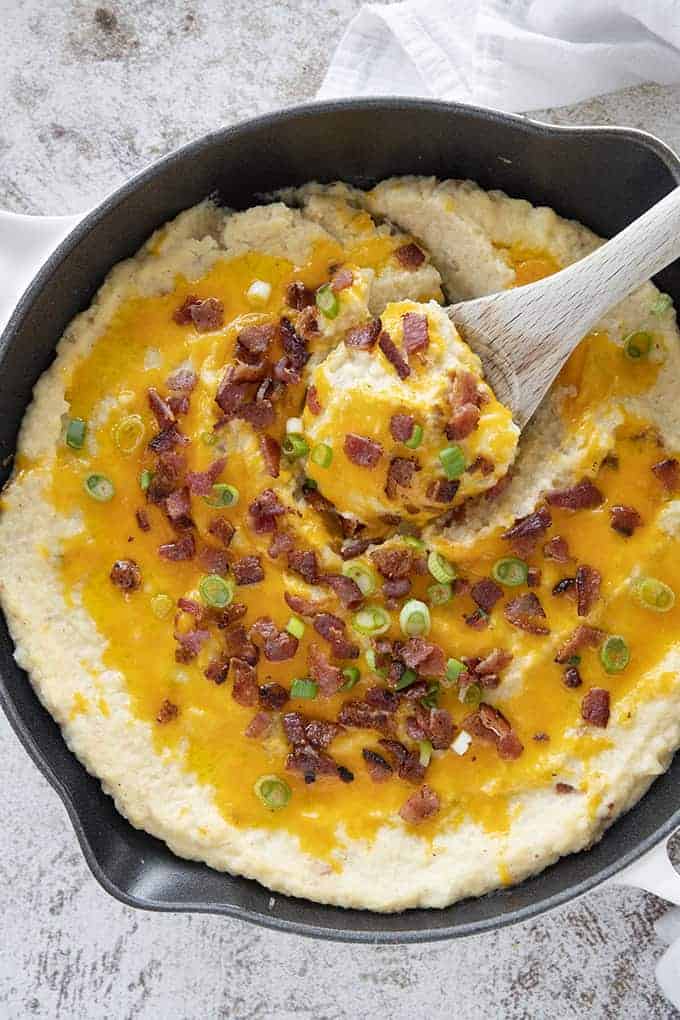 Cauliflower Casserole:
So, I'm always a major fan of good old Mashed Potatoes but sometimes it's nice to switch it up a little bit!  We love veggies in our house and while I'd gladly eat cauliflower plain, it's obviously even better with cheese and bacon!  If we're being honest, mashed cauliflower doesn't exactly mimic potatoes.  BUT, it is good!  It's so creamy and flavorful when it's made right.  I like this recipe so much for kiddos and adults alike who are just trying to get more vegetables in their everyday diet without sacrificing on taste!
Making Cauliflower Casserole:
This recipe takes about 20 minutes total!  It's best to multi-task if you can and cook your bacon for the topping at the same time your cauliflower is cooking.  You'll boil the cauliflower for just about 10-15 minutes.  To "mash" the cauliflower you'll want to use a blender if possible to get it extra smooth.  You can use a handheld immersion blender, a high powered blender, or a food processor for this.  If you like more of a chunky mixture using the masher is fine.  Get your cauliflower nice and smooth then you can add in your seasonings, butter, sour cream, and milk and blend until you love the consistency.  Now you can use either a cast iron skillet like I did, or a greased casserole and just top with the cheese and bacon, then bake for about 5 minutes.  Everything will still be warm.  We're just getting the cheese nice and melted.  While you're here, if you're looking for a main dish to go with this side, try it with our Crispy Baked Chicken Thighs!
Notes for Cauliflower Casserole Recipe:
To save time, you can use pre-cut cauliflower from your produce section.  Just make sure you have about 7-8 cups total.
You can also use frozen cauliflower that has been steamed in the microwave to make things fast.
Make sure that your cauliflower is very tender for best results.  Mine is always done boiling within 10-12 minutes.  The softer the cauliflower, the smoother your casserole will be.
TASTE AND SEASON!  After you've blended everything together, make sure you grab a spoon and taste, then season again as necessary.  Cauliflower is kind of bland on its own.  My measurements for seasonings are to our tastebuds, but you might find that you want more.
You can use plain full fat or non fat Greek yogurt in place of the sour cream if that's your preference.  It will make the casserole slightly more tangy.
You can sub out cheeses!  I like just the good old stand-by of parmesan in the casserole then cheddar on top.  But feel free to use any shredded cheese that you love best, or a mixture.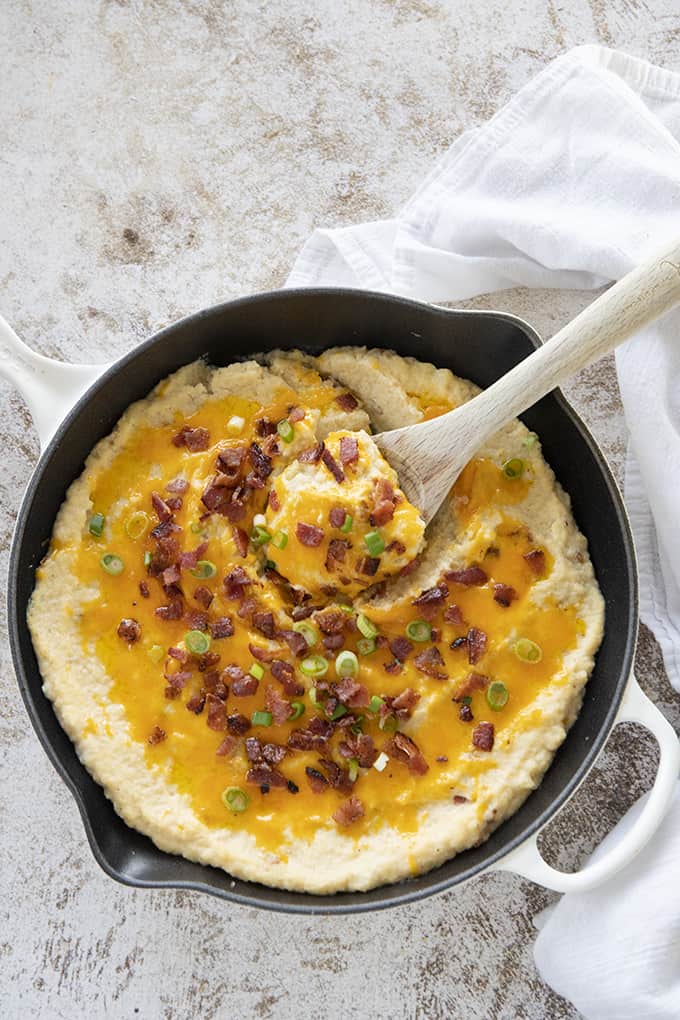 Enjoy!
~Nichole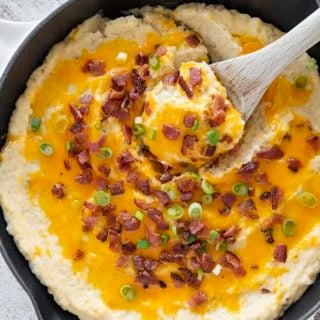 Loaded Cauliflower Casserole
Loaded Cauliflower Casserole is easy to make, creamy, cheesy, and loaded with flavor!  This is a great weeknight side dish and a tasty way to get more veggies!
Print
Pin
Rate
Instructions
Preheat oven to 375 degrees. Grease a large baking dish or skillet and set aside.

Cook the bacon in a large skillet over medium-high heat until crisp, drain on a paper towel lined plate and set aside.

Meanwhile, heat a large pot of water to boiling. Once boiling, add the cauliflower florets and boil for 10-15 minutes until very tender.

Drain the cauliflower well and return to the pot.

Use a hand (immersion) blender to blend the cauliflower until smooth. If you do not have a hand blender, use a standard blender or food processor.

Blend in the sour cream, milk, butter, garlic powder, and onion powder. Then, stir in ½ cup of the cheese, ½ of the bacon, and ½ of the green onions.

Pour the cauliflower mixture into the prepared pan. Top with remaining cheese and bake in preheated oven for 5-8 minutes until cheese is melted.

Garnish with remaining bacon and green onions as desired.

Leftovers can be stored in the refrigerator for up to 3 days.
Notes
NOTE:  To save time you can use pre-cut cauliflower from the produce section of your store.  Or, you can use frozen cauliflower that has been steamed.  You will need to have about 7-8 cups of cauliflower florets total for this recipe.
Nutrition
Serving:
0.5
Cup
|
Calories:
200
kcal