You're going to love this super simple brownie parfait!  Layers of brownie, Irish cream spiked whipped cream, cherries, and chocolate sprinkles! A special adults only dessert.
Ok, ladies and gentlemen.  Let me tell you, that this parfait contains my two favorite things.  Brownies, and....liquor!
KIDDING......kind of.
But really, I feel like the kids get to have all the fun sometimes when it comes to treats.
It was high time that the adults get a little something special too!  This one of course with St. Patrick's Day in mind.
You may have already seen my kiddo-friendly St. Patrick's Day snack mix, if not you can find it right HERE.
Not that I don't enjoy the snack mix as well.  This is just much more my style.
This is a total, put your skinny jeans away kind of dessert.  Sweet, heavenly, sinfulness.  Is that a thing?  It is now.
So, for these parfaits I like to use THIS brownie recipe, minus the sea salt caramel chips.
You can use your favorite boxed mix if you prefer.  Either way, these are super simple.
Definitely let the brownies cool all the way before you cut them into little squares - unless you like your whipped cream in a hot melty puddle, of course.
Now, if you want to be a nice parent and share, you can make the whipped cream without the Irish cream liquor.  Or make a batch with, and one without - everybody wins!
Enjoy!
~Nichole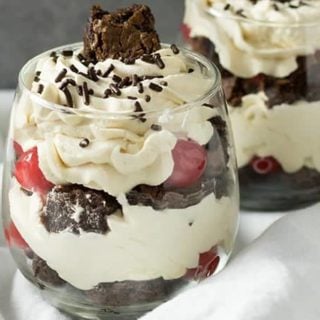 Ingredients
2

Large

Brownies

Cut into small cubes

¼

Cup

Maraschino Cherries

1

Cup

Heavy Whipping Cream

1

Tablespoon

Granulated Sugar

2

Tablespoons

Irish Cream Liquor

Optional

Chocolate Sprinkles

For topping
Instructions
In a medium bowl, or bowl of stand mixer, beat the whipping cream, sugar, and Irish cream together on high speed for about 2 minutes, until stiff peaks form.

In two glasses, layer the cubed brownie pieces, maraschino cherries, and whipped cream. Repeat each layer twice. Top with chocolate sprinkles if desired.