Instant Pot Pork Tenderloin is so easy to make in 45 minutes or less!  You'll love the juicy, tender pork along with the creamy potatoes and flavorful gravy!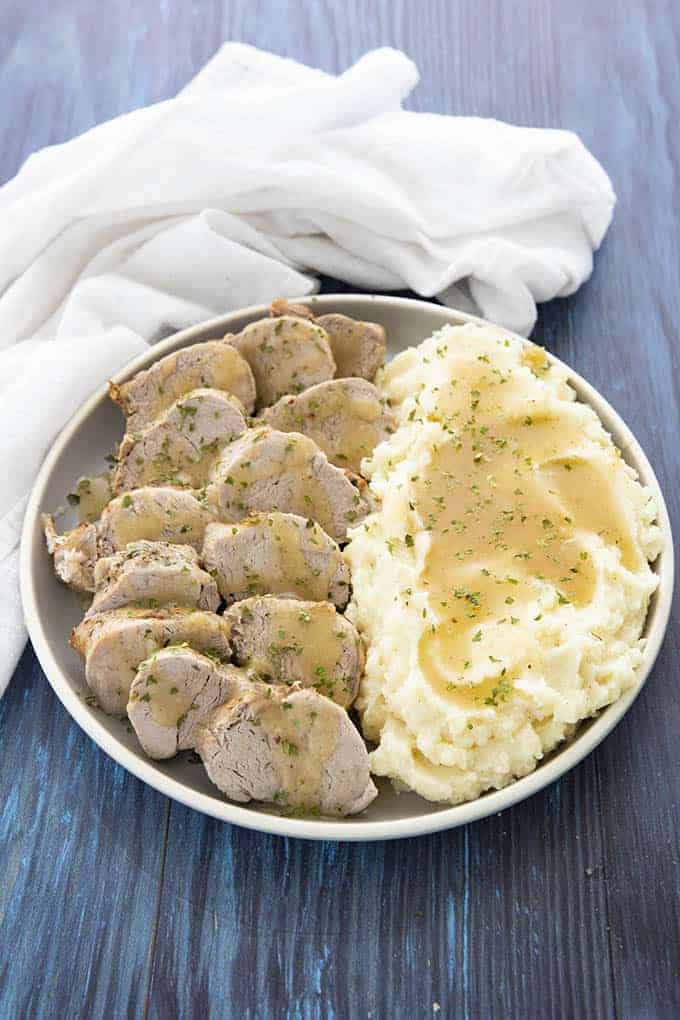 Hello new favorite weeknight dinner!  I know you guys love the Instant Pot recipes, so it was time for a new one!  I was truly amazed at how tender and juicy this pork came out.  The seasoning is just right, the potatoes cook at the same time, and then you can whip up some gravy right in the pot too.  Doesn't get easier than that!  While you're here, if you're looking for more instant pot dinners try out our Instant Pot Pot Roast and a reader fave, our Instant Pot Mac and Cheese!
What's the Difference Between Pork Loin and Pork Tenderloin?
Ok, let's get right into it today.  I know there will be some questions about actual cut of meat for this recipe, so I want to chat about it first!  Pork tenderloin, and pork loin are completely different!  You can tell them apart in your grocery store because pork loin is a big cut of meat, also known as a "pork roast" like we use in our Instant Pot Pulled Pork.  It is the perfect cut for slower roasting (or 40 minutes in the pressure cooker) and shreds very easily.  Now, pork tenderloin is what we use in this recipe.  You will notice that when you buy them, the tenderloins usually come in whole, one pound portions that are long and skinny.  This is the cut that slices perfectly like you see above.  The trick is to not overcook it, which is why it only takes an actual 5 minutes of cooking time for this recipe!
How to Make Instant Pot Pork Tenderloin:
I always start this dish by peeling and slicing my potatoes.  You can see in the photo below that this is what 2.5 pounds of russet potatoes look like when sliced large.  Each potato was cut into about 3-4 slices, don't cut them any smaller or they will dissolve.
Now, remove your pork tenderloin (or loins) from the packaging.  Note,  this recipe uses 24 ounces of tenderloin, this may be sold in one or two at your grocery store.  Season them well and give the spices a good rub into the meat.
Get your instant pot hot on saute mode.  Once it's nice and hot, add in your olive oil.  Sear the pork on all sides until golden, it won't be cooked through at this point.  Note that if you have two loins, you will need to sear one at a time.  Now, remove them to a plate.
Turn the Instant pot off and add about 1/4 cup (doesn't have to be perfect) of your broth.  Use a wooden spoon to scrape up all the browned bits.  This will keep you from getting the burn notice, and it also adds flavor!
Add in the rest of the broth to the pot along with your potatoes.  Then, place the loins right on top of the potatoes.  Seal the pot, set for manual (high) for five minutes.  Keep in mind that this will take 5-7 minutes to come to pressure, and 10-15 minutes for natural pressure release at the end.
Once you have let the pot come to pressure naturally, you can open the lid.  Use tongs and move the loins to a cutting board and tent with foil.  Then, use a slotted spoon to add the potatoes to a large bowl for mashing.
Add in your butter, sour cream, milk, and seasonings to taste.  Keep in mind that the amount of butter, milk, and sour cream here is what works best for us for creamy potatoes.  You can use more if you'd like!
Use a hand held potato masher or a mixer if you like whipped potatoes.  Mash/whip until you have your desired consistency, then cover the potatoes and set aside.
To make the gravy, turn the instant pot on to saute (high) and it will start boiling within about 1 minute.  As soon as it's bubbling, whisk together your cornstarch and cold water and add to the pot while whisking constantly until nice and smooth.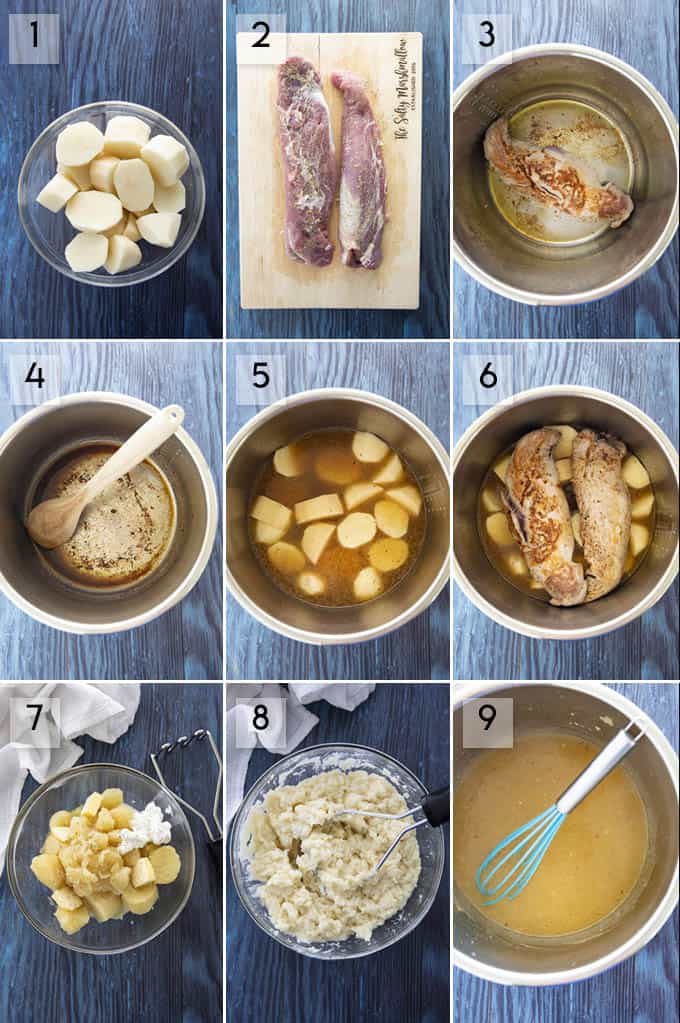 Tips for Instant Pot Pork Tenderloin:
I can say for certain that this recipe will work in a 6 quart or 8 quart Instant Pot or pressure cooker.  I have not tired it in a smaller size.  Note that since pork tenderloins are long, you may need to cut yours in half if they don't fit in one piece.
DO NOT do a quick release of the meat when your cooking time is up!  You have to let the pot come to pressure naturally (leave the valve sealed) and wait for the pin to drop on it's own.  If you don't do it this way, you will end up with either undercooked or super tough meat.
Check the temperature of your meat with a meat thermometer.  I have tested this multiple times and never had an issue with the pork being the correct temp, but I do like to advise that you have a meat thermometer on hand and check in your own kitchen as well.  The USDA says that pork is safe to eat at 145 degrees, so that or a little higher is what we're looking for here.
I don't recommend cooking this specific recipe with frozen pork.  The cooking times don't align well with the potatoes.
This one seems to be just perfect for a hungry family of 4! However, any leftovers of this pork and potatoes should be stored in airtight containers in the fridge, and eaten within 2 days for best flavor.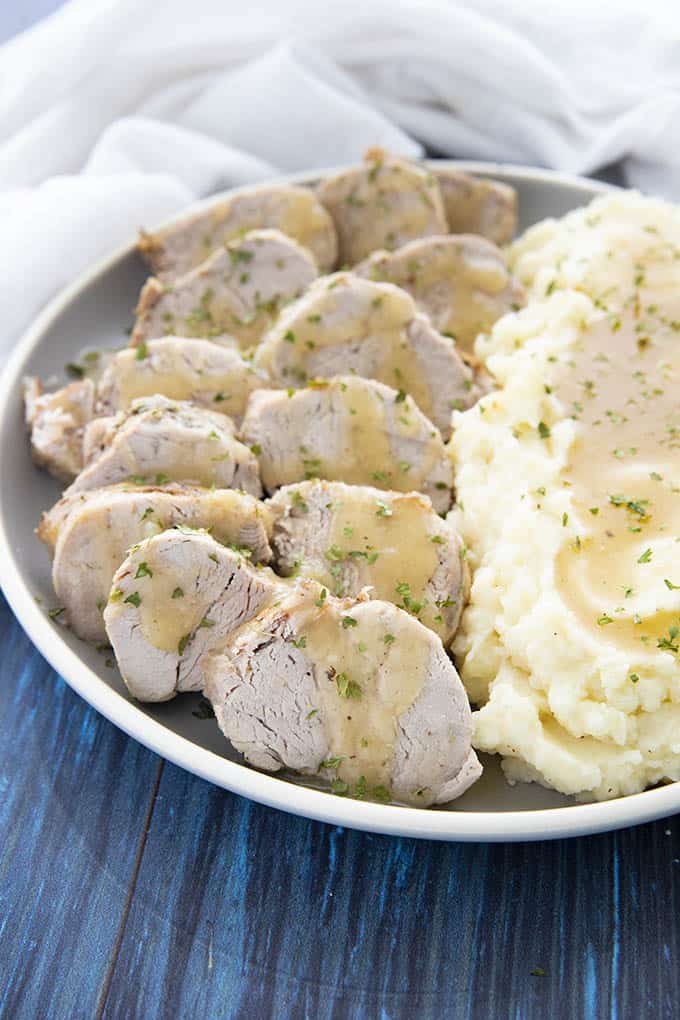 Enjoy!
~Nichole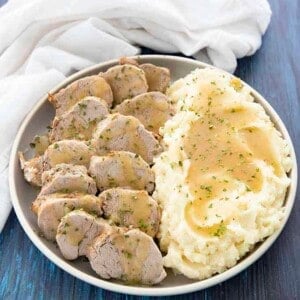 Instant Pot Pork Tenderloin
Instant Pot Pork Tenderloin is so easy to make in 45 minutes or less!  You'll love the juicy, tender pork along with the creamy potatoes and flavorful gravy!
Ingredients
FOR THE GRAVY:
2 1/2

Tablespoons

Cornstarch

3

Tablespoons

Cold Water
Instructions
FOR THE PORK:
Remove the pork from its package and place on a cutting board. If necessary, cut the pork in half so that it will fit in the instant pot.

In a small bowl, mix together the seasonings and rub evenly over all sides of the pork.

Turn the Instant Pot on to saute mode. Once hot, add the olive oil. Add the pork tenderloin and sear for 2-3 minutes per side, then remove the roast to a plate.

Pour 1/4 cup of the broth into the pot and use a wooden spoon to (deglazscrape up any browned bites on the bottom of the pot.

Turn the pot off, and pour in the remaining broth. Add in the the sliced potatoes, and set the pork on top.

Place the lid on the pot and set the valve to seal. Set the pot to manual or meat setting for 5 minutes.

Once the 5 minutes is up, do a natural pressure release (allow the pot to come back to pressure on its own, do not open the valve).

When the pressure has released naturally, open the valve, then open the lid of the instant pot.

Transfer the roast to a large serving platter and cover loosely with foil.
FOR THE POTATOES:
Use a slotted spoon to remove the potatoes to a large bowl.

Add the milk, butter, sour cream, and seasonings to taste.

Mash to desired consistency with a potato masher or hand mixer.
FOR THE GRAVY:
Turn the Instant Pot on to saute (higmode.

Once the liquid is boiling, use a small bowl to stir together the cornstarch and water until smooth.

Whisk the cornstarch mixture into the broth, whisking constantly for 1-2 minutes until thickened.
Notes
**NOTE:  For the potatoes, make sure to slice each one into 3-4 thick slices, if they are any smaller, they will dissolve in the liquid.
NOTE:  This recipe does not work well with frozen tenderloin.  Please use fresh, or thaw your pork first.
Like this? Rate & review this recipe below!