Homemade Pretzel Bites are an easy from scratch treat, perfect for a party appetizer or just a snack!  Serve with homemade cheese sauce for the perfect salty and cheesy combination.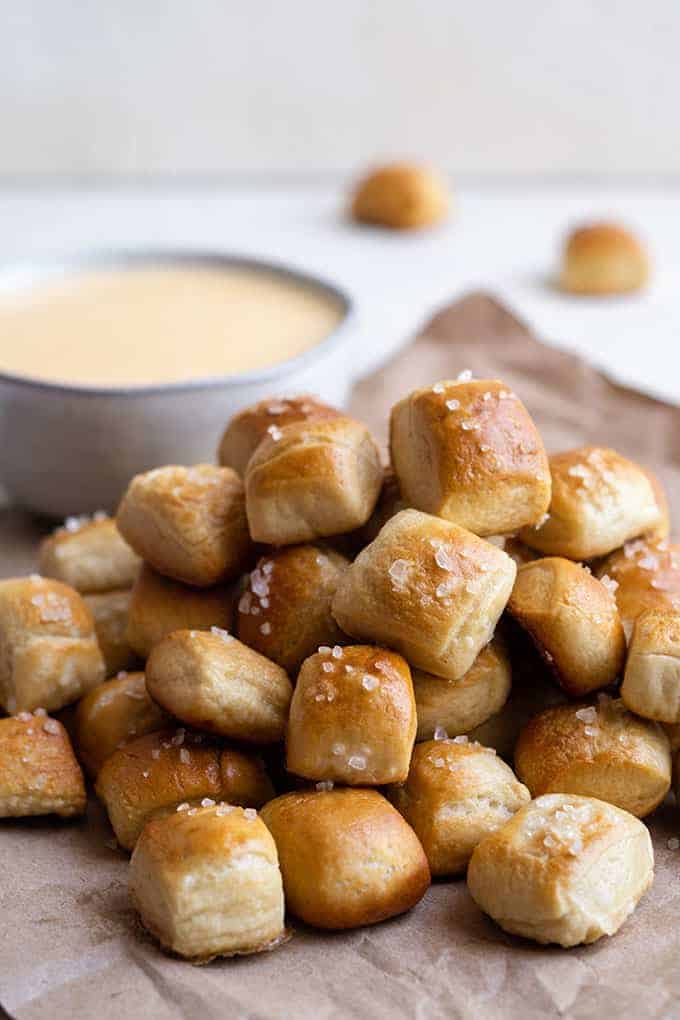 Pretzel Bites:
Chewy, soft and salty. That's how I would describe the perfect soft pretzel and that's exactly what these pretzel bites are. These truly hit the spot when I'm craving something salty or, let's be honest, carbs, and since they're the perfect size to enjoy just a few, if you choose.  As we head into fall, this easy snack becomes a regular in my house. They make the perfect game day appetizer – if we're having several friends over, I often need to make a second batch as they get eaten so quickly. They are so addictive that my friends will just hang around the tray, continuously grabbing and dipping into the amazing Beer Cheese Sauce!
I also often make these for movie night with the kids or, as I mentioned, anytime I'm craving a little something salty! A few of these is just enough to satisfy the craving.  Homemade pretzel bites are surprisingly easy to make too! I go into complete detail below but there are essential three main steps – making the dough, the boiling baking soda bath, and baking.
How To Make Soft Pretzels:
The first step to prepare the pretzel dough. Begin with warm water, yeast and sugar.
Once the yeast is puffed up, you can add in the salt and flour, stirring to combine.
When the dough starts to pull away from the bowl, place it on a well-floured surface and begin to knead the dough for 5 minutes.
Cut the dough into 4 parts, so that amount of dough is more manageable as you begin to roll it into a long rope. Once the dough is at your preferred pretzel thickness, begin cutting ½ inch pieces.
Once all of the dough is cut into bite-sized pieces, begin dropping them into the boiling baking soda water. This is a quick process, as they should only be submerged for about 20 seconds.
Place the pretzels bites on a greased baking pan and brush them with the water and egg mixture before sprinkling on coarse salt.  Bake until golden brown, and eat!
A Few Recipe Notes:
For the perfect pretzel bite, the baking soda bath may be the most important part. What does the baking soda bath do? It's part of what provides the soft golden color and the chewy outside. If you skip the baking soda water, your soft pretzel bites won't have the texture you love.
If you're not a fan of cheese sauce, these can also be dipped in mustard!  They're great with yellow, spicy, or even honey mustard!  If you're a big fan of ranch or blue cheese, it's good in those as well.
Enjoy!
~Nichole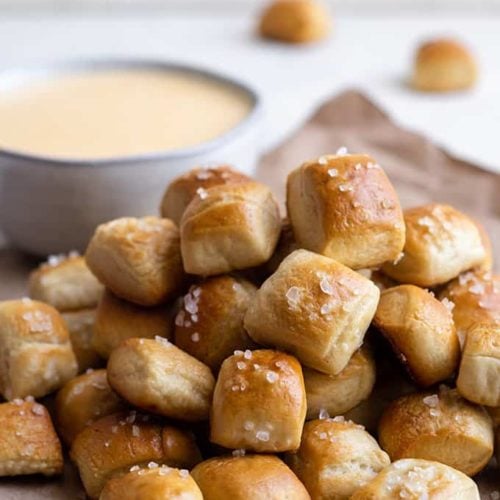 Homemade Pretzel Bites
Homemade Pretzel Bites are an easy from scratch treat, perfect for a party appetizer or just a snack!  Serve with homemade cheese sauce for the perfect salty and cheesy combination.
Ingredients
1

cup

Warm Water

3

tablespoons

of dry active yeast

2

Tablespoons

Sugar

6

Cups

Water

For Boiling

3-4

Cups

All Purpose Flour

1/2

teaspoon

Salt

1

Large Egg

3

Tablespoons

Coarse Sea Salt

½

Cup

Baking Soda
Instructions
Preheat the oven to 400 degrees Fahrenheit.

Add the warm water to a mixing bowl and sprinkle in the yeast and sugar. Stir to combine.

Let the yeast activate for 5 minutes.

In the meantime, bring 6 cups of water to a boil over high heat. Add the baking soda and stir. (Note that the baking soda will bubble up so it's best to use a deep boiling pot.)

Once the yeast has puffed up, stir in the 1/2 teaspoon of salt and 2 cups of flour until combined.

Continue adding flour until the dough starts to pull away from the sides of the bowl.

Then scoop the dough out onto a well-floured surface and knead it for 5 minutes. Add extra flour if the dough becomes too sticky to handle.

Cut the dough into 4 parts. Roll each piece into a long rope to the thickness of pretzel that you prefer and cut the ropes into ½ inch pieces. Lightly tuck or form the pinched end of the pieces so that they don't look flat.

Spray a large baking tray with sides with butter spray and set aside.

Using a slotted spoon, add 8-10 pretzel pieces to the boiling baking soda water for 20 seconds. Drain and add them to the baking tray. Repeat with the remaining dough pieces.

Arrange the pretzel pieces on the baking tray. (You can arrange them fairly tightly as they will not expand.)

Whisk the egg and ¼ cup of water together, brush it onto the pretzels and sprinkle the course sea salt on as well.

Bake for 7-8 minutes, or until the tops turn a golden-brown color. Turn the pan around half-way through to bake evenly.

Serve immediately with cheese dip, mustard, or honey mustard as desired.
Like this? Rate & review this recipe below!