Easy Chicken Stir Fry is the perfect weeknight dinner recipe ready in 20 minutes!  This stir fry is loaded with juicy chicken, veggies, and the most flavorful sauce!
Nothing beats a good old 20 minute, one pan meal!  Especially on those nights when you're craving take-out, or not in the mood to cook.  This is way faster than ordering from a restaurant, better flavor (I always end up "doctoring" up my Chinese take out), and way less greasy.  I feel like I hear from a lot of you this time of year that you just don't know what to cook because we're after all of the big cooking holidays, you want something at least somewhat healthy, and we're transitioning from cold to warm weather.  If that's you, this one should hit the spot, it's a go-to for me, just like our baked Chicken Thighs, you just can't go wrong.
What Goes With Chicken Stir Fry?
If you're wondering what to serve with this dish, we love white or brown rice for something familiar. Truly, it's kind of a meal itself with all of the chicken, bell peppers, broccoli, mushrooms, and onions.  But I'm a carb lover so it's always great with rice of any kind or noodles. It's also great with this so good, so easy to make Lo Mein, or some amazing Pan Fried Noodles!  If you love lots of veggies you could even serve it up with an extra side of Roasted Green Beans or Honey Roasted Carrots!
Steps for the Best Chicken Stir Fry:
Prep all of your ingredients before you get started!  This will make the cooking time go super fast.  Slice up your veggies first and place them together in a large bowl and set aside.  To make your life even easier, you can purchase cut broccoli florets and sliced mushrooms!  And, possibly even sliced peppers and onions depending on your grocery store.
After your veggies are sliced, dice up your chicken.  You'll want this in "bite size" pieces, that are about 1 inch each.  This doesn't have to be perfect, but make sure they are all similar in size, and small because they cook quickly.
Make sure to only sear the chicken for 4-6 minutes.  It will cook all the way through at this point because of the small pieces.  Don't cook them too long or the chicken will dry out.  If you'd like, you can use a meat thermometer and check a couple of pieces of chicken to make sure it is at 165 degrees.
After the chicken is cooked, you'll remove it to a plate and add the veggies to the pan.  Don't leave the chicken in the pan or it will be dry.  4-5 minutes is perfect for us with crisp-tender veggies being what I'm looking for.  If you like your veggies softer, go ahead and cook them for a couple more minutes.
While the chicken is set a side and the vegetables cook, grab a measuring cup and whisk together your sauce.  That way it's ready to go and you can toss it back in the pan with the chicken and it only needs to cook for a couple more minutes!
You can sub out veggies if you wish.  You can use any color of bell peppers or even onion that you like.  White or yellow onion are fine, I like red best for flavor.  You can leave out the mushrooms if you don't like them, or sub out either the mushrooms or broccoli for julienne cut carrots or snap peas!
The Sriracha is optional, but it adds a nice slight bit of heat and flavor to the recipe without making it too spicy.  You can add extra, to taste if you like your stir fry spicier.  If you don't have Sriracha, use a pinch of red pepper flakes instead.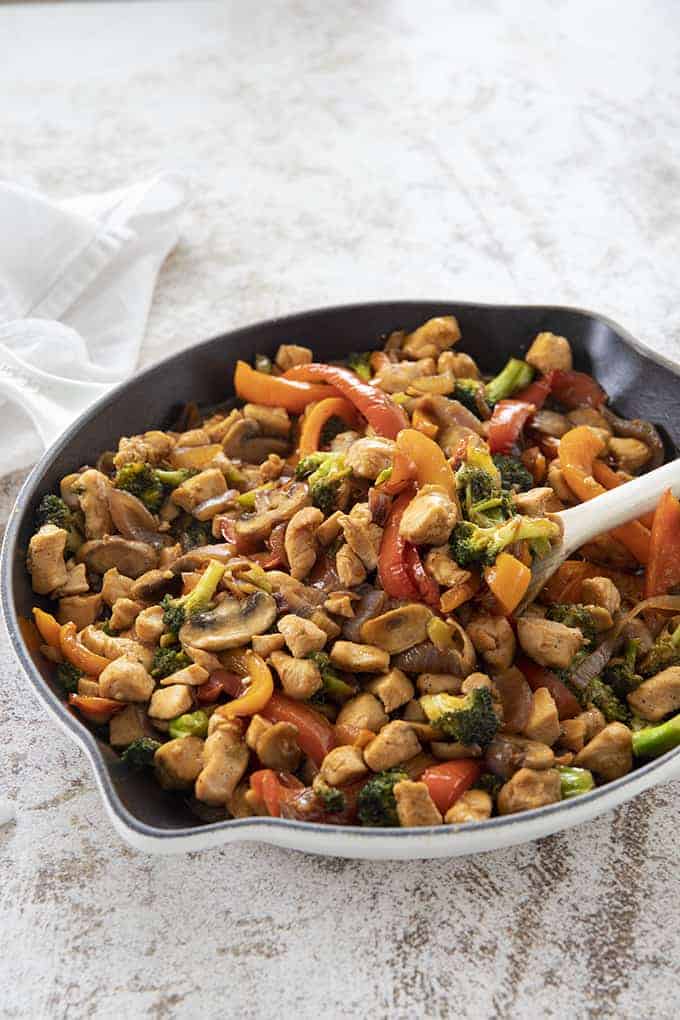 Enjoy!
~Nichole
Easy Chicken Stir Fry
Easy Chicken Stir Fry is the perfect weeknight dinner recipe ready in 20 minutes!  This stir fry is loaded with juicy chicken, veggies, and the most flavorful sauce!
Print
Pin
Rate
Instructions
Heat ONE TABLESPOON of the oil in a large skillet over medium-high heat.

Place the chicken breasts on a cutting board, cut into bite sized cubes (about 1 inch pieces), and season with salt and pepper to taste.

Place the chicken in the hot skillet and cook, stirring occasionally, until chicken is golden on all sides about 4-6 minutes. Pour the chicken onto a plate and set aside.

Add the remaining oil to the pan along with the onions, peppers, broccoli, and mushrooms. Cook, stirring occasionally for about 5 minutes until the vegetables are crisp tender.

Meanwhile, in a medium bowl whisk together the soy sauce, cold water, and cornstarch until smooth. Whisk in the broth, honey, garlic, sesame oil, and sriracha.

Reduce the heat to medium and return the chicken to the pan.

Pour the sauce over the chicken mixture and stir to coat.

Reduce the heat to low and simmer for 2-3 minutes until thickened.

Serve immediately with your favorite rice or noodles.

Leftovers can be stored in the refrigerator for up to 4 days.
Nutrition
Serving:
1
Cup
|
Calories:
210
kcal