Crockpot Peanut Clusters are such an easy to make Christmas candy with minimal effort!  You only need 5 ingredients to make simple chocolate clusters everyone will love!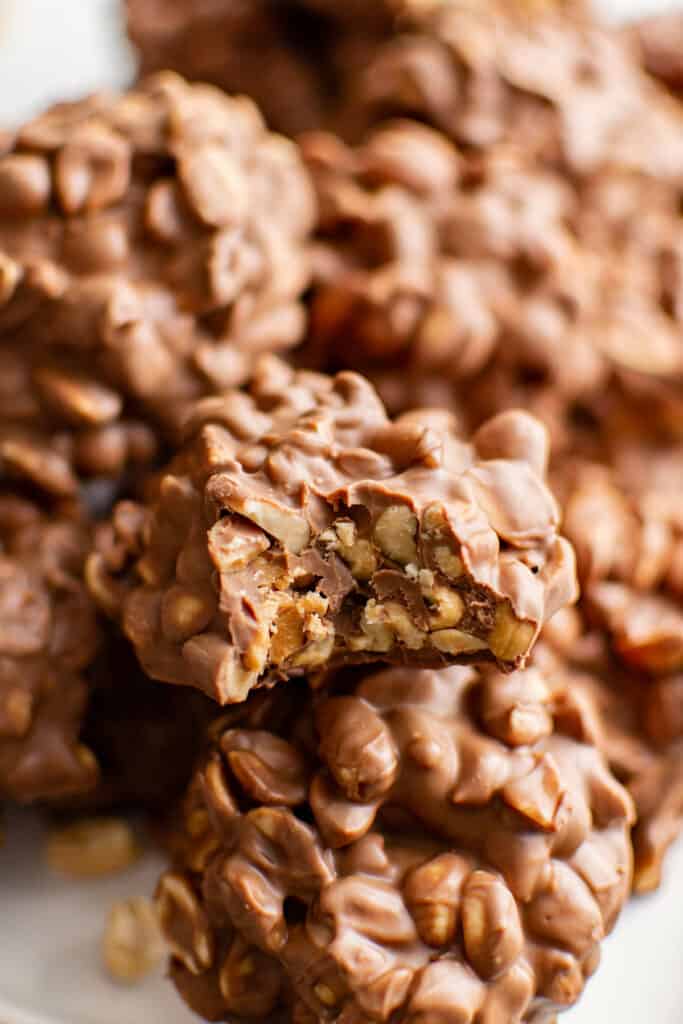 These chocolate peanut clusters are such a fun and easy holiday treat!  All you need to make them is a Crockpot and a handful of ingredients!  I love them just like our festive White Chocolate Peppermint Almond Clusters too.  You only need white chocolate melting wafers, milk and semi sweet chocolate chips, peanut butter, and of course roasted peanuts to whip these up!  They are a great one to put out with your holiday cookies, I'm partial to our Christmas Sprinkle Cookies!  Or, make a couple of batches and give them out in fun bags or jars for a simple holiday gift.
How to Make Crockpot Peanut Clusters:
First things first just add all of your white, milk, and semi sweet chocolate and the peanut butter to your slow cooker.
Cook everything together on low for 1 ½ to 2 hours.  You will need to stop by and give the mixture a stir every 15-20 minutes to make sure the chocolate doesn't burn.
Once the chocolate is nice and smooth and melty, you can stir in your peanuts. Mix very well to make sure every peanut is nice and coated.
Now, just grab a large baking sheet lined with parchment or wax paper.  Use a large cookie or ice cream scoop to scoop them out evenly into "balls" on the prepared pan. You can also make them smaller if that's your preference.
Some Recipe Notes and Tips For Chocolate Peanut Clusters:
The fastest way to cool these down is to put them in the refrigerator for 20-30 minuets until set. However, you can let them sit at room temperature too!  Keep in mind to plan ahead if cooling at room temp because they will take up to 2 hours to become set.
The white chocolate melting wafers along with the other two chocolates gives great flavor.  You can use only milk chocolate or only semi sweet if that's what you have on hand.  Butterscotch chips are also a great addition!
Creamy or crunchy peanut butter works fine here!  I tend to prefer creamy, but crunchy is great if you like even more texture.
You can change up your nuts for this recipe!  I use salted peanuts, unsalted is also fine depending on your taste.  I do think the bit of salt is necessary to balance the sweetness.
Once set these store well in an airtight container at room temp.  You can keep them in the fridge if your kitchen is usually on the warm side so they don't melt. These are best eaten within 7 days of preparing.
Enjoy!
~Nichole
Crockpot Peanut Clusters
Crockpot Peanut Clusters are such an easy to make Christmas candy with minimal effort!  You only need 5 ingredients to make simple chocolate clusters everyone will love!
Print
Pin
Rate
Ingredients
1

10-oz Bag White Chocolate Melting Wafers

¾

Cup

Milk Chocolate Chips

¾

Cup

Semi-Sweet Chocolate Chips

½

Cup

Creamy Peanut Butter

5

Cups

Dry Roasted Peanuts

salted
Instructions
Add the white chocolate, milk chocolate, semi-sweet chocolate chips and peanut butter to a slow cooker.

Cover and cook on low for 1 ½-2 hours or on high for 1 hour, stirring every 15 minutes to prevent burning.

When the chocolate is fully melted, stir in the peanuts until fully coated.

Line a large baking pan with parchment paper then use an ice cream or large cookie scoop to scoop out balls of the peanut mixture onto the baking pan.

Let them cool in the fridge for 20 minutes until set or at room temp until set for about 2 hours.

Serve or store in an airtight container in the fridge for up to 2 weeks or 1 week at room temp.
Notes
NOTE: Cooling time listed is for cooling in the fridge.  If cooling them until set at room temp, plan ahead as this will take 1-2 hours.