Slow cooker pork green chili is the easiest green chili you'll ever make – and it is packed full of tender slow cooked pork, and a slightly spicy, tangy sauce! Awesome easy weeknight meal!
I'm back with another recipe revamp!  This post was originally published back on April 11, 2016.  Recipe is still the same and as delish as ever – BUT, we're adding some gorgeous updated photos and a video that you can check out below.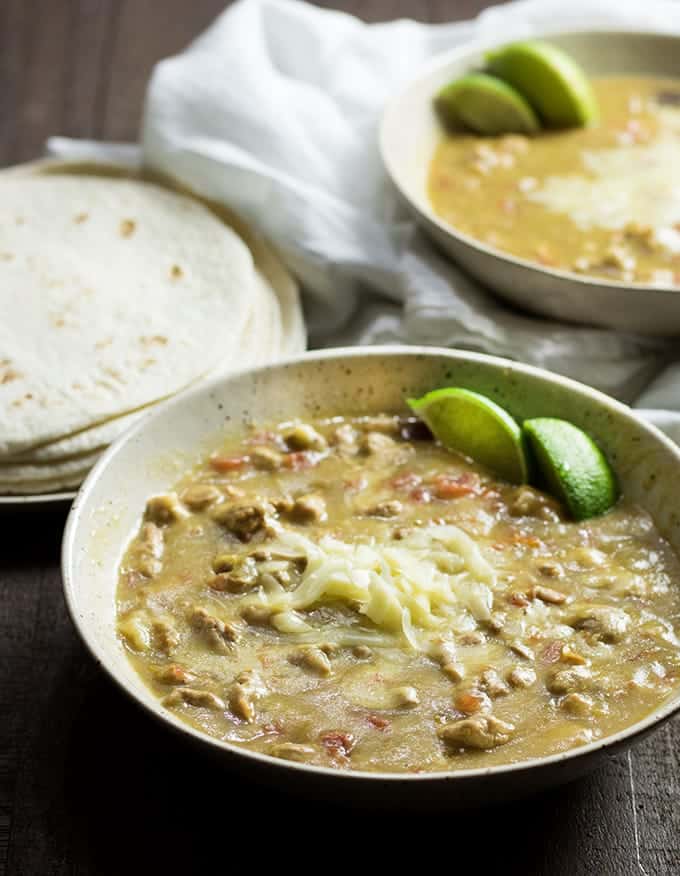 GUYS.  This is my favorite thing to eat.  Ever.
I lived in Colorado for about three years – and apparently, that is all the time it takes for a person to become completely addicted to green chili.
Brunch was a delight there because the burritos come smothered in the stuff.  I'm pretty sure it's mandatory.
I'm also ok with mandatory things because of this.
Since going out to eat isn't always the most budget friendly option in the world, I went on a mission to come up with my own version of chili verde.
By my own version, I mean that I'm 1000% aware that this isn't authentic.
I am also about 2000% sure that it's easy on my wallet, easy on my schedule because it cooks in the crock pot, and seriously so good.
We have this for dinner every week, folks!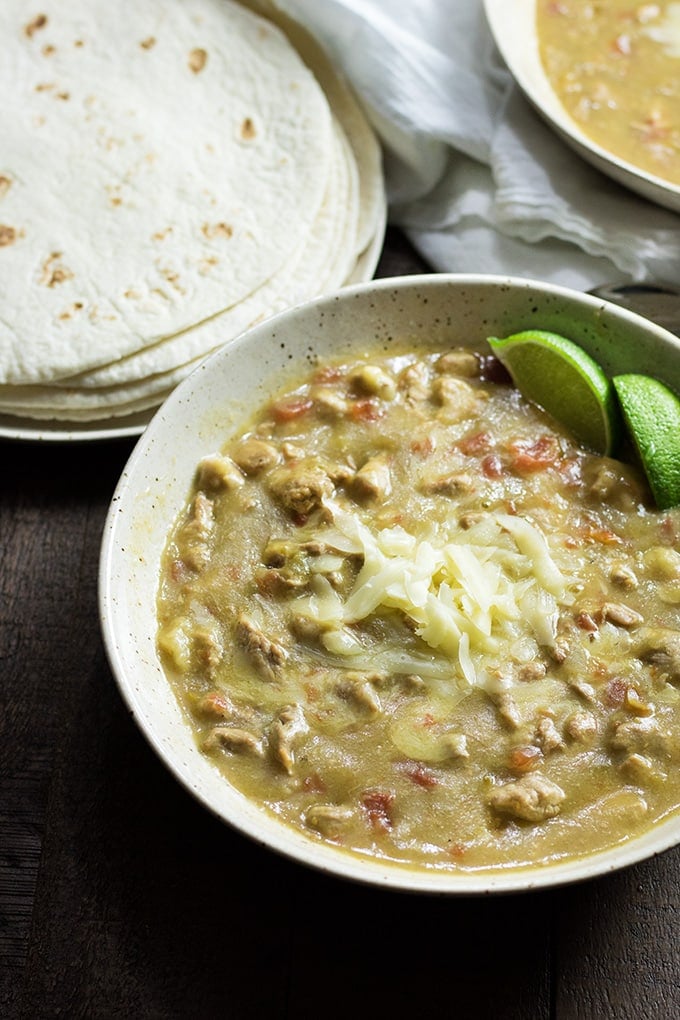 This recipe makes a BIG batch of chili.  Luckily, it reheats like a gem – and it's good on everything.
I like to make this on a Friday, then have it over my breakfast burritos Saturday morning.  Out of this world!
For dinner, if I'm being healthy I just eat it right out of the bowl.
If I'm really just wanting a big plate of comfort food that night, this is excellent poured over bean and cheese burritos!
Enjoy!
~Nichole
Crock Pot Pork Chile Verde
Ingredients
2

Pounds

diced pork

2

28 ounce

Cans green chile enchilada sauce

1

16 ounce

Jar salsa verde

1

14.5 ounce

Can diced tomatoes

1

4.5 ounce

Can chopped green chiles

2

Cloves

garlic

diced

1/2

White onion

diced finely

Olive oil for pan

Hot pepper sauce to taste

tobasco

2

Tbsp

Corn starch plus 2 Tbsp. Water
Instructions
Trim excess fat from pork and cut any bigger pieces down so that all the pork is bite sized.

Heat olive oil in a large skillet and brown the pork.

Dice up garlic and onion and add to crock pot.

Add pork and remaining ingredients (except for cornstarch and water) to the crock pot.

Cook on low for 6-8 hours.

About 20 minutes before serving, mix cornstarch and water in a small bowl until thick and add to the slow cooker.

Place lid back onto the crock pot and let thicken.

Stir well before serving.
Like this? Rate & review this recipe below!