Creamy Chicken Orzo is so easy to make for a perfect one pot dinner!  Full of tender orzo pasta, juicy chicken, and plenty of parmesan cheese!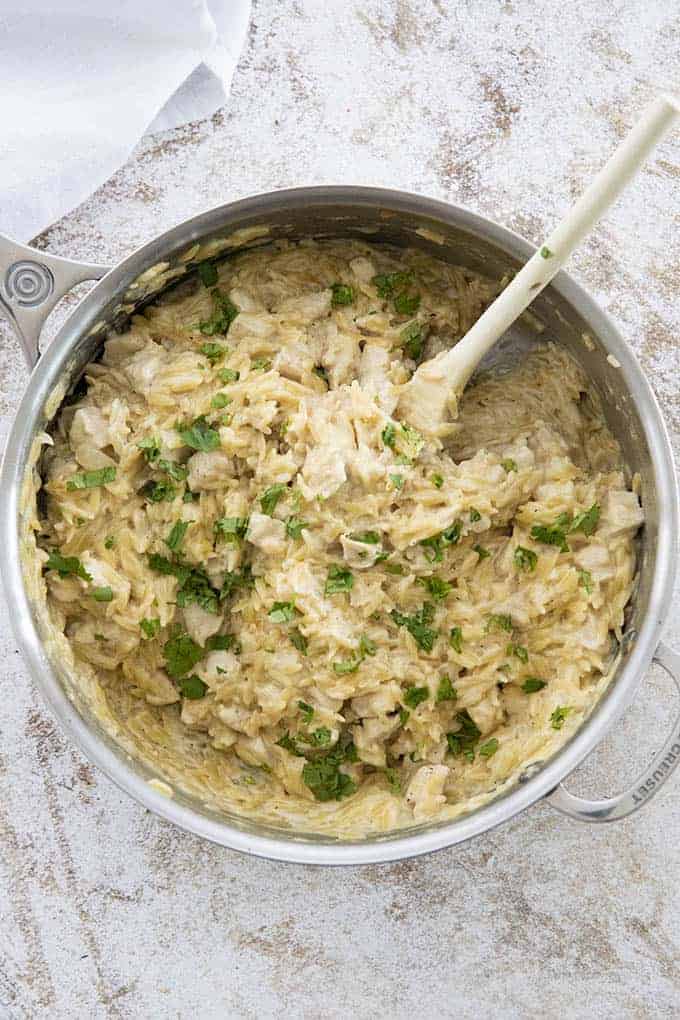 We've been going through and getting all of our classic Thanksgiving recipes up over the last couple of weeks!  But, one pot meals are our specialty around here, and this is one I've been dying to share!  It's kind of a spin on my Creamy Parmesan Chicken and Rice and it's a really simple but cozy meal for these colder months when we need some "stick to your ribs" food.  If you're looking for more easy recipes you have to try out our French Onion Salisbury Steak and Three Cheese Rigatoni!
Is Orzo a Pasta or Rice?
Let's talk about orzo!  It looks like rice, but guess what?  It's actually pasta!  It actually looks really similar to rice, or barley.  I'm sure you have maybe seen Orzo before at your grocery store and it caught your eye, but you weren't sure what to do with it.  You can cook it and serve it the same way you would rice, or any pasta dish, and it's not complicated to cook at all.  It works out perfectly for a 30 minute meal.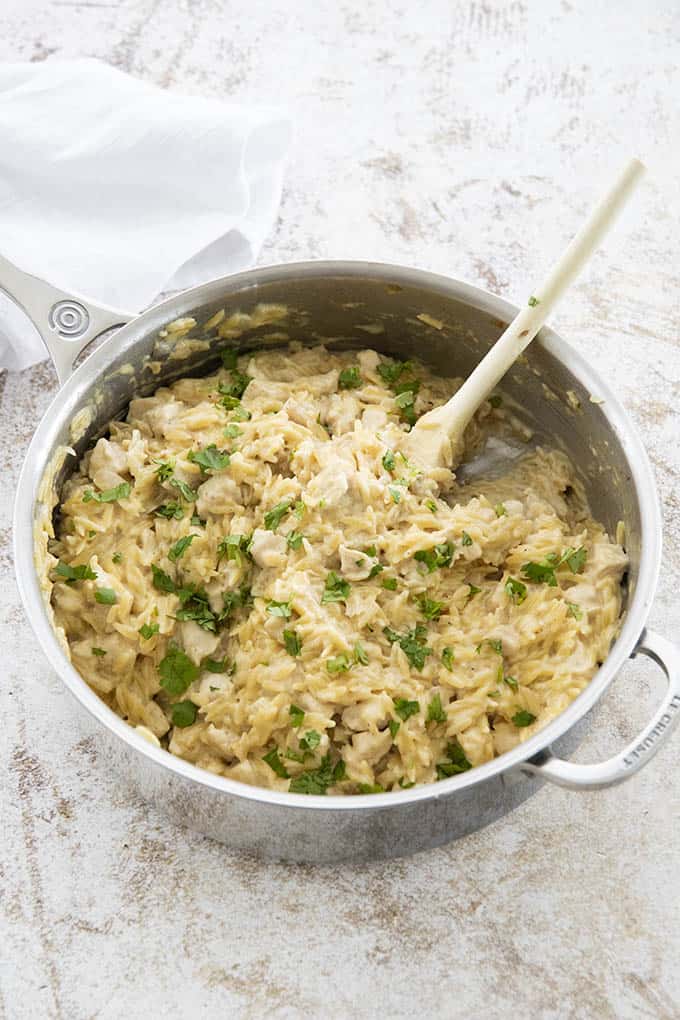 What Does Orzo Taste Like?
Much like rice or pasta, orzo has a very neutral taste.  It's really more for adding a nice texture or "bite" to the dish.  For this recipe, you'll notice that after we cook the onions and garlic we then add the dry orzo right to the pan.  Let it cook and "toast" for 2-3 minutes.  This adds some really great, extra flavor to your orzo!
Recipe Notes:
You can use cooked, shredded chicken in this recipe if you prefer.  Simply stir the shredded chicken in when you add the broth and half & half.  You'd want to use about 2-3 cups total.
This recipe does need to simmer COVERED!  Make sure you have a tight fitting lid for your pan.  You can check on it every once in a while because stove-top heat can vary.  You want it at a light simmer, it shouldn't ever be boiling rapidly.  If it does, you will run out of liquid, but can add more if needed.
Cheeses:  I prefer parmesan in this dish.  It almost reminds me of a nice risotto you can get at a restaurant and it's nice and decadent.  But, you can use any cheese that is your favorite.  Keep in mind that freshly shredded cheese is always preferred, but you can use pre-shredded (bagged) if necessary.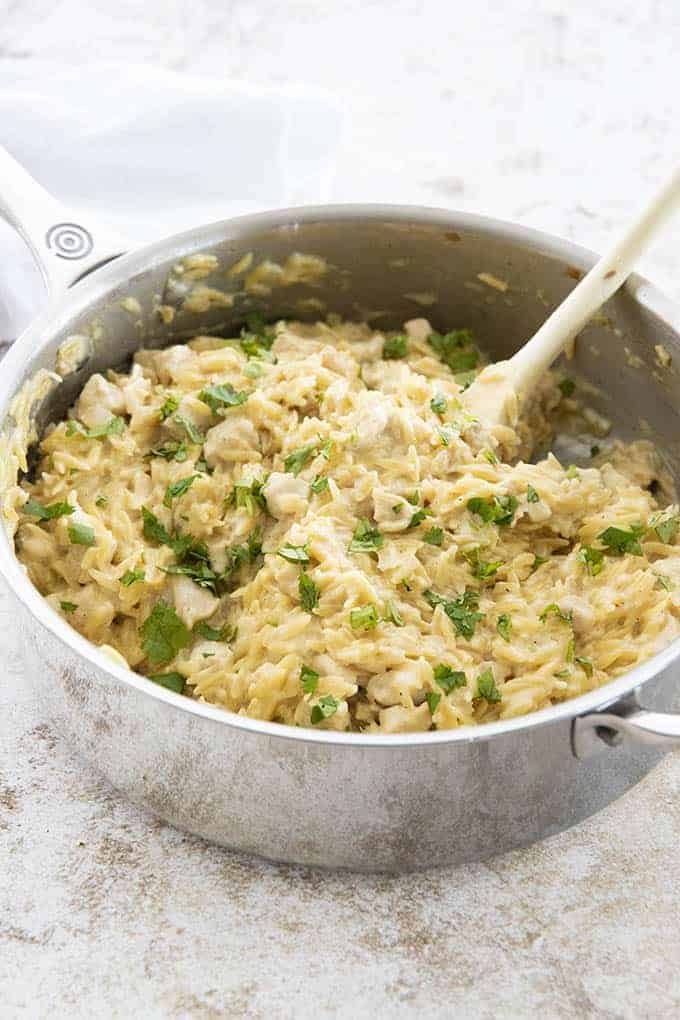 Enjoy!
~Nichole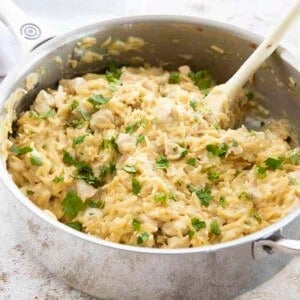 Creamy Chicken Orzo
Creamy Chicken Orzo is so easy to make for a perfect one pot dinner!  Full of tender orzo pasta, juicy chicken, and plenty of parmesan cheese!
Ingredients
1

Pound

Chicken Breasts

Salt & Pepper

To Taste

1

Tablespoon

Olive Oil

1

Tablespoon

Butter

1/2

Large Onion

Diced

3

Garlic Cloves

Minced

2

Cups

Orzo

2

Cups

Chicken Broth

2

Cups

Half & Half

Juice of 1/2 Lemon

Fresh Chopped Parsley for serving

optional
Instructions
Place the chicken breasts on a large cutting board and cut into bite sized (1/2-1 inch) pieces, sprinkle with salt & pepper to taste.

Heat the olive oil and butter in a large skillet over medium heat.

Add the cubed chicken and cook for 4-5 minutes just until seared on all sides.

Add the onion and garlic and cook, stirring constantly for 3 minutes.

Add the orzo to the pan and stir constantly for 2 minutes.

Pour in the chicken broth and half and half. Bring to a simmer, then reduce the heat to low, cover the pan with a tight fitting lid and cook for 5-7 minutes until orzo is soft.

Remove the pan from the heat and stir in the lemon juice and parmesan.
Notes
NOTE:  You can make this ahead and store in the refrigerator in a sealed container for up to 3 days.  Reheat in a large pan on the stove top over low heat until warmed through, stirring occasionally.
Like this? Rate & review this recipe below!