Cinnamon Sugar Donut Cake tastes just like an old fashioned cake style donut!  This bundt cake is easy to make from scratch, perfectly buttery and sprinkled with cinnamon and sugar coating!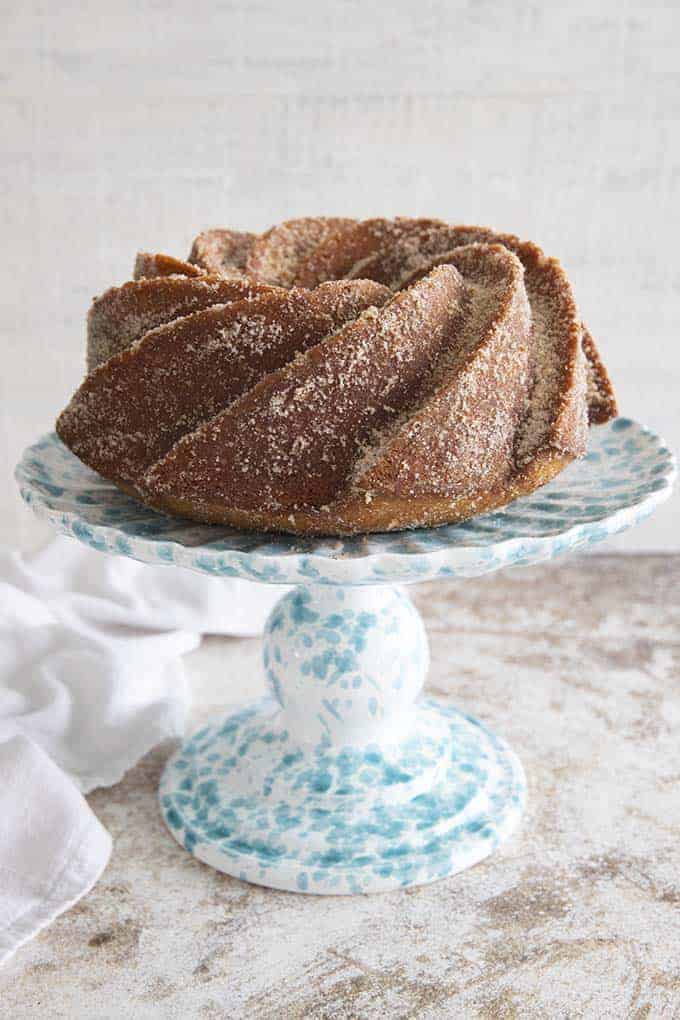 Donut Cake:
I cannot explain to you how much I love this simple cake!  I actually made it a while back and have been waiting until closer to baking season, which has felt like forever, to share it!  For several years now my Cinnamon Sugar Donut Muffins have been one of the most popular recipes here.  But, a lot of you have requested a cake version, and here it is!  It's a more dense cake (like a donut) with a really delish, buttery, cinnamon/sugar flavor!
Donut Cake Ingredients:
The dry ingredients for this cake are all purpose flour, baking powder, cinnamon, salt and nutmeg.  You can sift or whisk (I just whisk, it's easier) these all together!  You don't need to spend more than a few seconds on it.  For the wet mixture we start by beating together butter with brown and white sugar, using two sugars makes this so much more flavorful!  After that we add 4 eggs, one at a time, along with some vanilla extract.  All you need to do next is combine wet/dry ingredients along with some milk just until moist, pour in your pan and bake!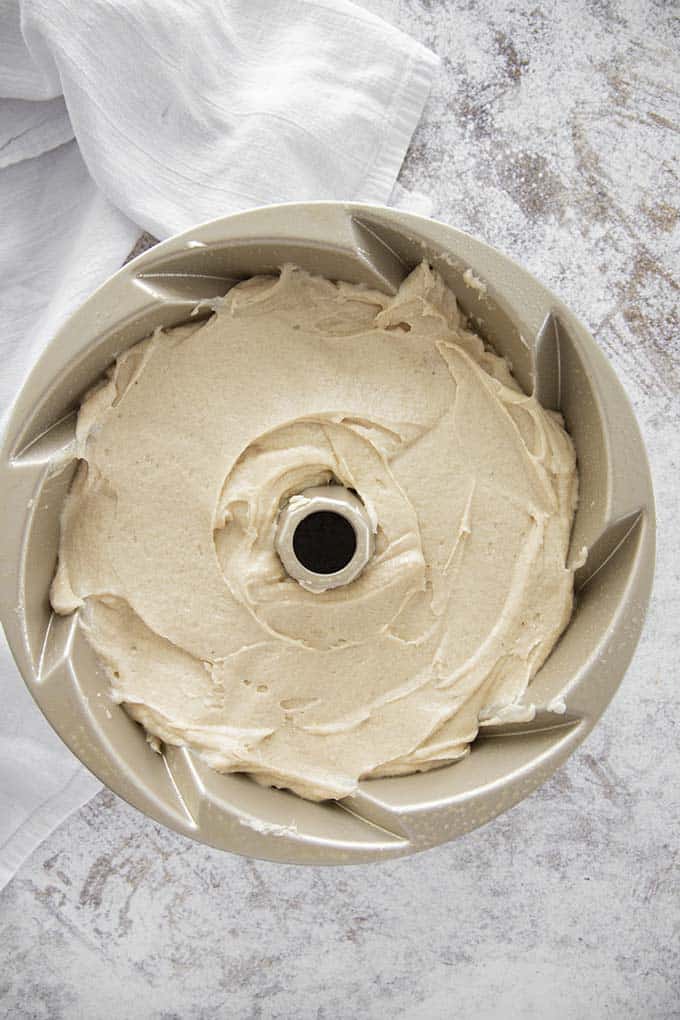 Donut Cake Recipe Notes:
You will need a 10-12 inch bundt pan for this recipe.  I haven't tested it in a 9×13 inch dish or a springform pan.  So, if you don't use a bundt pan keep in mind your bake time may vary.
Very important note is that you MUST butter and flour your bundt pan!  I know that some pans say they are nonstick, but they really aren't!  Plain cooking spray won't do it either.  For a perfect bundt cake every time, always butter making  sure to get all the nooks and crannies, then dust with flour!  Doing this will ensure your cake doesn't break in half when you remove from the pan.
I have only tested this recipe using regular cow's milk.  However, an almond milk or coconut milk should work ok here too.  Don't use canned coconut milk or whipping  cream.
Don't skip the nutmeg!  I know this can be a strong spice for some people, but it really does give the cake that "old fashioned donut" flavor we want!  I made sure to use a minimal amount because nutmeg goes a long way.
Make sure your butter and eggs are at room temp for best results.  The butter should be very soft but not to the point that it's almost melted (don't leave it out on the counter all day and then use it, that's too soft).  If your eggs are still cold, just stick them in a small bowl of warm water for a minute or two!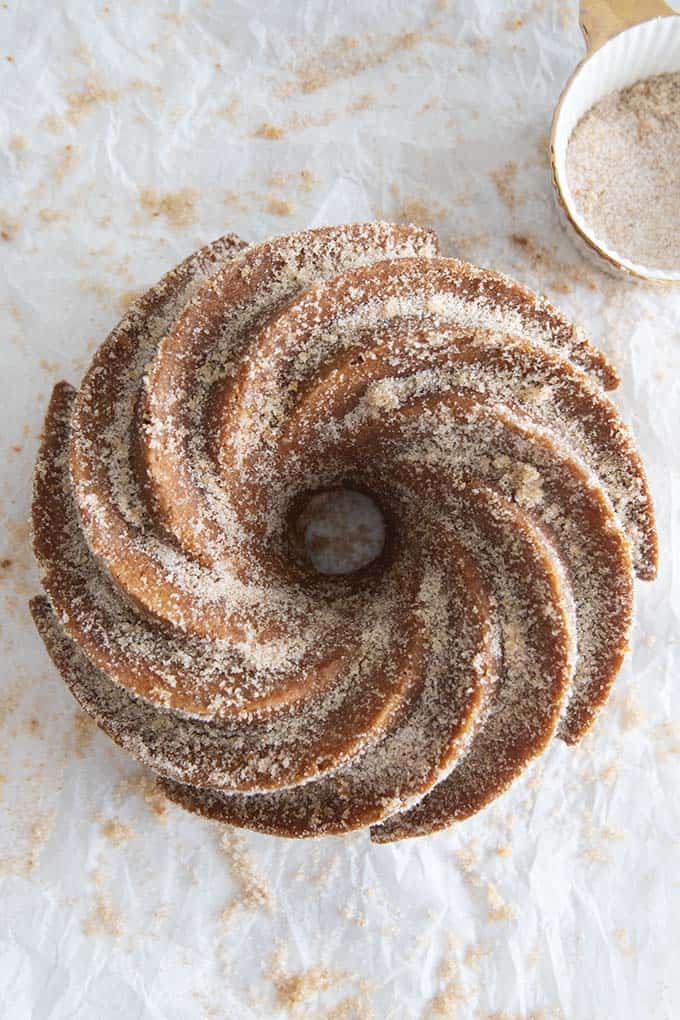 Enjoy!
~Nichole
Cinnamon Sugar Donut Cake
Cinnamon Sugar Donut Cake tastes just like an old fashioned cake style donut!  This bundt cake is easy to make from scratch, perfectly buttery and sprinkled with cinnamon and sugar coating!
Instructions
FOR THE CAKE:
Preheat the oven to 350 degrees. Grease a 10-12 Cup bundt pan with butter and dust lightly with flour, set aside.

In a large bowl whisk together the flour, baking powder, cinnamon, salt, and nutmeg. Set aside.

In a second large bowl if using hand mixer, or in the bowl of a stand mixer beat together the softened butter and both sugars for 3-4 minutes until light and fluffy.

Add the eggs one at a time and beat well after each addition. Add the vanilla extract and beat to combine.

Add half of the dry ingredients to the wet ingredients, and beat just until combined. Pour in all of the milk and beat just until incorporated. Then, add the remaining dry ingredients and mix just for about 30 seconds at the most to combine.

Pour the batter into the prepared bundt pan and bake in the preheated oven for 50-60 minutes until a toothpick inserted in the cake comes out clean. Allow the cake to cool in the pan for at least 10 minutes, then invert onto a cooling rack to cool completely.
FOR THE TOPPING:
Melt the butter in the microwave for 20-30 seconds, or on the stove top in a saucepan.

In a separate bowl stir together the sugar and cinnamon.

Brush or drizzle the butter evenly over the cake. Sprinkle on the cinnamon sugar, using your hands to press it onto the sides of the cake.
Notes
IMPORTANT NOTE ON GREASING PAN:  Make sure to butter/flour your bundt pan, even if your pan says it is non-stick.  Cooking spray alone won't work. I use about one Tablespoon of butter to grease all of the nooks and crannies, then just a light dusting of flour, tapping out the excess over the sink. NOTE ON SALT/BUTTER:  If using salted butter, decrease the salt to 1/2 teaspoon.
Like this? Rate & review this recipe below!