Best Apple Cake is super moist, so easy to make, and packed full of apple cinnamon flavor!  This recipe is perfect for fall and you can use your favorite apples!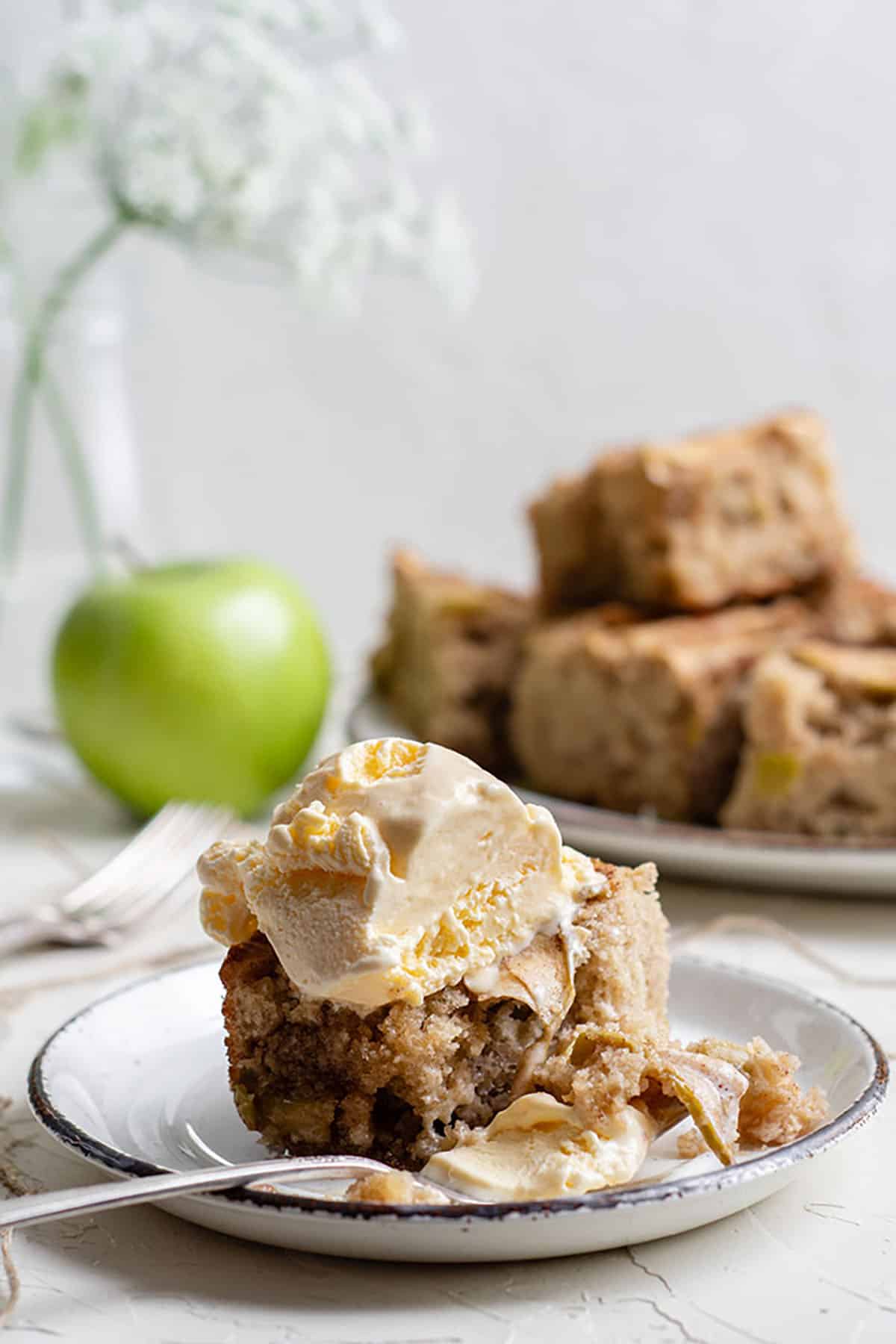 Best Apple Cake:
Our melt in your mouth apple cake recipe is packed full of everything that's good about fall! It has chopped apples in the batter and sliced apples on top!  You can use Granny Smith apples, Honey Crisp, Fuji, or really any apples that you love the most.  It's always great to use a mixture of apples to get some different sweet and tart flavors! While I do get the craving for things like Pumpkin Muffins and Pumpkin Cupcakes, I am a true apple cinnamon lover!  This is a great weekend baking recipe, and perfect served as a dessert or even a nice coffee cake for brunch!  If you have a lot of apples to use up, be sure to try our Oatmeal Crumble Stuffed Baked Apples too!
How to Make Apple Cake:
This cake is really basic in that it starts out with whisking together your dry ingredients in one large bowl.  Then, mixing together the wet ingredients in a second bowl with a hand or stand mixer.  The one thing to be careful of, is to gently mix the wet ingredients together, otherwise they may separate.
Once you add your dry ingredients together, simply fold them gently with a spatula!  Not over-mixing is the key to a soft and light cake.  You can see in the photo below that the mixture is still lumpy, and that's how it should be.  Don't keep mixing to get the lumps out.  At this point, set the mixture aside for 10 minutes and prepare the apples.
 For this recipe, you want 2 large apples.  One will get diced into bite sized pieces, and the other one cut into thin slices for the top of the cake.  So, make sure to keep them each in their own bowl!  For the apples, you can peel, or not peel, it's completely up to you.  The diced apples get gently mixed into the cake mixture.
The cake mix gets poured into either a 9 inch round or square cake pan, your choice! Then, take the thinly sliced apples and just layer them in rows on the top of the cake.  This is quick, and doesn't have to be perfect at all!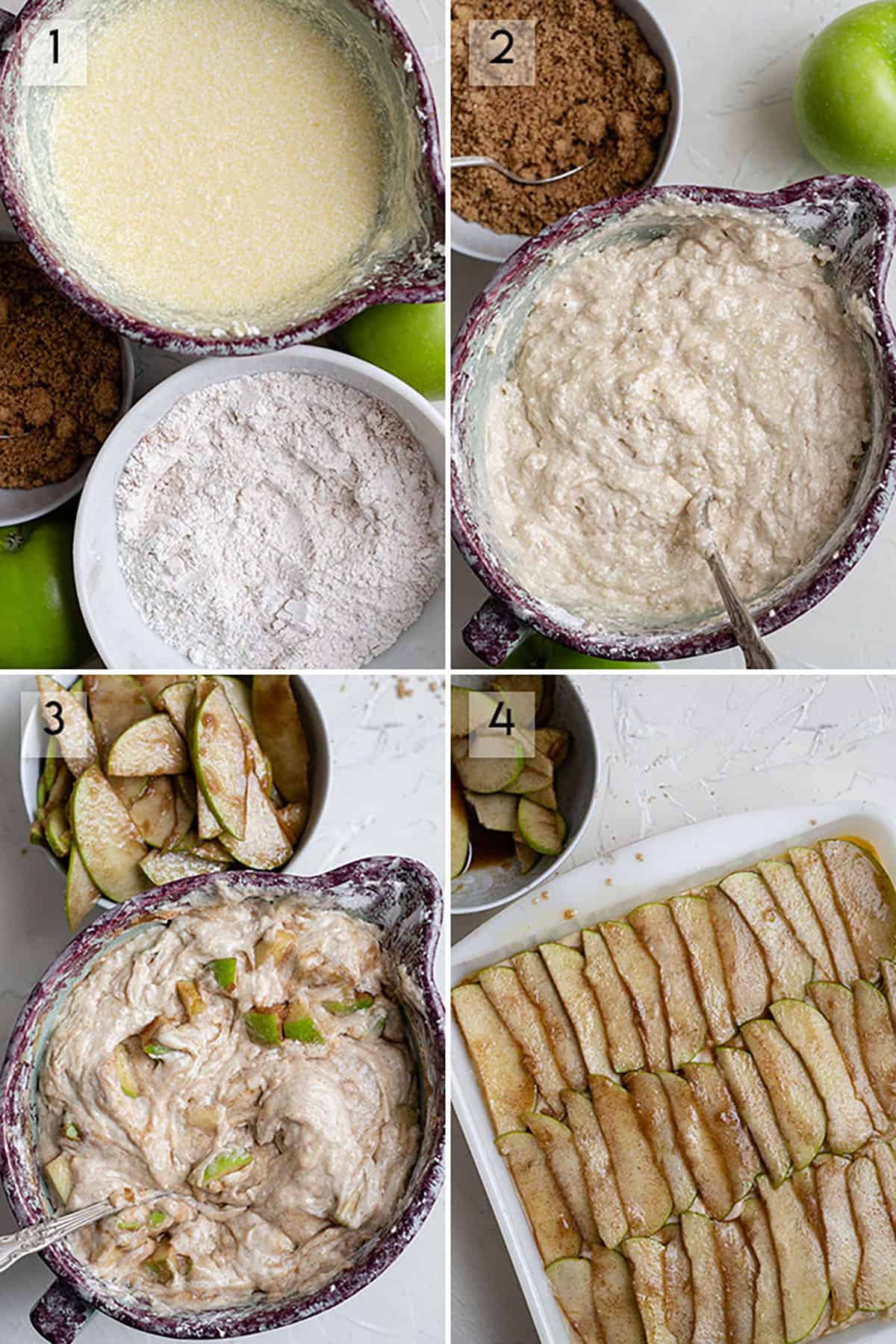 Apple Cake Recipe Notes:
Use your favorite apples for this recipe!  Any apples work, and I typically use a mixture of granny smith and honey crisp.  Granny smith apples hold up really well, but the honey crisp add a nice softness and are more sweet.
This apple cake will keep, stored at room temperature for up to 5 days.  If you wish, you can wrap the cooked and completely cooled cake tightly with foil and freeze for up to three months.  Thaw the cake in the refrigerator overnight before serving.
This cake is great served with your favorite ice cream!  I personally love plain vanilla, because it makes the cake shine.  Caramel ice cream or topping, or even whipped cream are also great options.
This recipe calls for using buttermilk but you can sub it out if you need.  If you don't have buttermilk, add 1 Tablespoon of lemon juice or white vinegar per cup of regular milk.  Stir the mixture well and allow it to sit for 10-20 minutes until thickened, then use as directed.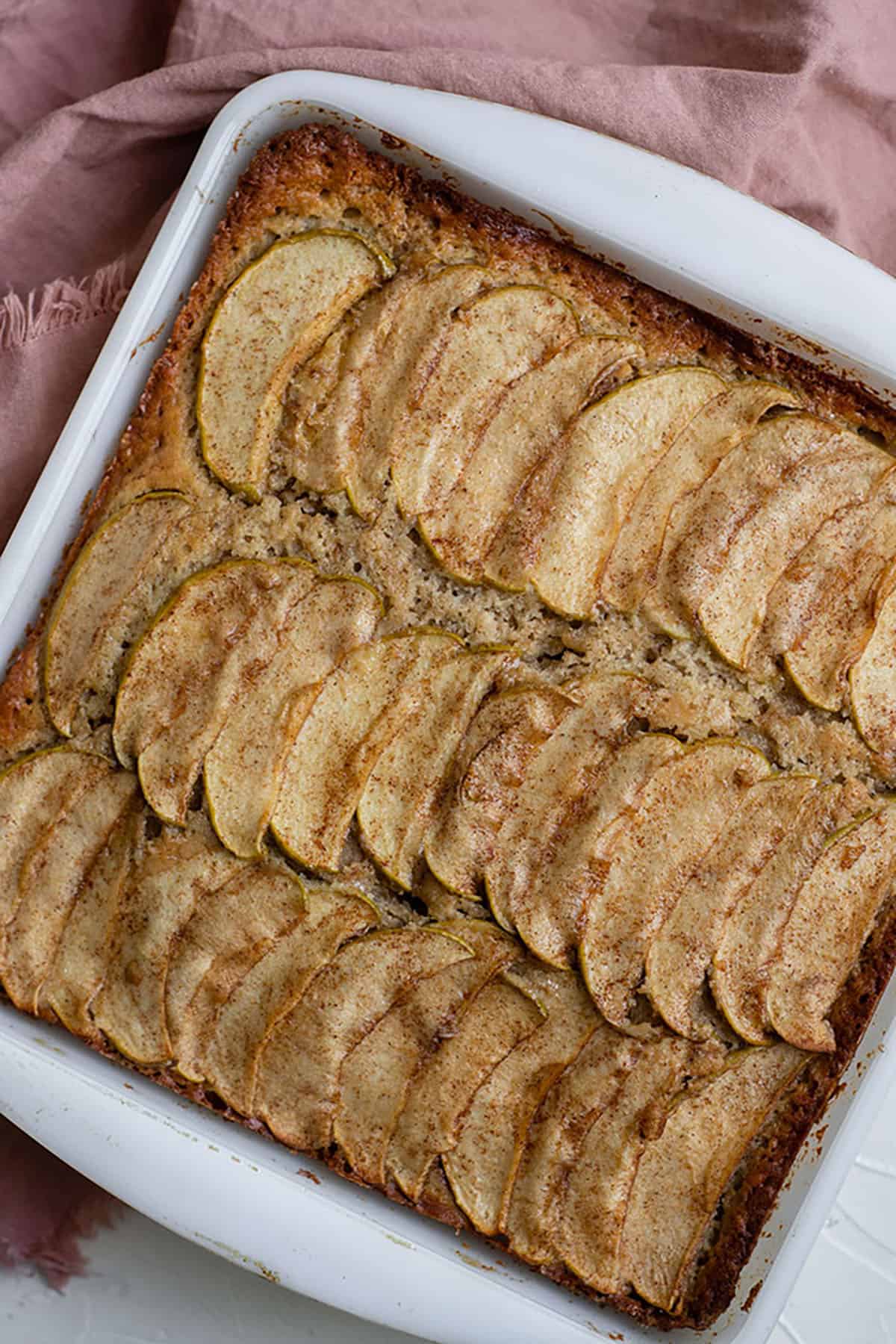 Enjoy!
~Nichole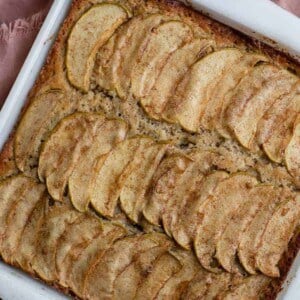 Best Apple Cake
Best Apple Cake is super moist, so easy to make, and packed full of apple cinnamon flavor!  This recipe is perfect for fall and you can use your favorite apples!
Print
Pin
Rate
Instructions
Preheat the oven to 350 degrees Fahrenheit.

In a medium bowl, whisk the flour, ½ teaspoon of the cinnamon, salt, nutmeg, baking powder and baking soda together. Set aside.

In a separate bowl, beat the butter with a hand or stand mixer until smooth, then add the white sugar and cream until light and fluffy.

Add the eggs and whisk just until combined and slightly fluffy, but don't over whip or the mixture will separate.

Pour in the buttermilk and mix until combined, then add the flour mixture, stir until just combined, but still lumpy. Let rest for ten minutes.

In the meantime, core the apples and cut one into small bite size pieces and the other into thin slices.

Mix the brown sugar and the remaining ½ teaspoon of cinnamon together in a small bowl and sprinkle half of the mixture on the apple pieces and the other half on the apple slices.

Stir to combine.

Mix the apple pieces into the batter, but don't over stir.

Grease a 9x9 inch cake pan or a 9-inch round pan and pour in the cake mixture.

Layer apple slices in three rows on the top of the cake.

Bake for 30 minutes, then turn the pan and bake for another 15 minutes. Check the cake by inserting a toothpick or butter knife into the cake center. If it comes out clean or with a few crumbs, then it's ready. If it comes out with wet batter, then give it another 5 to 10 minutes to bake thoroughly.

Remove from the oven and let cool for 10 minutes before serving with vanilla ice cream or a drizzle of honey.
Notes
**

To make buttermilk, simply add a tablespoon of white vinegar or lemon juice to every cup of milk. Once the milk has thickened, about 10-20 minutes, it's ready to use.
Nutrition
Serving:
1
g
|
Sodium:
151
mg
|
Calcium:
44
mg
|
Vitamin A:
394
IU
|
Sugar:
25
g
|
Fiber:
1
g
|
Potassium:
106
mg
|
Cholesterol:
82
mg
|
Calories:
309
kcal
|
Saturated Fat:
7
g
|
Fat:
12
g
|
Protein:
5
g
|
Carbohydrates:
46
g
|
Iron:
2
mg