Sausage Pesto Stuffed Peppers - an Italian twist on a classic dish!  These stuffed peppers are simple to put together and sure to satisfy your cravings for a flavorful dinner with Italian sausage, pesto, and gooey mozzarella cheese!
Ok, so, we all grew up eating stuffed peppers....yes?
You know, the ones that are full of ground beef and rice?  Kind of like meatloaf in a pepper.
I'd like to say I feel all warm and nostalgic over those guys, but, I don't.  We didn't eat them very often, it was not my mom's thing.
Honestly, it's never really been my thing either.  I find the regular old stuffed peppers a leeeeetle (gasp) boring.
Thank goodness a pepper is just a tasty shell and it doesn't HAVE to be stuffed full of the same old thing.
This sausage/pesto/cheese mixture is anything but bland!
Spicy Italian sausage with herby and garlicy pesto and cheese.  Flavor to the max, guys!
CHECK OUT OUR VIDEO FOR THIS RECIPE BELOW!
This cheesy sausage pesto mixture for the peppers is pretty close to the same as the filling in my Sausage Pesto Lasagna Roll-Ups.
I did leave out the cream cheese for the peppers to keep things a little "lighter."
These are an excellent low-carb dinner if that's something you're watching out for right now as we head into summer/less clothes to cover things up with season.
The fact that these are a tad healthier/lower carb did NOT keep me from completely stuffing my face.
They have a nice rich flavor that I just kept going back for.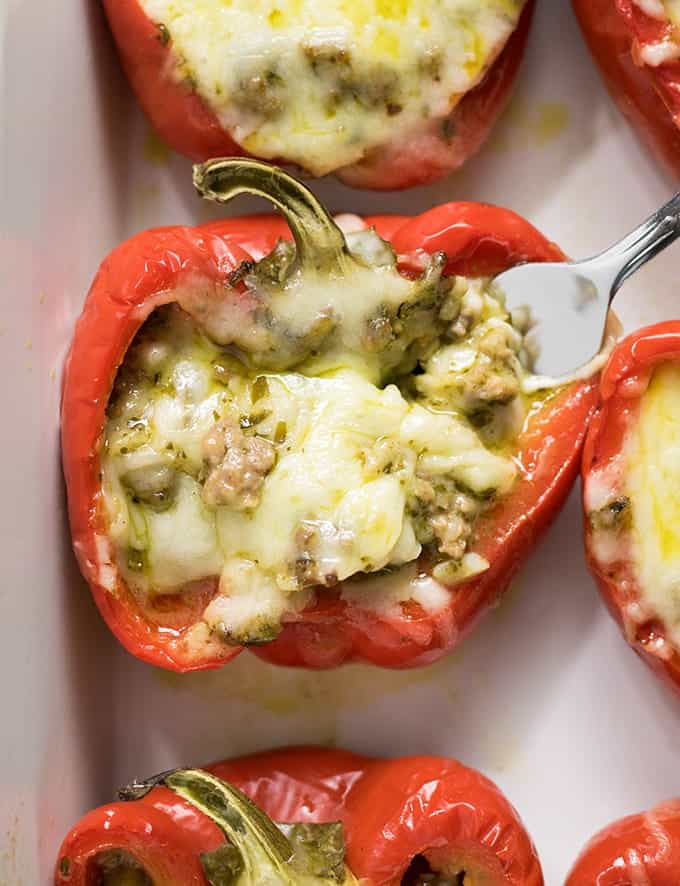 Oh yeah, did I mention that this is also a four ingredient dinner?!
Getting this much goodness out of only a handful of ingredients is a total win in my book.
I sliced my peppers in half, but, you can also slice just the tops off then seed and stuff them if that's how you prefer your peppers.
Do what you want.  I won't tell.
But, do make sure your foil seal on your pan is pretty tight or the peppers won't cook properly.
Other than that, do what you want.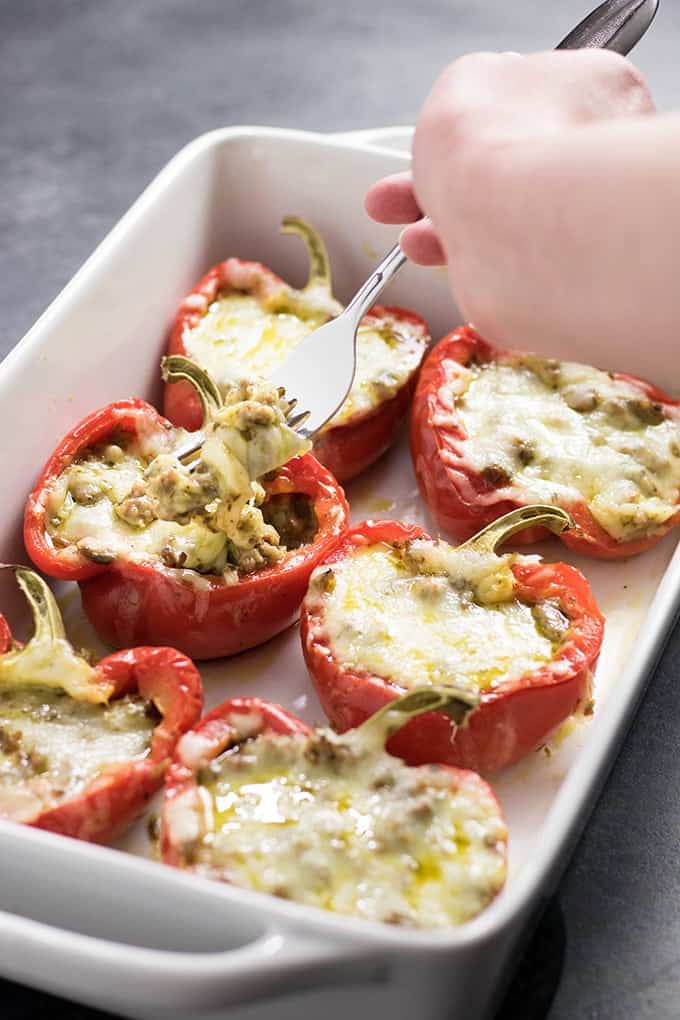 Enjoy!
~Nichole
Ingredients
1

Cup

Water

4

Bell Peppers

Tops cut, stemmed and seeded. Or, cut in half and seeded.

1

Pound

Ground Italian Sausage

6

Ounces

Basil Pesto

1 ½

Cups

Shredded Mozzarella Cheese
Instructions
Preheat oven to 375 degrees. Pour 1 cup of water onto the bottom of a 9x13 inch baking dish.

Brown the sausage in a medium sized pan over medium-high heat. Salt and pepper to taste. Drain grease from meat if necessary.

In a medium bowl, mix together the cooked sausage with the pesto and 1 Cup of the shredded cheese. Spoon the filling into each bell pepper.

Place bell peppers cut side up in prepared baking dish and cover the dish tightly with foil. Bake in preheated oven for 45 minutes, until peppers are tender.

Remove pan from oven and top peppers with remaining ½ cup of cheese. Bake 5 more minutes, until cheese is melted.