An easy to make lasagna that's a change from the ordinary!  Lasagna noodles all rolled up with Italian sausage, pesto, and of course, cheese!  This dinner is packed with flavor!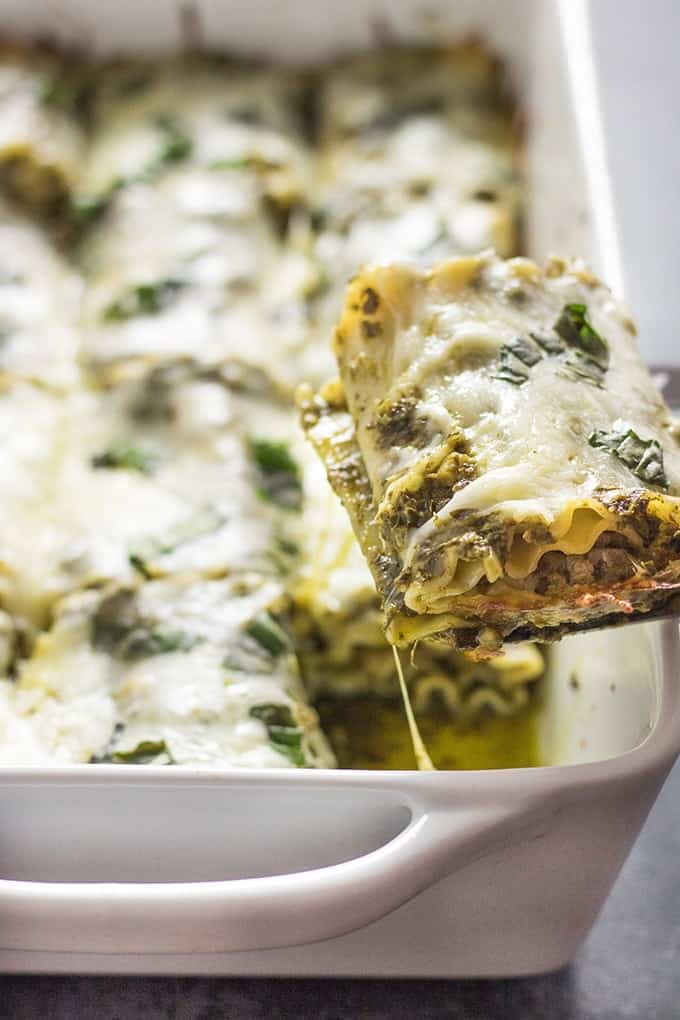 Lasagna – all switched up!  I'm so excited to talk about this big pan of carbs, you guys.
Red sauce is not necessary all the time, apparently.
I can't do justice to this flavor combination with words.
But I'll give it a shot anyway.
Also, video for this recipe below, so check that out!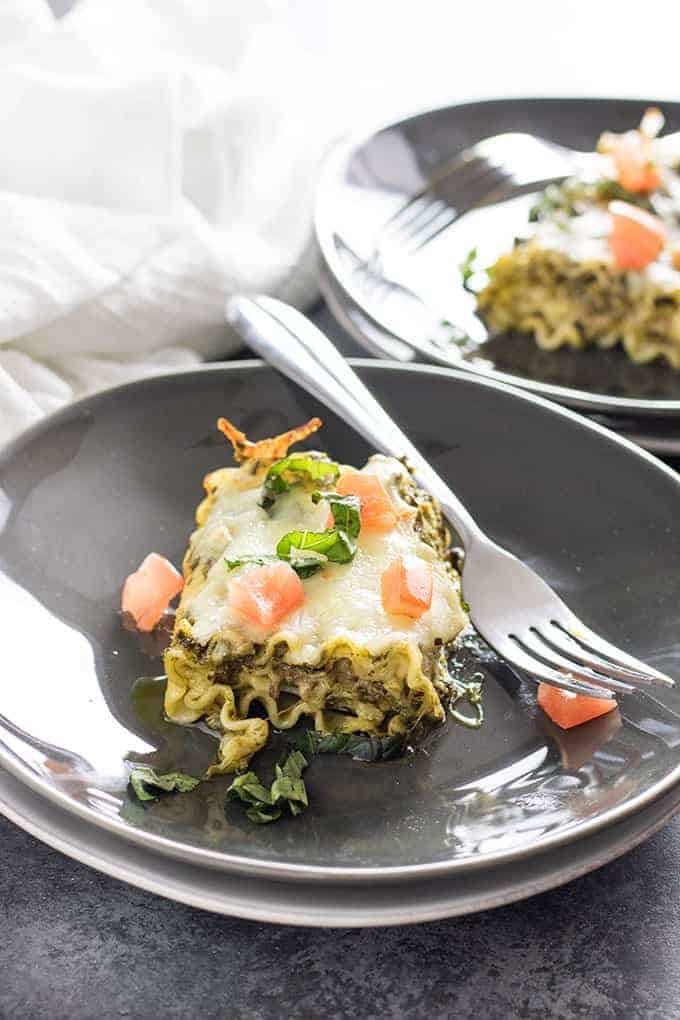 The flavor in here is amazingly garlic-y from our friend, pesto, of course.
The cream cheese and mozzarella come together for that smooth tang that we love.
Italian sausage is already packed to the max with goodness on it's own and far outshines ground beef here.
It just does, and this is coming from a girl that only uses ground beef in her regular red sauce lasagna.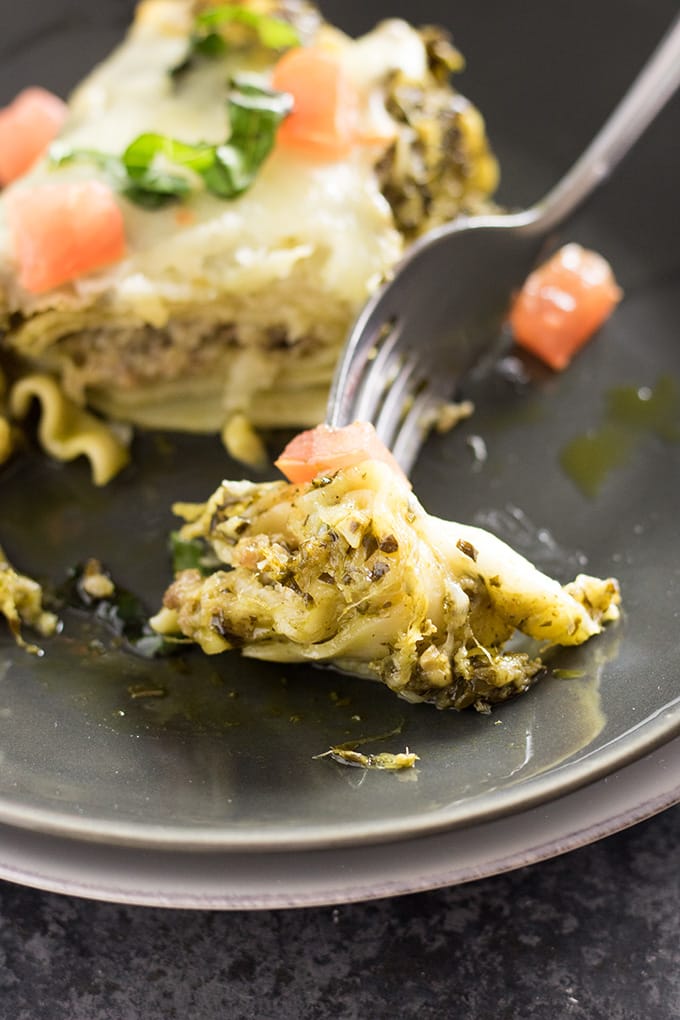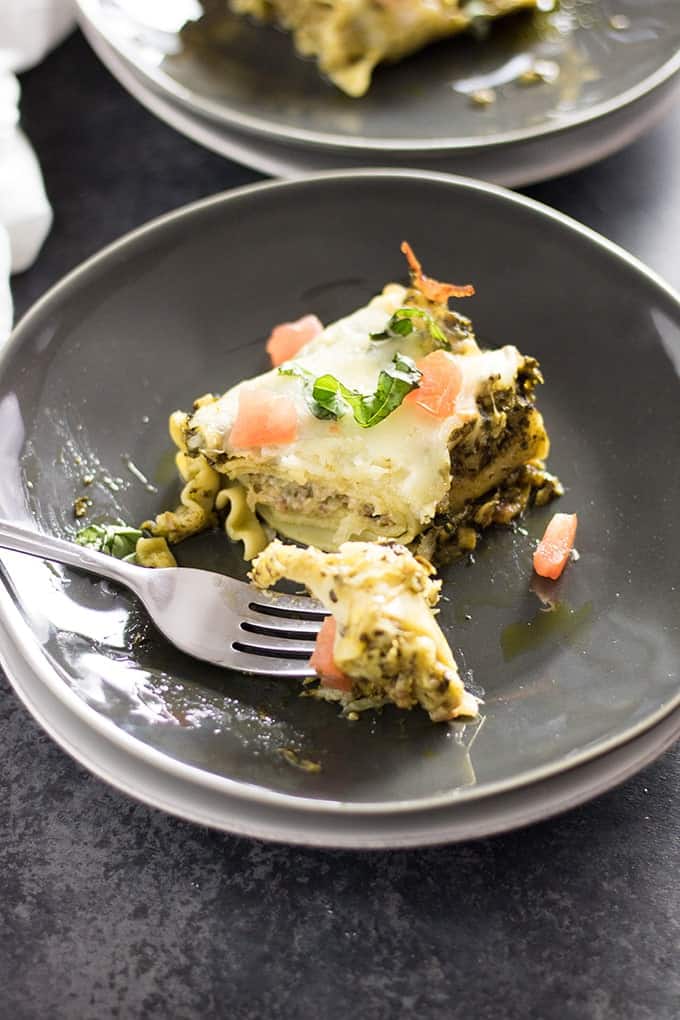 Now, if you're still over there eyeballing me going "why roll these up and not just layer it?"  I'm going to tell you why!
For me, this is a special lasagna.  Amazing non-traditional flavor, so I want it to stand out.
I love the rolled up "pockets" of noodles with all of that meat-garlic-cheesy heaven just packed right inside.
Also, it looks really NICE – which makes this an excellent dish to make for company.  Win.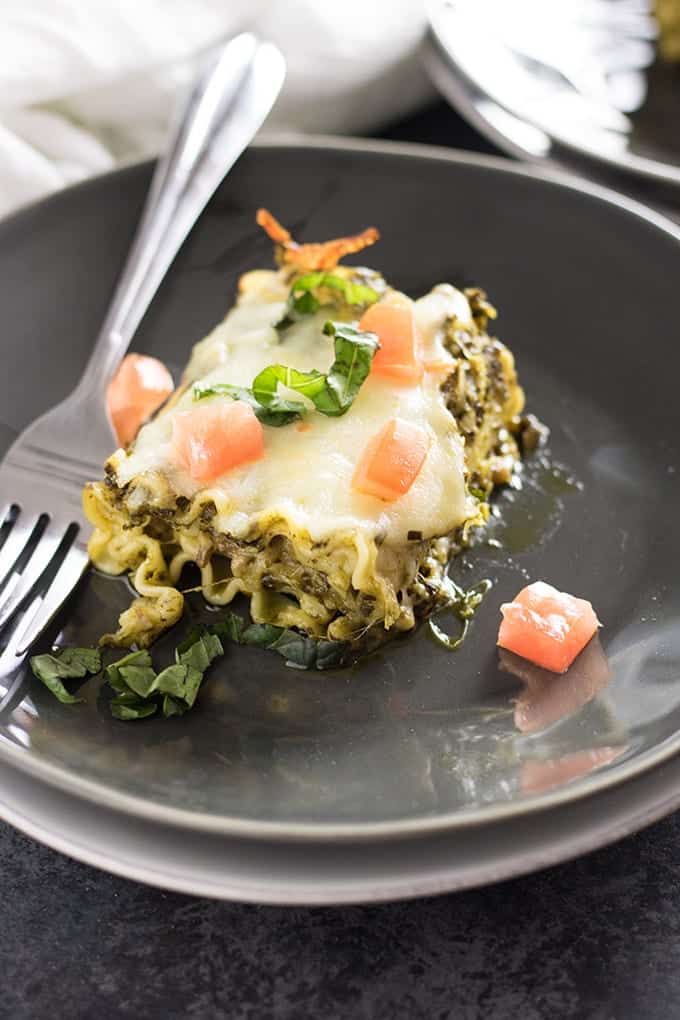 This is a kind of Sunday dish for us.  It's easy and laid back, and fun to make with my kids on a cozy/lazy Sunday.
That also means, that I have leftovers because this makes 12 rolls.
No worrying about planning what to cook on our busy Monday.
I like that!
Enjoy!
~Nichole
Sausage Pesto Lasagna Rolls
Ingredients
1

Pound

Ground Italian Sausage

1 1/2

Cups

Basil Pesto,

Divided

2

Ounces

Cream Cheese

2

Cups

Shredded Mozzarella Cheese

12

Lasagna Noodles
Instructions
Cook lasagna noodles according to package directions for al dente. Drain and lay noodles flat on a large pan or piece of wax paper sprayed with non-stick cooking spray.

While the noodles are cooking, use a medium pan to cook the sausage, drain fat if necessary. Using the pan you cooked your sausage in, or a medium bowl, mix together the sausage, cream cheese, remaining 1/2 cup of pesto, and mozzarella.

Preheat oven to 375 degrees. Spoon a small amount of the basil pesto onto the bottom of a 9x13 inch baking dish.

To assemble: Spread 2-3 Tablespoons of the sausage/pesto mixture onto each noodle. Roll each noodle up jellyroll style and arrange seam side down in baking dish.

Cover each rolled up noodle with remaining pesto, and extra cheese as desired.

Cover pan with a tented piece of aluminum foil (don't let the foil touch the cheese) and bake in preheated oven for 20 minutes. Remove foil and bake for 5 -10 more minutes, until cheese is melted.