I have come this rainy Monday morning to declare my love for cookies. I love them. All of them. That's it. But, I especially love these salty marshmallow cookies. Not only because I feel that they are my namesake, my "babies" so to speak. I love them because they are thick, chewy, buttery, packed full of salty/sweet burst in your mouth goodness. There is nothing subtle about these cookies, they are like "hey, look at me all up in your face with flavor!!" Salty Marshmallow cookies are completely inappropriate for your diet. I'm sure they would apologize for that, but they just can't help their delicious selves.
Today I will do something that I don't do very often. I am going to be mostly quiet and get down to the recipe. That's how excited I am to share these guys with you! Let me tell you that this is a pretty basic cookie dough that I use for many different cookies calling for candy. This time, we added extra salt because we are getting sweetness from butterscotch and white chocolate chips. We also get some salty bite and fun wavy texture because we toss in potato chips. Don't look at me like that, it's good. At the end they get their crowning jewels which are marshmallows and a sprinkling of sea salt. Like I said, absolutely positively no lack of flavor here.
First things first, a few tips and pointers that I think are really important for these cookies to turn out their very best. You know I like to be a baking rebel, but, sometimes we just need to follow the rules or our poor sweet cookies will suffer.  So, allow your butter to come to room temperature by sitting out in the wrapper on the counter until it is room temp all the way throughout if possible (about 1 hour). If you're short on time, or impulse baking, no problem.  Just cut your butter into smaller cubes and allow it to sit on a plate beside your warm/preheating oven and it will soften faster.  I generally do not recommend defrosting your butter in the microwave.  This is because it will still melt really easily, and can become greasy.  That can completely sabotage your cookies.  If you must microwave, cut it into smaller cubes first and only allow it to go for a couple of seconds at a time before you check on it.  Second, please take the steps to cream the butter and sugar, then add eggs one at a time, then the dry ingredients.  If you don't do it in steps, your cookies will taste "eggy" or like flour.  Third, chilling is important for a thick chewy cookie here.  If you do not chill this dough will spread and your cookies will still taste good, but they will be flat and crispy around the edges. Fourth, do not actually mix the marshmallows into the dough.  They will melt into the cookies too much and become burnt and stuck to your pan.  Not cool!
Ok, now I'm really done talking. Thanks for listening, you all are the best.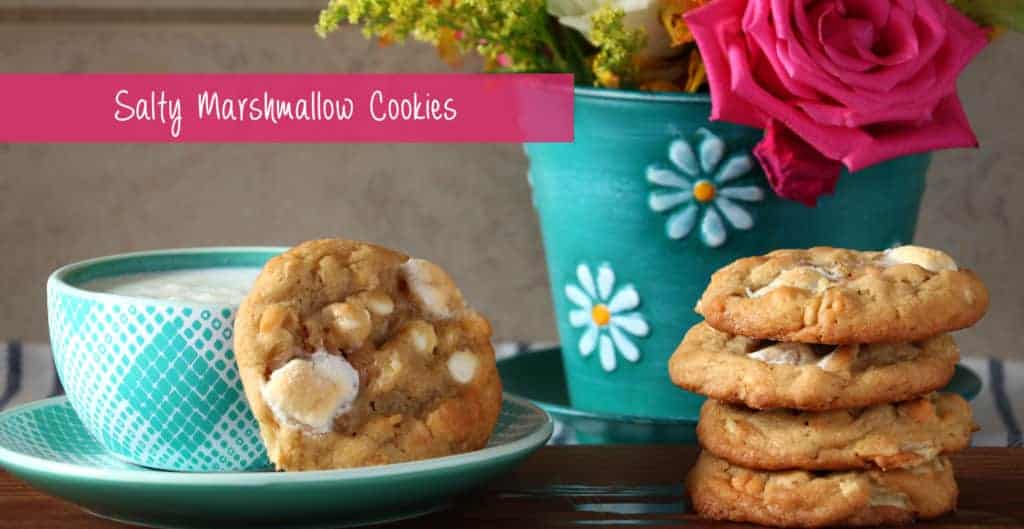 Let's go ahead and cream our softened butter and sugars together.  As you can see there is a whole lot of brown sugar here.  That's ok, it makes our cookies the chewiest they can be.  Everybody wants that.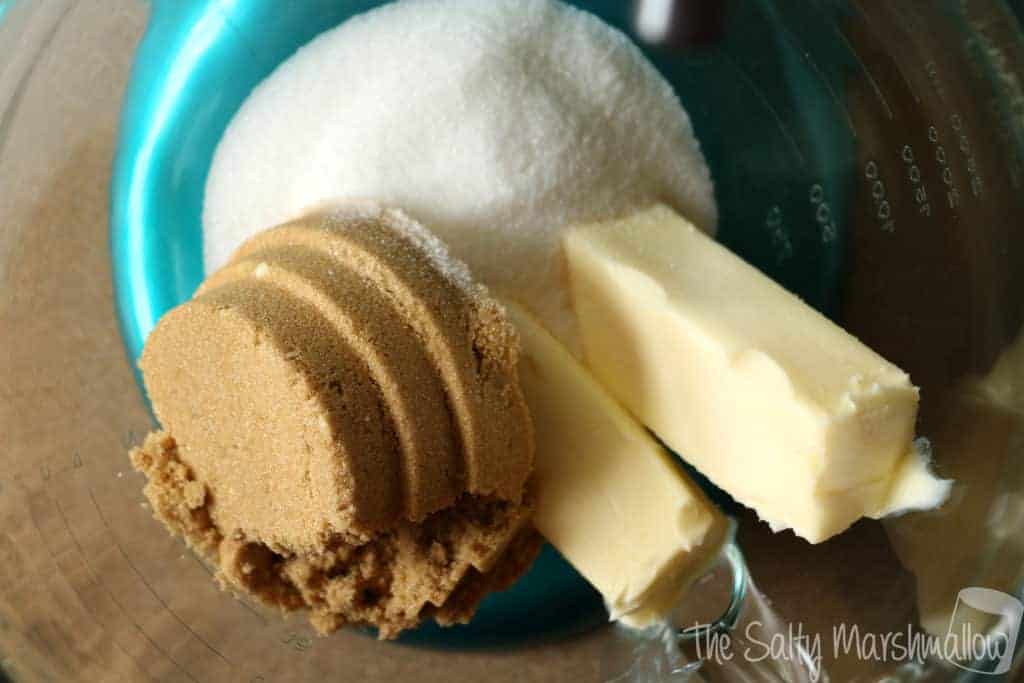 Now go ahead and whisk your dry ingredients together in a medium-ish bowl.  Then, if you can slowly add the dry into the wet with the mixer running until they are all good and combined.  It will look a little something like this….mmmmm….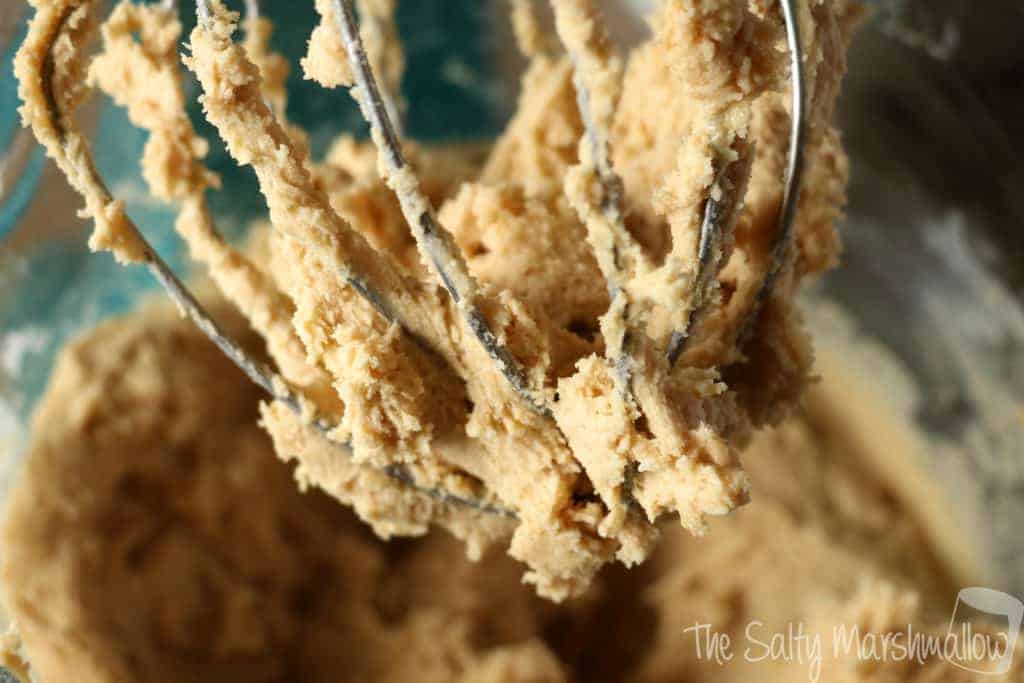 At this point you'll probably just wanna slap some of this dough on top of a giant bowl of vanilla ice cream and call it dinner.  Try to contain yourself.  Look at our pretty fillings for distraction.
Now that you have averted a delicious ice cream and raw dough….crisis?  Go ahead and fold your chips, the salty and the sweet ones (I have jokes) right into the batter.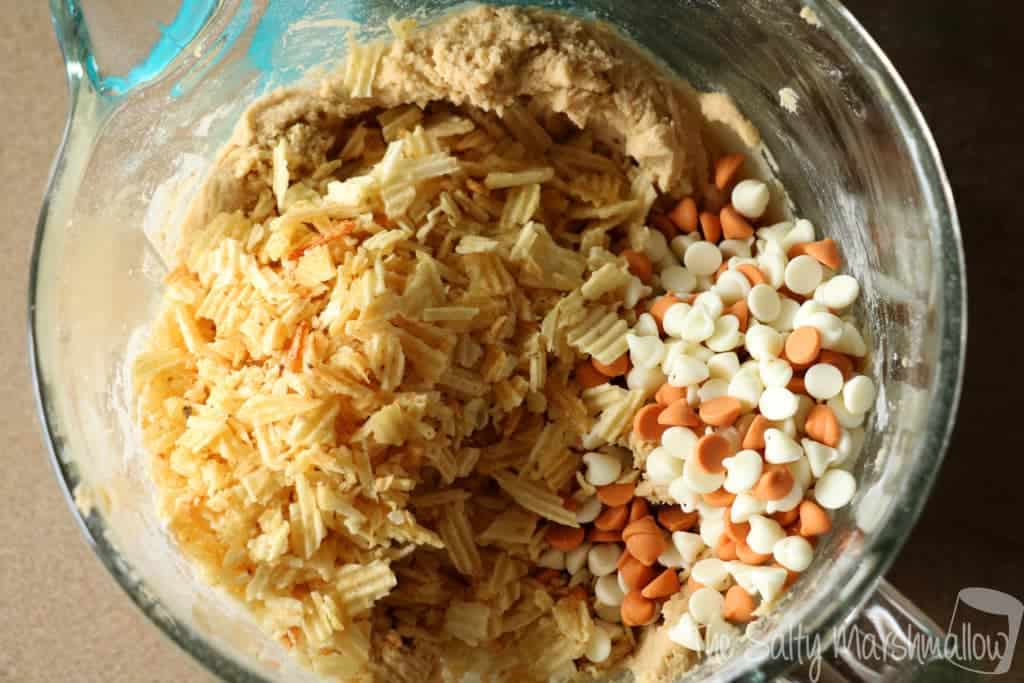 Now, this dough is pretty thick so do not be ashamed to reach in and help get all of those chips incorporated into your dough if the spoon just isn't doing the trick.
Now, your dough has been refrigerated for a good 30 minutes because you are awesome, and like chewy not flat cookies, and followed my directions.  So, get a tablespoon and heap it up with dough, and place it right on your cookies sheet….but, do not smush it, leave it in a ball.  Stick a couple of mini-marshmallows on top of each cookie, but again don't flatten the dough.  Then just sprinkle each cookie with a small, tiny, pinch of sea salt.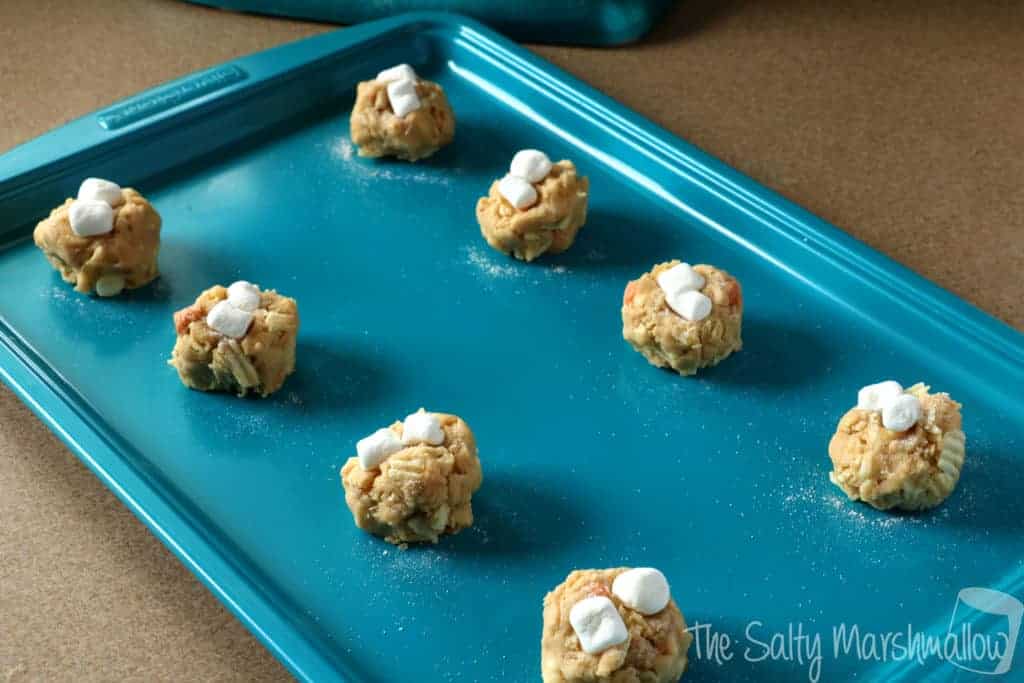 Into the oven our salty/sweet marshmallow babies go.  Go ahead and keep any dough you aren't using in the refrigerator while you have cookies in the oven.  Keeps the butter in the dough from melting down, keeps you from eating dough while you wait for cookies to come out.
See how the marshmallows just melt a little into the top?  I love that part.
I also love the part where we get to eat them.  Enjoy!
Remember, sharing is caring, don't forget to PIN IT!
**Printable recipe for you below**
***Prep time includes time for dough to chill***
Salty Marshmallow Cookies
Ingredients
1

Cup

packed brown sugar

1/2

Cup

white sugar

1

Cup

butter

softened

2

Eggs

1

Tsp

Vanilla extract

1

Tsp

Almond extract

2 1/2

Cups

all purpose flour

1

Tsp

Baking soda

1

Tsp

Salt

1/2

Cup

Butterscotch baking chips

1/2

Cup

White Chocolate baking chips

2

Cups

Crushed potato chips

1/2

Cup

Marshmallows

Sea salt for sprinkling
Instructions
Cream together butter, both sugars, vanilla and almond extracts.

Add the eggs to the creamed mixture one at a time, mixing after each addition.

In a separate bowl, mix together the flour, baking soda and salt with a whisk.

Add dry ingredients to wet and mix.

Fold in the butterscotch chips, white chocolate chips, and potato chips.

Refrigerate dough for 30-45 minutes.

Preheat oven to 350. Place dough on greased baking sheets in heaping tablespoon fulls.

Slightly press two marshmallows into the top of each cookie, and sprinkle cookie with sea salt.

Bake for 11-12 minutes for soft cookies. Cool on pan for 5 minutes, move to wire rack to finish cooling.