Salted Caramel Apple Krispy Treats - all of the marshmallow and rice krispie treat flavor we know and love with a twist!  These are perfect for fall with their salted caramel and apple flavor - easy to whip up recipe!
Remember to PIN this recipe right HERE to keep it handy for later!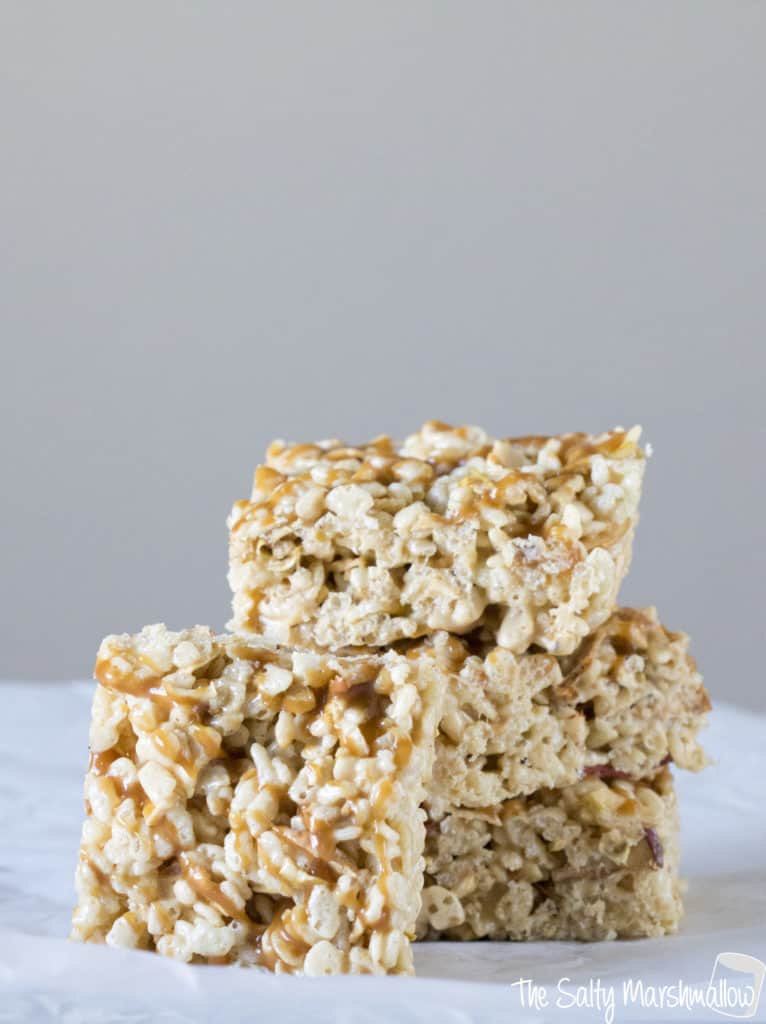 Ok you guys.  You special easy fall loving treat people.  My kind of people.  I have a problem with this marshmallow treat.
That problem is, that I don't think I will ever look at a plain old rice krispy treat the same way again.
I mean, my hats off to the lovely person who decided to stick butter, marshmallow, and rice cereal together because that idea was completely genius.  But, I now like these better.  My secret is surely safe with you all, right?  Thanks.
These treats come together just about as quickly as your standard cereal treat would.  No patience required, yay!
The perhaps "longest" part, if you can call it that will be making your salted caramel.  But, it's so worth it, and still only eats up about 10 minutes of your day.  If you have never made salted caramel before and would like to see step-by-step photos, you can find them right HERE.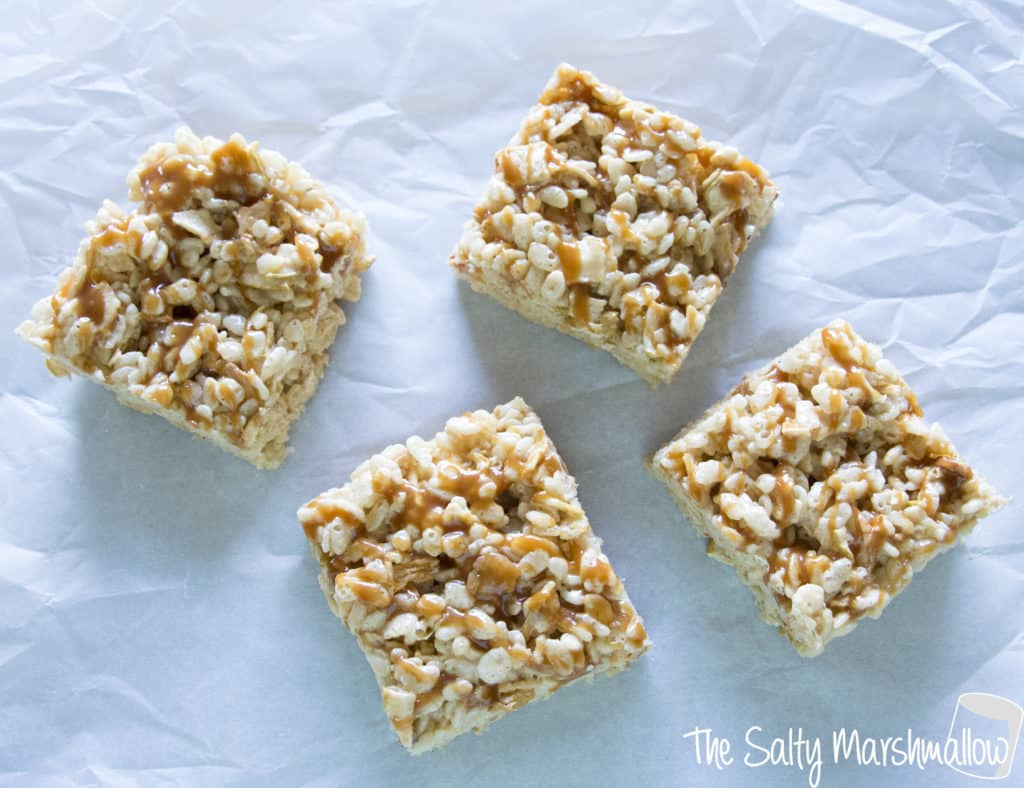 As I was making these I also had to reminisce a teeny bit about the first time I ever attempted to make a batch of rice krispy treats.  It was.....a DISASTER of epic marshmallow proportions.
I'd say this was a good ten years ago.  I'd also say I should have read the directions, and not used an entire stick of butter and only 3 cups of cereal.
Luckily we all ate very buttery slightly marshmallow-y cereal pieces with a spoon, because they were still delicious. And, hey, who doesn't need a little extra butter in their diet......says my former 21 year old self who could eat whatever she wanted.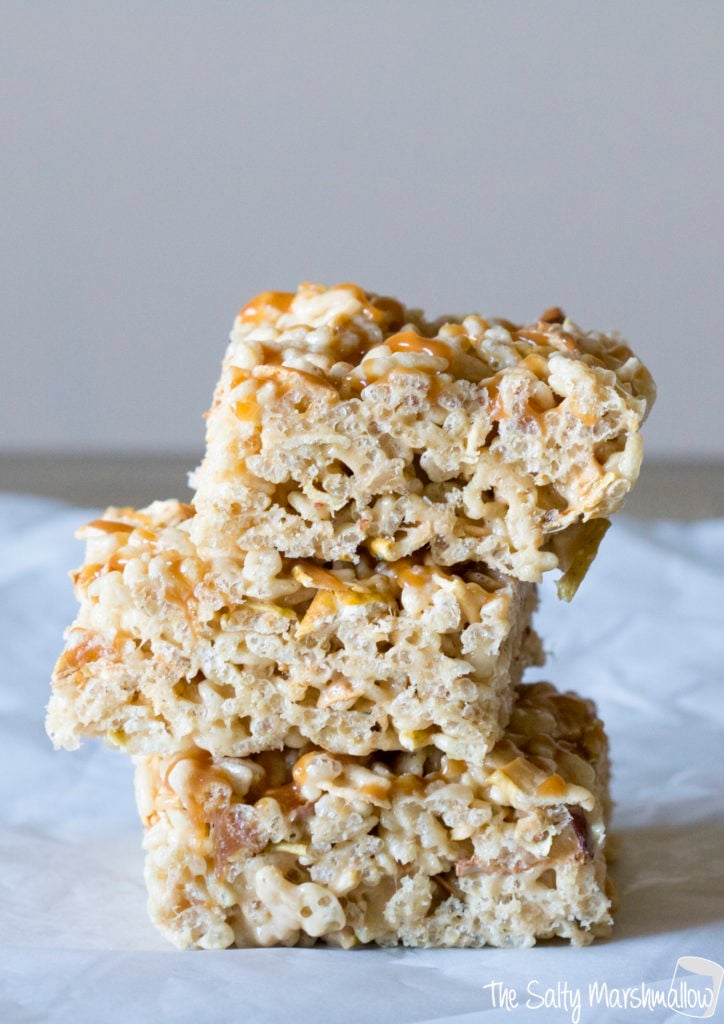 Let me tell you a little about our treat friends right now.
Perfect texture....not too crispy (we have all had that one cereal treat that almost made us break our teeth and hate our lives).  You won't find that here.  Just crispy enough to be satisfying to sink those chompers of yours into.
I used dried apple in these, and I love, love, love the flavor.  No time spent peeling apples either.
The salted caramel makes them nice and rich, sweet with just a hint of salt.
If you weren't ready for crisp weather, changing leaves, and all things fall....you will be after a bite of these babies!
****Printable recipe for you below****
Remember to PIN IT and find me on Instagram HERE and my Facebook page right HERE.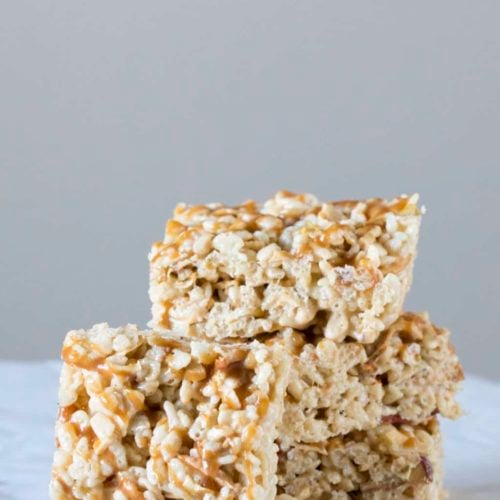 Ingredients
Salted Caramel:

1

Cup

granulated sugar

¼

Cup

cold water

½

Cup

heavy whipping cream

4

Tablespoon

salted butter

1

Teaspoon

sea salt

½

Teaspoon

vanilla

Krispy Treats:

4

Cups

miniature marshmallows

4

Tablespoons

butter

6

Cups

rice krispies cereal

1

Cup

dried apple pieces

1

Cup

salted caramel
Instructions
Salted Caramel:

In a medium saucepan over medium heat, combine the sugar and cold water.

Continue to stir and cook until mixture turns a medium to dark amber color.

Add the butter to your caramel, and stir to combine, about 1-2 minutes.

Once butter is completely melted, slowly drizzle the cream into the caramel.

Allow the caramel to boil for 2 minutes.

Remove from heat and add the vanilla and salt.

Allow caramel to cool down and thicken before using.

***Caramel will bubble up in pan when you add the butter, as well as the cream. This is natural due to the butter/cream being colder than the caramel. Be careful while stirring***

Krispy Treats:

In a large saucepan, melt the butter over low heat.

Add the marshmallows and 1 cup of the salted caramel, stirring over low heat until marshmallows are melted.

Remove pan from the heat and add the cereal and apple pieces to the marshmallow mixture.

Stir until all of the cereal is coated.

Pour mixture into prepared pan and press down firmly.

Drizzle with more salted caramel as desired and allow to cool before cutting into squares.