Perfect Peppermint Bark is so easy to make from scratch for the holiday season!  This recipe has three types of chocolate, crushed peppermints and crushed pretzels for more texture!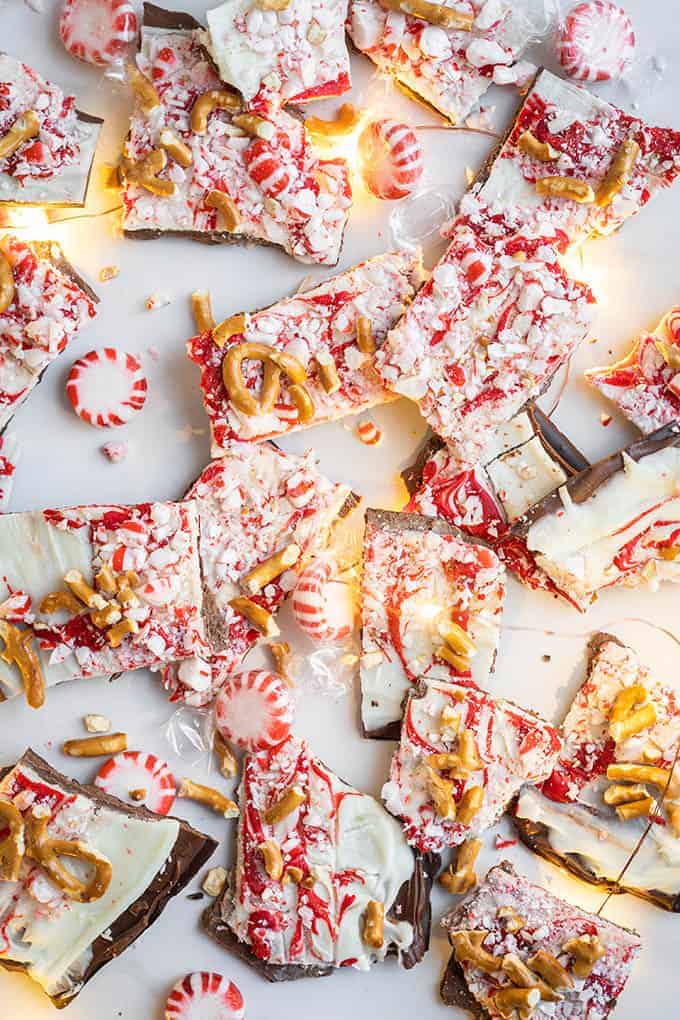 Peppermint Bark:
Peppermint bark has been around for ages, and this is my family favorite version! Basically these were inspired by my White Chocolate Peppermint Almond Clusters that hit the blog a couple of years ago, try them too!  If you're wondering why this is called "bark" the best explantation is that it's a harder candy, and broken into rough pieces.  An interesting explanation, but this stuff is delish, and it holds up pretty well to hand out as gifts too!  One of the best things is that you can leave it an airtight container or gifting tin for about 2 weeks!  It's just not Christmas for us without this candy!
Recipe Ingredients:
2 Cups of Milk Chocolate Chips
2 Cups of Dark Chocolate chips
3 Cups of White Chocolate Chips
8-10 Drops of Red Food Coloring
⅛ teaspoon Peppermint Extract
25 Peppermint Candies
1 Cup Crushed Hard Pretzels
Making Peppermint Bark:
This recipe is easy, and you can gather up all of your ingredients at once to make it even quicker.  It comes together pretty fast, but there is time that needs to be allowed for cooling the chocolate.  We basically layer he chocolate to create this heavenly bark!
Only melt one chocolate at a time.  We start with the dark chocolate layer first.  It will cool in the fridge for 15 minutes before you add the second layer.  Then, for another 15 minutes after the second.
Don't skip the chilling process!  If you do, you bark can and probably will start to separate and become a mess.
Be careful when heating your chocolate chips, you don't want them to burn.  We just melt in the microwave, stirring about every 10 seconds until smooth.  You must stir and cook in intervals or it will burn.  It usually takes about 1 minute to be fully melted depending on your microwave power.
If you truly don't like pretzels and want. to skip them you can!  Although, they. add a really nice crunch and. pinch of salt to the bark! You can of course add extra crushed peppermints in their place.
Enjoy!
~Nichole
Perfect Peppermint Bark
Perfect Peppermint Bark is so easy to make from scratch for the holiday season!  This recipe has three types of chocolate, crushed peppermints and crushed pretzels for more texture!
Print
Pin
Rate
Ingredients
2

Cups

Milk Chocolate Chips

2

Cups

Dark Chocolate Chips

3

Cups

White Chocolate Chips

8-10

Drops Red Food Coloring

⅛

teaspoon

Peppermint Extract

20-25

Peppermints

Crushed

1

Cup

Crushed Hard Pretzels
Instructions
Line a large baking sheet with parchment paper and set aside.

Melt the dark chocolate in the microwave in 10 second intervals, mixing between each time to prevent burning until it has completely melted.

Mix the peppermint extract into the chocolate, pour it out over the baking sheet and spread it fairly thin since you'll be adding 2 more layers.

Place it in the fridge for 15 minutes to harden while you melt the milk chocolate.

Once the dark chocolate has hardened, add the milk chocolate and spread it out as well.

Cool again for 15 minutes and melt the white chocolate. (You may need to add a few drops of coconut oil to the white chocolate, as it tends to be thicker and burn more easily when heated than the other chocolate.)

Pour ½ of the white chocolate into a small bowl and stir in 8-10 drops of red food coloring. Add more food coloring as needed.

Spread the white chocolate over the milk chocolate quickly, as the heat may cause the milk chocolate to melt and swirl into the top layer.

Drizzle the red colored chocolate over the white chocolate and use a toothpick to swirl it into the white chocolate.

Sprinkle the peppermint and pretzels over the bark and refrigerate for another 30 minutes to allow all of the layers to set up.

Break it up with your hands or a knife and serve immediately or store for up to 2 week in an airtight container.
Nutrition
Sodium:
87
mg
|
Calcium:
217
mg
|
Vitamin C:
1
mg
|
Vitamin A:
16
IU
|
Sugar:
51
g
|
Fiber:
1
g
|
Potassium:
382
mg
|
Cholesterol:
12
mg
|
Calories:
526
kcal
|
Saturated Fat:
21
g
|
Fat:
29
g
|
Protein:
6
g
|
Carbohydrates:
62
g
|
Iron:
1
mg