Peanut Butter Maple Bacon Blondies - A rich, and soft peanut butter blonde brownie that's studded with bacon for a salty and sweet combination that is completely mouthwatering! These blondies are topped off with a decadent maple peanut butter glaze, and more crispy bacon.
Today I've partnered with our friends over at Smithfield to share with you these delicious and decadent blondies that are a fun addition to your holiday table!
It's that time of year again where we are all knee deep in holiday entertaining! I personally happen to love entertaining my guests, and I always want my house to be the "happening" holiday place to be! If you aren't the person that is head over heels for a house full of guests, that's ok. We at least have super easy-to-make desserts like these peanut butter maple bacon blondies!
Less stress for you because they are made with simple ingredients that you probably already have around, and more bacon for your guests! That is sure to keep everyone happy, right? Plus, I won't tell if you sneak a few bits of that crispy, delicious bacon. You're the cook, you have the right to taste test!
Good food is always the centerpiece of an outstanding holiday celebration. There is nothing like gathering together with your family and friends, spending time together in the kitchen, and creating new recipes that will be passed down from generation to generation for years to come! However you and your family love to celebrate, Smithfield has you covered with everything from amazing centerpiece and decorating ideas to quick and easy recipes that can be enjoyed any time of day.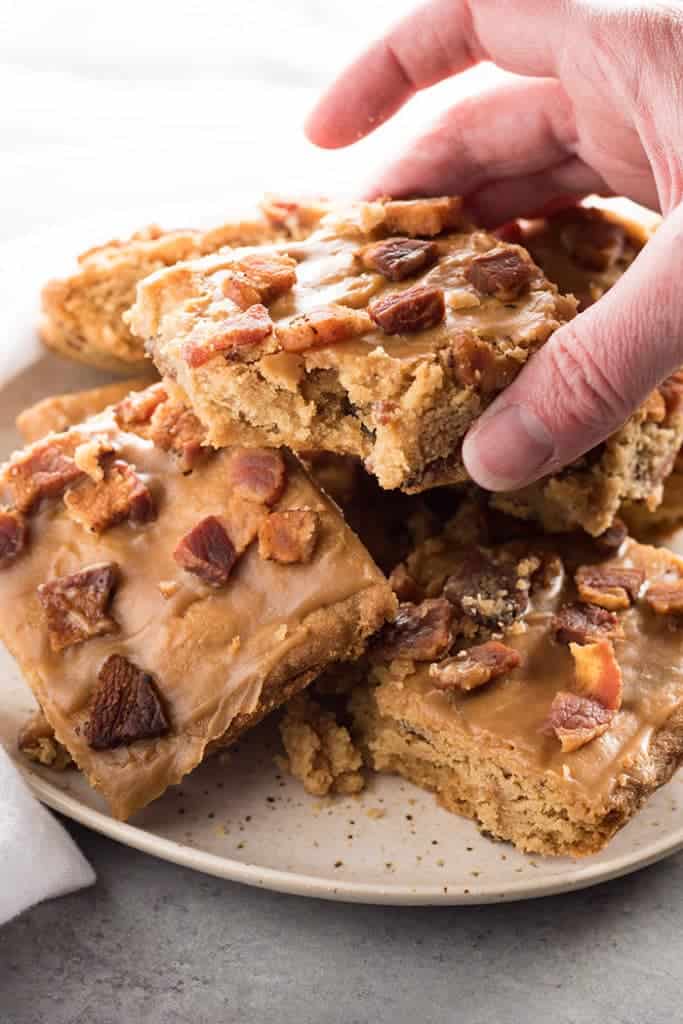 Not only do I adore this recipe because it's quick and easy to make. I also think it's a really fun way to impress my guests! People may not always be expecting a bacon dessert, but they will be delighted at the idea of having a holiday treat that is anything but ordinary!
If you're nervous about combining maple, peanut butter, and bacon together, don't be! It's such an amazing savory/sweet combination. It's reminiscent of breakfast, but, in a soft and chewy dessert that my family just can't get enough of! I used Smithfield's Cherrywood Thick Cut Bacon for this recipe, but their Hometown Original is great too!
During the month of December, Smithfield is giving away a prize every day to members signed up for their rewards program, Smithfield Rewards. As part of 31 Days of Smithfield Cheer, there will be daily and weekly prizes as well as a grand prize of $5,000 to pay off holiday debt! All consumers have to do is log-in or create an account, and visit the Holiday Hub page, to be entered for the chance to win any of the sweepstake prizes, including gift cards, a shopping spree, and night out for the New Year.
Use the secret word MARSHMALLOW when you register before December 31, 2017, and you'll be entered for a chance to win a trip for four to Beaches All-Inclusive Resort – Jamaica! See Official Rules for more details.
Enjoy!
~Nichole
1 Pound Smithfield's Cherrywood Thick Cut Bacon, Cooked and Crumbled
1 ½ Cups Packed Brown Sugar
1 Stick Butter, Softened
1 Cup Peanut Butter
1 Teaspoon Vanilla
1 Tablespoon Maple Syrup
2 Large Eggs
1 ½ Cups Flour
½ Teaspoon Salt
1 Teaspoon Baking Powder
For the glaze:
½ Cup Maple Syrup
¼ Cup Creamy Peanut Butter
1 Teaspoon Vanilla Extract
Preheat oven to 350 degrees. Grease a 9x13 inch baking dish and set aside.
In a large bowl cream together the brown sugar and butter until light and fluffy.
Beat in the peanut butter, vanilla, syrup, and eggs until well combined.
Stir in the flour, baking powder, and salt. Fold in the bacon, reserving ⅓ cup for topping.
Spread batter into prepared pan. Bake 30-35 minutes until golden brown.
In a small saucepan heat the maple syrup and peanut butter over low heat.
Whisk constantly until smooth.
Spread over cooled blondies and top with remaining ⅓ cup of bacon.
*This is a sponsored post written by me on behalf of Smithfield, all opinions stated here are my own.