These tasty sliders are made with soft rolls, easy parmesan ranch sauce, turkey, and cheese!  A perfect way to use up leftover turkey or chicken - add veggies and you have yourself an easy dinner!
Come follow me on Pinterest for more delicious food!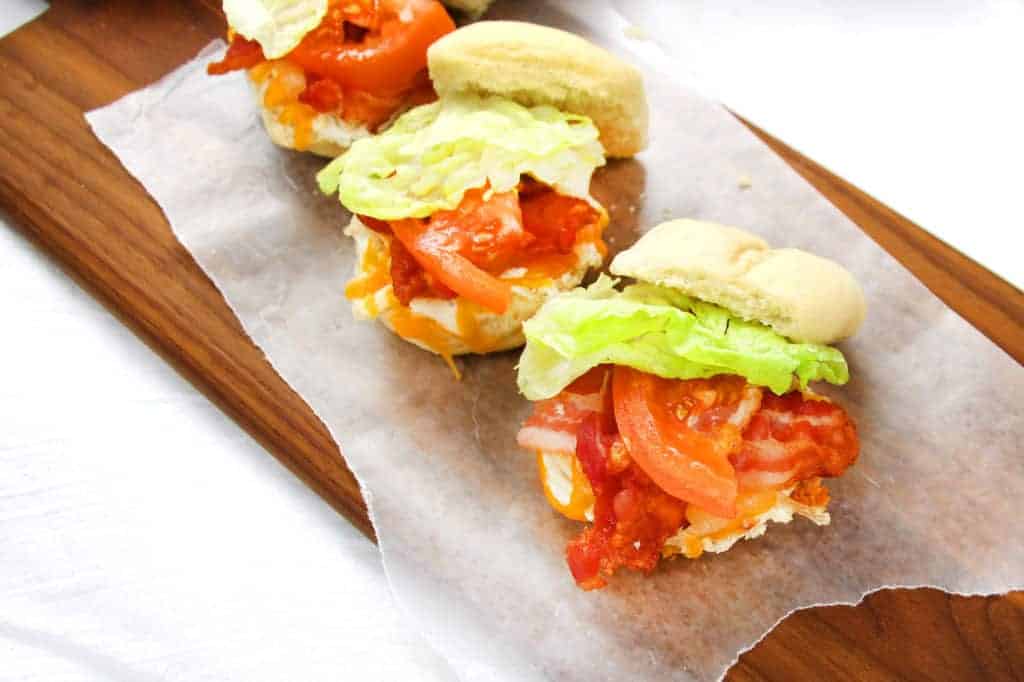 Hey you guys!  I trust we all had a good Thanksgiving?  Ate too much?  Maybe drank too much wine?  Tried not to DIE of bloated-ness?
Me either, I'd never.
Anyway, I have to admit something a little shameful here.  As soon as Thanksgiving is over, I'm on a mission to get the rest of that turkey into a leftover dish and out of my fridge as fast as possible.
I don't know what it is.  I just don't want to look at turkey again.  It's good, but, it's just been hyped up and I want to have it one last time in a really flavorful dinner and then not really think about the little gobbler again for a while.
Ya feel me?
I think this is because I personally feel like once that turkey is officially out of the building it's acceptable to put up my CHRISTMAS TREE! <------ My inner child can't help herself.
Back to dinner.  These sliders are super-mega packed with flavor because we whip up a tasty parmesan ranch sauce that soaks right into the turkey.  Top all of that with more cheese and some bacon....(don't judge I did put some vegetables on this)....and it's like one of those club sandwiches we all love from the local diner.
Except better because they're warm and melty!
Check out the video for these babies below!
Did I mention that these sliders come together in 20 minutes or less?  It's true!
Try and do a double whammy if you can and get rid of your leftover dinner rolls with these too.
I also like to use rotisserie chicken in these so I can make them year round.
Easy for dinner, easy to double for a football party. You name it, these will save your day.
Enjoy these! Printable recipe below as always! 🙂
~Nichole
Ingredients
12

Dinner rolls

1-2

Cups

leftover turkey or shredded chicken

1

Cup

sour cream

1

Packet dry ranch dressing mix

¼

Cup

parmesan cheese

3

Slices

swiss cheese

½

Cup

shredded cheddar cheese

12

Pieces

of bacon

cooked

1

Large tomato

optional

leaves

Lettuce

optional
Instructions
Preheat oven to 375 degrees.

In a medium bowl, mix together the sour cream, ranch mix, and parmesan cheese.

Split rolls in half and place in the bottom of a 9x13 inch baking dish.

Spread the parmesan ranch mixture over the rolls.

Layer rolls with turkey, swiss, cheddar, and bacon as desired and place the tops back on the rolls.

Bake in preheated oven for 10-15 minutes, until hot and cheese is melted.

Top with lettuce and tomato as desired.