Pancake on a Stick is such a fun breakfast or brunch with sausage and your favorite pancake mix!  These breakfast corn dogs come together fast and are dipped in sweet cinnamon sugar!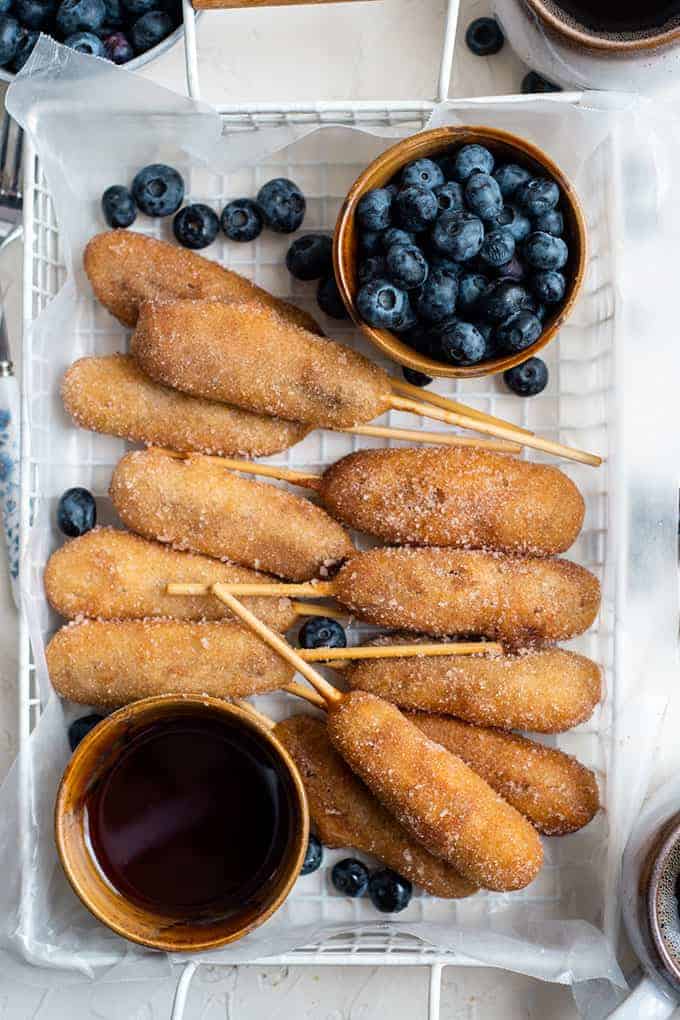 Pancake on a Stick:
Basically, a sweet and savory version of a breakfast corn dog!  These are so amazing, and honestly very simple to make, your kids can even help out with the dipping part!  You can purchase something like this frozen at the store, but, homemade is truly best!  You get to pick out your own pancake mix and sausage, which makes it even better.  Then, these are dusted with a sweet cinnamon/sugar, that is optional but highly recommended!  This recipe will make 14 pancakes on a stick for you.  So, it's really great if you are hosting brunch too!  But, even better these can be cooked, then frozen and saved to warm up during the week!  If you're looking for more breakfast recipes from us, try our Homemade Belgian Waffles, they're a reader favorite!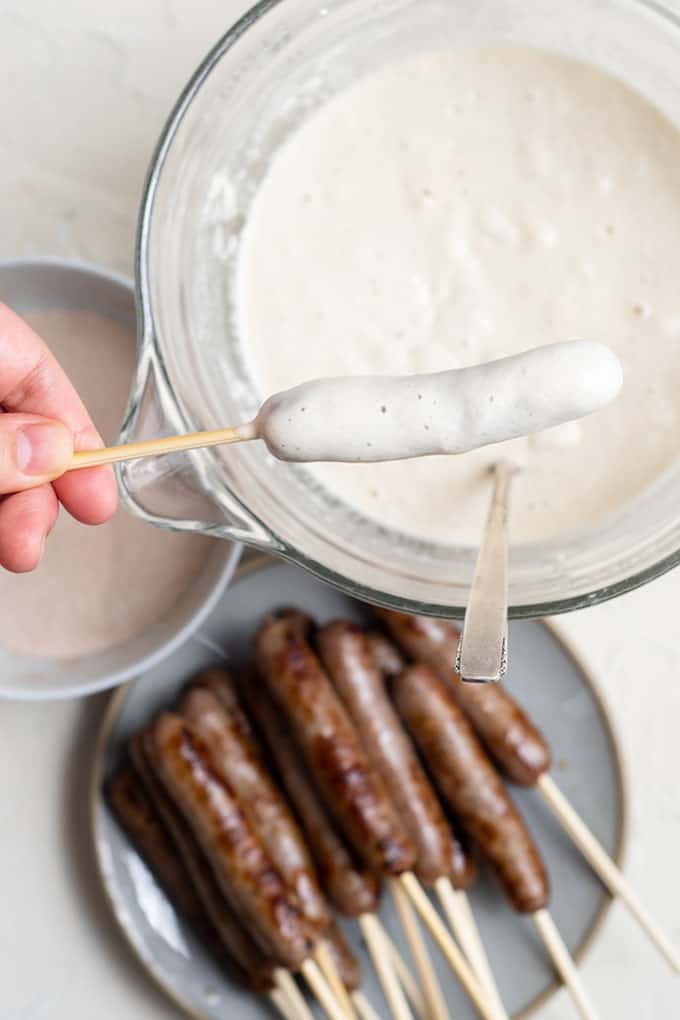 Pancake on a Stick Recipe Notes:
When choosing pancake mix, pick a tried and true favorite of yours.  I am partial to Bisquick mix, personally when not using a homemade recipe.  Just make sure it's one you really like the flavor of!  You can also use a whole wheat or even a flavored mix, like blueberry if you want.
As for the sausages anything goes!  You can use pork, turkey, or chicken breakfast sausage links!  We really like making these with maple flavored sausage links!
You will need to make sure you have a whole (48 ounce) bottle of either vegetable or canola oil to fry these up.  If possible, use a candy thermometer to check the oil, it should be about medium-high or 350 degrees.  If you don't have a candy thermometer that's ok!  Just test the oil out by dropping a small amount of the pancake batter into the oil.  If it sizzles and cooks immediately, that means the oil is ready to go.
You will need wooden sticks for this recipe.  I recommend using long, round sticks like cake pop sticks.  Popsicle sticks will work if that's what you can find.  Most stores have the rounded sticks in the craft or cake decorating section and are easy to find.
If you are worried that your pancake batter might be bland, you can help it out a bit!  Simply add a few drops of vanilla extract or cinnamon to the batter.  For even more flavor, serve these with maple syrup or even homemade Raspberry Sauce!
How to Store and Reheat:
Once these are cooked, you can save them for later in the fridge or the freezer!  Allow the corndogs to cool completely, spread out on a large pan.  Then, you can refrigerate for up to 3 days or freeze for up to 2 months.  They are best stored in an airtight zip-top plastic bag.  If you wish, you can also wrap each one individually in foil or plastic wrap before putting in the freezer bag, but that step is optional.  To reheat them, wrap them up in a damp paper towel and microwave for about 2 minutes on full power.  If you want to reheat these in the oven, preheat to 325 degrees and place on a large baking sheet.  Then, heat turning once during cooking for about 15-20 minutes until warmed all the way through.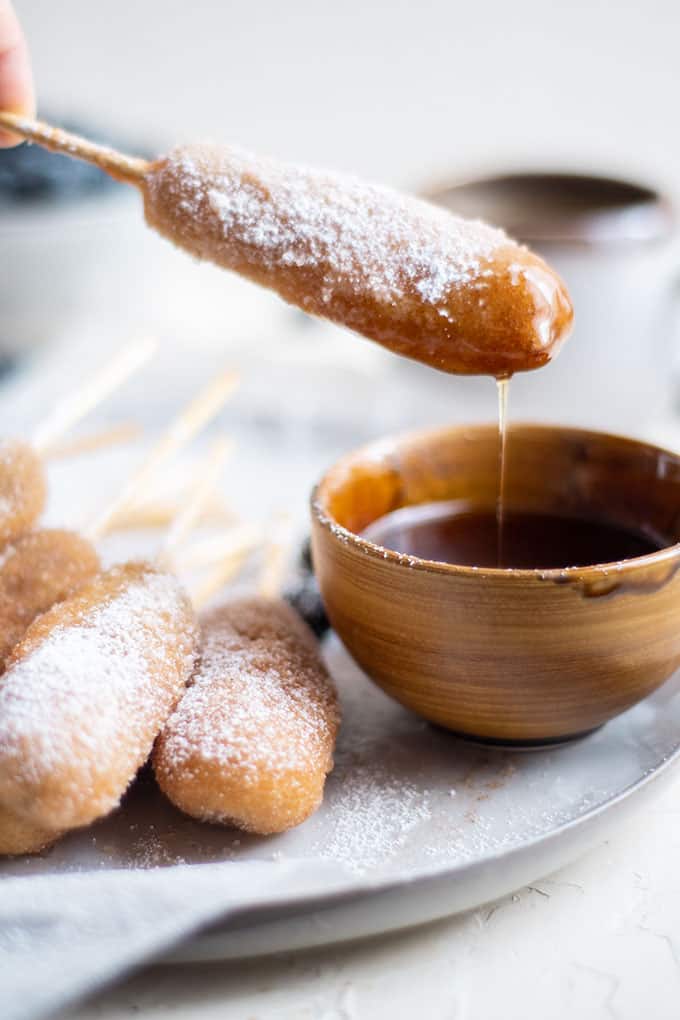 Enjoy!
~Nichole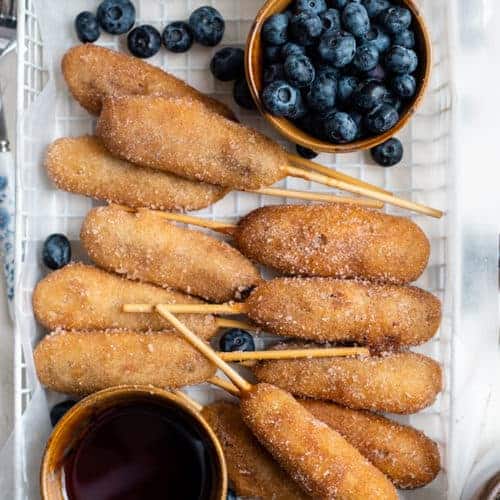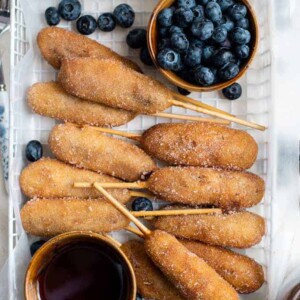 Pancake on a Stick
Pancake on a Stick is such a fun breakfast or brunch with sausage and your favorite pancake mix!  These breakfast corn dogs come together fast and are dipped in sweet cinnamon sugar!
Print
Pin
Rate
Ingredients
1 12-

oz

Package Breakfast Sausage Links

3

cups

Boxed Pancake Mix

½

cup

Granulated Sugar

2

teaspoons

Cinnamon

1 48-

oz

bottle Vegetable or Canola Oil

14

Skewer/Cake pop sticks
Instructions
Cook the sausage links according to package directions until cooked through. Remove from the pan to a paper towel lined plate until cool enough to handle.

In the meantime, make the pancake batter according to the instructions on your box. Set aside

Heat the oil in a large, deep, heavy bottomed pot over medium heat until hot.*

Once the sausages have cooled, skewer the sausages ¾ of the way through.

Dip the sausage into the pancake batter and coat completely.

Let a little bit of the batter drip off, but not too much.

Carefully drop the entire corn dog plus the stick into the oil and fry for about 1 ½ minutes or until golden brown, turning with tongs to cook on all sides. Fry only three corndogs at a time to keep the oil hot.

Remove from the oil and place the corndogs on a plate with a paper towel or over a cooling rack.

Repeat the process until all of the corndogs have been cooked.

In the meantime, whisk together the sugar and cinnamon.

Once cooked, roll the corndogs in the sugar mixture to coat.

Serve with whipped topping, syrup and fresh fruit!
Notes
*To test the oil, use the end of a wooden spoon or a chopstick, or drop a bit of the batter into the oil and see if it cooks immediately. Freezer instructions:
Let the corndogs cool completely, then freeze in a freezer safe Ziploc bag.
To heat in the microwave: wrap a damp paper towel around the corndog and heat for about two minutes.