Kiwi Melon Smoothie is a cool, creamy, refreshing breakfast or snack!  The whole family will love this healthy smoothie during the hot summer months!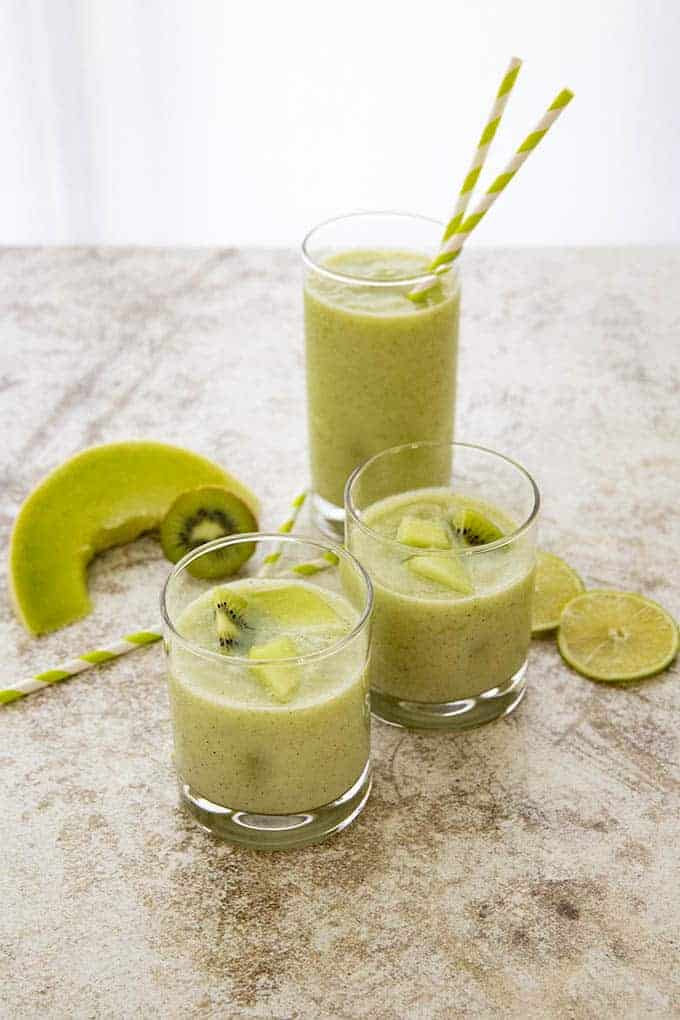 Can we talk about this intense summer heat wave over the past week?  Or not, let's not talk about it, miserable.  The only good thing that came from it was the inspiration to put another smoothie on the blog!  It's been too hot to cook, even with the AC cranked up.  I think we can all agree that something refreshing and light is in order!  Bonus, these gorgeous green smoothies are healthy, so you can feel good about drinking them as much as you want!  Also, they're great with a splash of coconut rum if you're looking for a more adult treat!  If you need all the smoothies in your life, be sure to check out my Banana Cherry Smoothie this classically tasty Strawberry Banana Smoothie and an amazing Mocha Java Smoothie to perk you up in the morning! Ok, and also because I'm totally crushing on them take a peek at this Orange Creamsicle Smoothie and a really fun and healthy Pumpkin Smoothie!
What Goes in a Kiwi Melon Smoothie?
Honeydew melon!  You'll want to use melon that is cubed into about 1 inch chunks, and about 2 cups total but it won't hurt if it's a bit more!  I use fresh melon, frozen works too, but you'll want to take it easy on the ice if using frozen.
Kiwi, you'll want 3 peeled kiwis for this smoothie!  Don't worry about the seeds, this blends up nicely and you hardly notice the seeds if even at all.  The kiwi fruits make this smoothie nice and sweet.
Your favorite yogurt!  I used vanilla coconut milk yogurt because that's what we had on hand.  I like vanilla best, or even plain to let the melon flavor shine through.
Squeeze of lime:  I squeezed "about" half of a lime into this smoothie.  You can add more if you like that tart flavor, or leave it out if preferred.
Vanilla extract and sweetener of choice:  Both are optional, but preferred.  A splash of vanilla adds great flavor, and I like to add 1 Tablespoon of honey, you can use stevia or even sugar if you want.
Ice, I use about 2 cups, start there, blend it up, and then add more ice if you wish.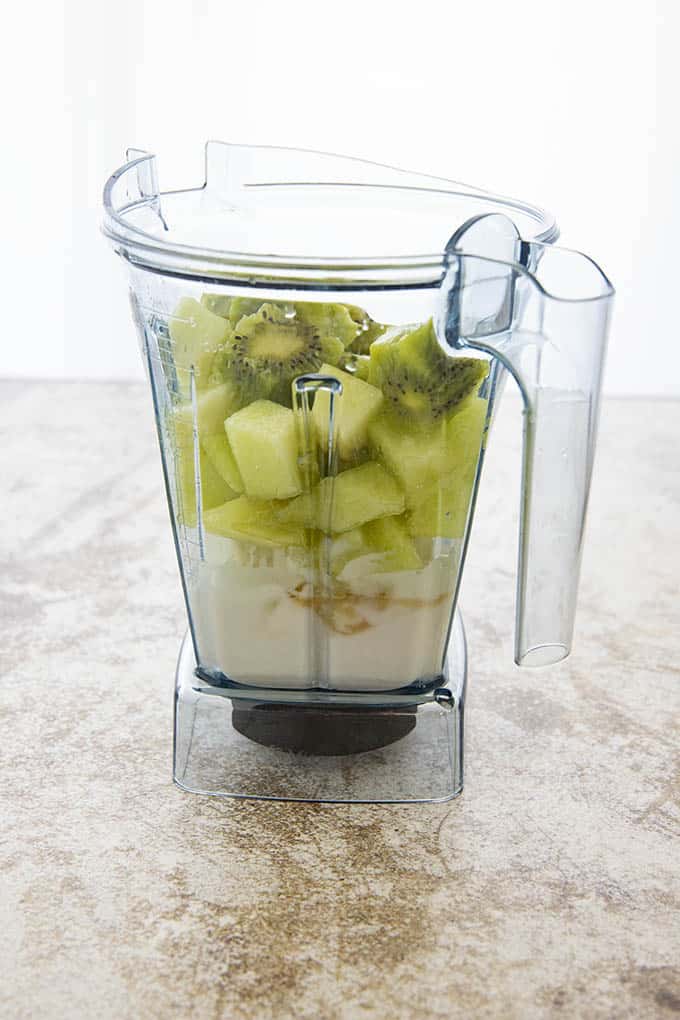 Is it Healthy to Have Smoothies for Breakfast?
Honestly, the answer to this probably differs based on opinion, and what you put in your smoothie.  This smoothie for example is full of healthy ingredients!  You could even add a handful of spinach if you want to get some greens in there!  But, if you start adding in tons of sugar or use a really high-sugar yogurt, you might start to take it from a smoothie to more of a milkshake, then it's not going to be so healthy.  I love making smoothies at home at any rate, they are ten times healthier and lower in calories than the smoothies you can get from those chain smoothie shops!
A Few Quick Notes on Smoothies:
If you blend this, taste it, and it isn't thick enough for you, go ahead and add more yogurt!  That will thicken it right up. How thick this is will depend on the yogurt you use, if you use regular light yogurt it will be thinner, full fat Greek yogurt will make it thick. Feel free to add any other fruits you like to this, sometimes we love throwing in a frozen banana.  This is also excellent with green apple!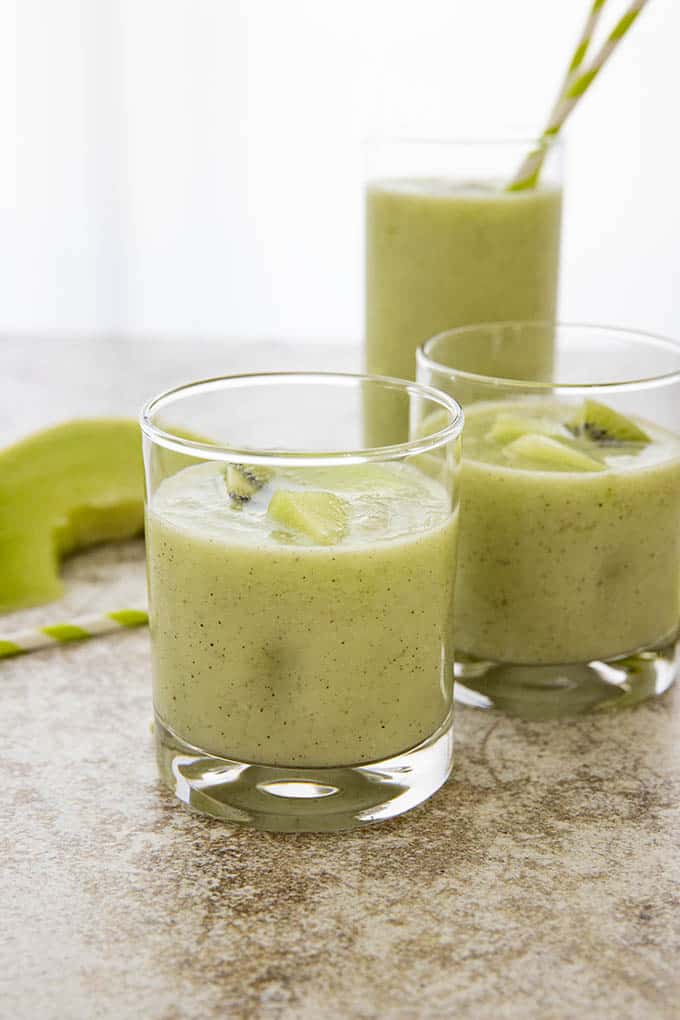 Enjoy!
~Nichole
Kiwi Melon Smoothie
Kiwi Melon Smoothie is a cool, creamy, refreshing breakfast or snack!  The whole family will love this healthy smoothie during the hot summer months!
Print
Pin
Rate
Ingredients
2

Cups

Honeydew Melon Chunks

3

Kiwi's

Peeled and cut in half

1

Cup

Vanilla Yogurt

Juice of ½ Lime

1

Teaspoon

Vanilla Extract

1

Tablespoon

Honey

Optional, or Sweetener of Choice

1-2

Cups

Ice
Instructions
Add the melon, peeled kiwi, yogurt, squeeze of lime juice, vanilla, honey, and ice to a blender.

Place the lid on the blender and pulse until desired consistency is reached.

Taste and add more yogurt or sweetener if desired.

Serve immediately.
Notes
Note:  Any type of vanilla or plain yogurt will work fine for this recipe.