Loaded Irish Nachos start with a pile of crispy, sliced, seasoned potatoes!  Then we load them with corned beef, bacon, and a mouthwatering beer cheese sauce!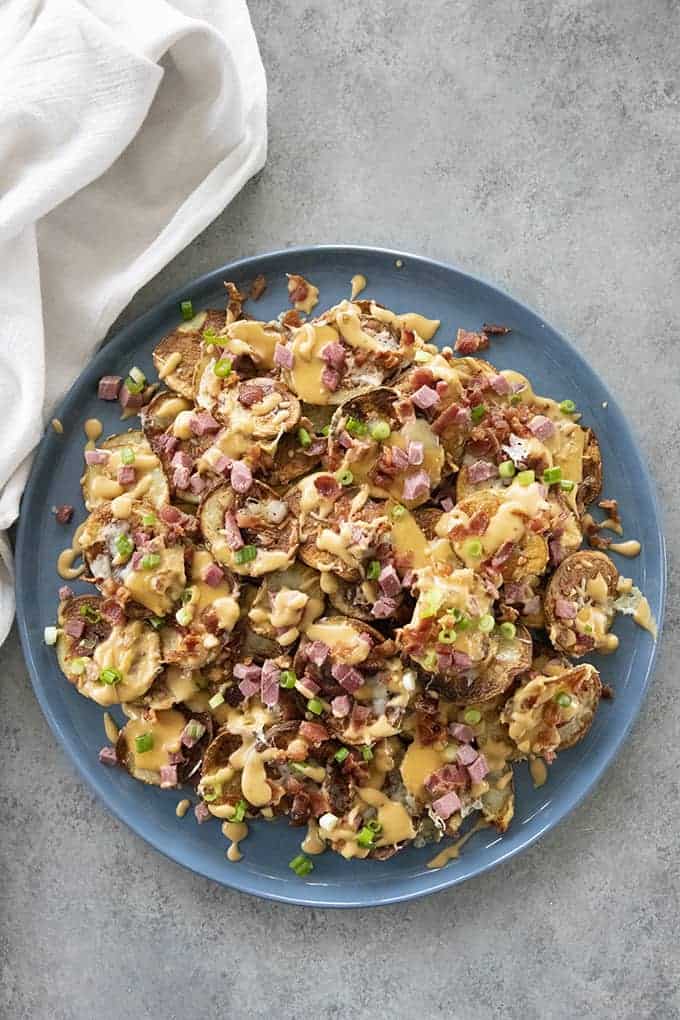 IRISH NACHOS!  Technically, not actually Irish.  But, they are a beloved American/Irish pub favorite!  This amazing treat is a heaping pile of thinly sliced crispy potatoes, salty corned beef, crispy bacon, melty cheese and the most drool worthy beer cheese sauce! I originally posted this recipe way back in 2016!  It deserved to be brought around again and given new life.  You guys are going to love this appetizer to share, or, honestly it can be made and served as a full meal for four!
Making Irish Nachos:
First, you'll want to slice your potatoes up nice and thin and let them soak in cold water for at least 20 minutes and up to 45 if you have the time. It's easiest to get the potatoes in 1/4 inch slices if you use a mandoline slicer.  If you don't have one, you can carefully do the same thing with a very sharp chef's knife.  Don't skip soaking the potatoes.  This draws the starch out of them so that they get nice and crispy in the oven!
Drizzle them with olive oil and salt, bake them for 20 minutes, then flip and give about 15-20 more minutes until they're crispy. Now you will let them cook 20 minutes, then flip the little babies over and cook for another 20 minutes so they are all equally crispy.  It's ok if a few of your potatoes are overlapping on the sheet pan.
After you flip the potatoes and they're on the last round of cooking time, go ahead and make your cheese sauce!  This is a simple combo of butter, flour, milk, beer, mustard, and seasonings.  You start with making a "roux" with your butter and flour, then in goes the milk and keep in mind it will look really thick at this point.  Next, whisk in the beer and it will start to thin out.  Let it bubble for 2 minutes, then remove OFF the heat and add in your cheese!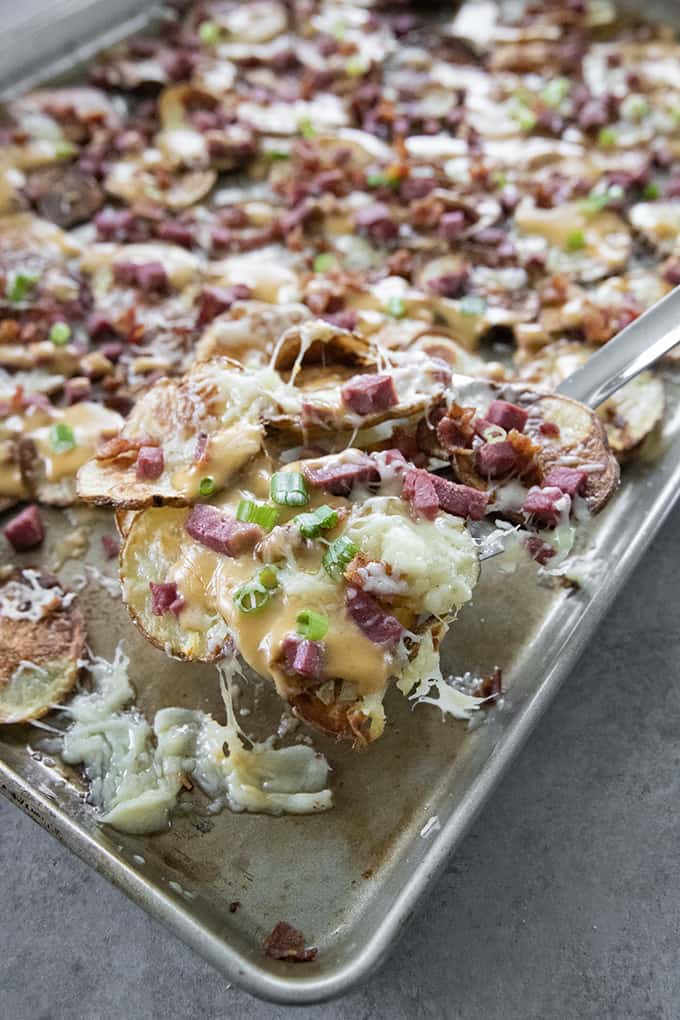 Recipe Tips and Notes:
Don't skip soaking the potatoes, this is an important step, otherwise they won't be crispy at all.  If you are in a big hurry, you can do a "cheaters" version of this recipe and use store-bought potato chips and just add your toppings and melt in the oven for a few minutes.
I LOVE the corned beef and bacon on top!  If you only have one or the other, that's fine.  You don't have to cook a whole corned beef brisket for this recipe either if you don't want.  You can simply purchase sliced corned beef deli meat and it still tastes great.
For the beer cheese sauce, make sure you remove the pan from the heat before stirring in your cheese, that's the key to a smooth sauce!  It's also best to use freshly shredded off the block cheese.  If you use bagged cheese, it may clump.
I always use Guinness beer for the cheese sauce.  Any dark beer should do if you don't have Guinness.  If you don't have/don't want to use beer, you can simply use more milk instead.
These nachos reheat "ok" but are really best served the same day that they are made.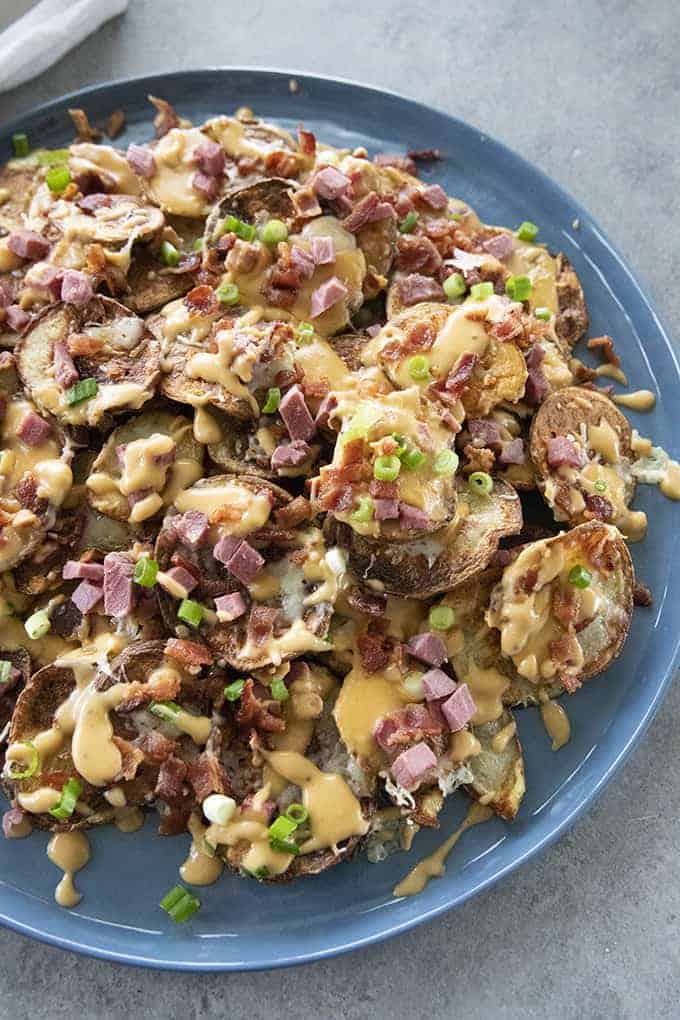 Enjoy!
~Nichole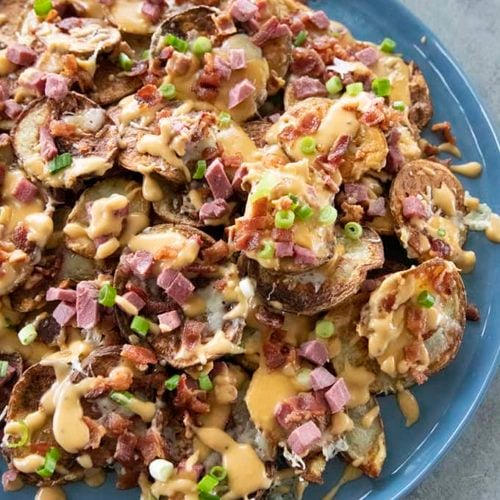 Irish Potato Nachos
Loaded Irish Nachos start with a pile of crispy, sliced, seasoned potatoes!  Then we load them with corned beef, bacon, and a mouthwatering beer cheese sauce!
Ingredients
POTATO NACHOS:
Instructions
FOR THE POTATOES:
Thoroughly was the potatoes and slice into 1/4 inch slices using a mandoline slicer, or a very sharp chef's knife.

Place potato slices into a large bowl and cover with COLD water. Let the potatoes soak for at least 20 minutes, and up to 45 minutes if time allows.

Meanwhile, preheat oven to 450 degrees and prepare a large baking sheet with non-stick cooking spray.

Drain potatoes and pat dry with a large kitchen towel or paper towels.

Place potatoes in a single layer (ok if a few are overlapping) on a large baking sheet. Drizzle with the olive oil and sprinkle with salt, then toss to combine.

Bake the potatoes for 20 minutes, flip potatoes over and continue cooking for another 20 minutes.
BEER CHEESE SAUCE:
Melt butter in a medium sauce pan over medium heat.

Whisk in the flour and cook, stirring constantly for 1 minute.

Very slowly add in the milk whisking constantly.

Stir in the beer, mustard, garlic, salt and hot sauce and allow to come to a bubble. Continue stirring until thickened.

Remove the pan from the heat and add the cheese 1 cup at a time stirring after each addition.

When potatoes are finished, take them out of the oven and top with mozzarella, corned beef, beer cheese sauce, and green onion.

Bake for an additional 10 minutes or until cheese is melted and bubbly.

Top with your favorite nacho toppings such as tomatoes, jalapenos, and sour cream if desired.
Nutrition
Serving:
0.05
Cup
,
Calories:
330
kcal
Nutrition information is automatically calculated, so should only be used as an approximation.
Like this? Rate & review this recipe below!