Ice Cream Nachos are such an easy and super fun summer treat!  This dessert comes together fast and can be customized with all of your favorite toppings!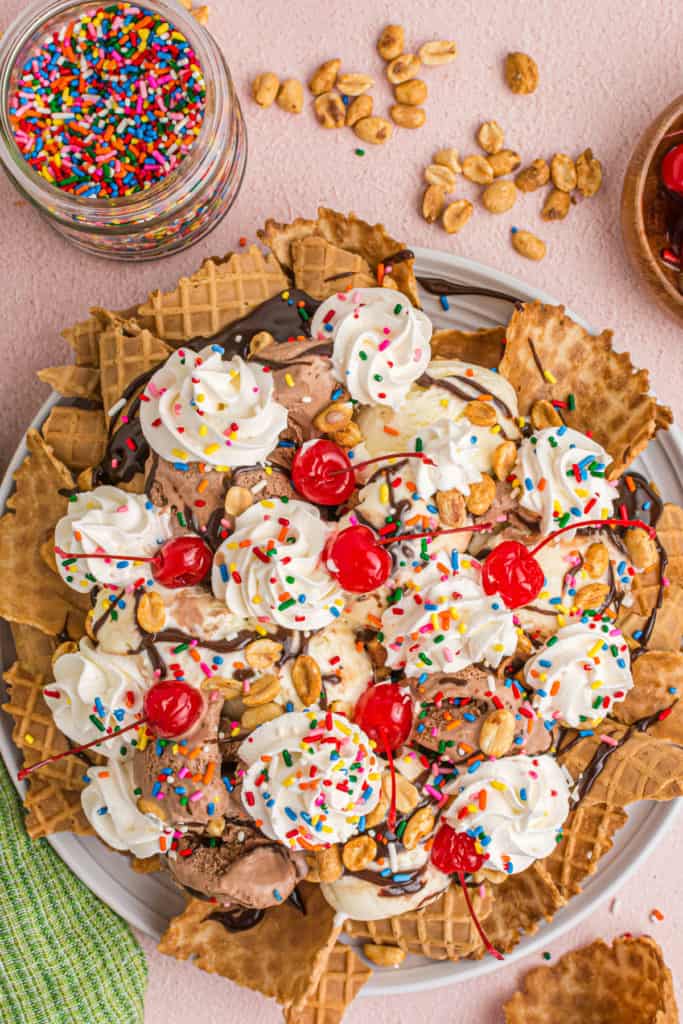 Ice Cream Nachos:
This is one of those embarrassingly simple recipes, because there isn't much to it!  But, it's creative and fun and kids and adults both love these! It's really a fun dessert to surprise someone with on a hot summer day! Ice cream nachos are made using broken up ice cream cones as chips!  You could use any ice cream cones you like, but we love waffle cones.  They're easy to break up without crumbling too much.  From there, the sky is the limit!   Any flavor combinations your imagination comes up with will work.  You can even try these with a drizzle of homemade Raspberry Sauce or try our new No Churn Circus Cookie Ice Cream!  Just make sure to assemble these no more than maybe 5-10 minutes or so before serving.  If they sit too long the ice cream will melt and your cones will start to get soggy.  We also recommend making these right before serving instead of trying to make and store.  If you make them and stick back in the freezer the ice cream becomes very hard and toppings don't always hold up well.
Ice Cream Nacho Toppings:
Ice Cream:  Use any flavor you love the most! I like to usually keep it simple and use vanilla, chocolate or strawberry simply because then we can get creative with more toppings flavors.  But use what your family loves, or a combination of several.
Cookies:  Cookies are a great way to add different texture and flavors!  Oreos, crunchy or soft chocolate chip, circus cookies, or even lemon cookies are a fave of ours.
Fruit:  Since these are made and eaten right away, fruit holds up well.  I love any combination of berries in the summer!  Sliced bananas are always really good too.  Or, mix it up with a can of your favorite pie filling!
Candy:  We LOVE crushed candy bars!  Vanilla and chocolate go well with almost anything.  Reeses pieces or the mini reeses cups, or M&M's or crushed butterfingers are so good!
Nuts:  If you want a bit of salt you can add any salted nuts, I love pistachios.  Honey roasted peanuts are super yummy too.  Any nuts you like best are going to be your best bet.
Others:  Mini marshmallows, canned pineapple, maraschino cherries, caramel sauce topping, hot fudge or chocolate sauce, marshmallow drizzle.  Get creative!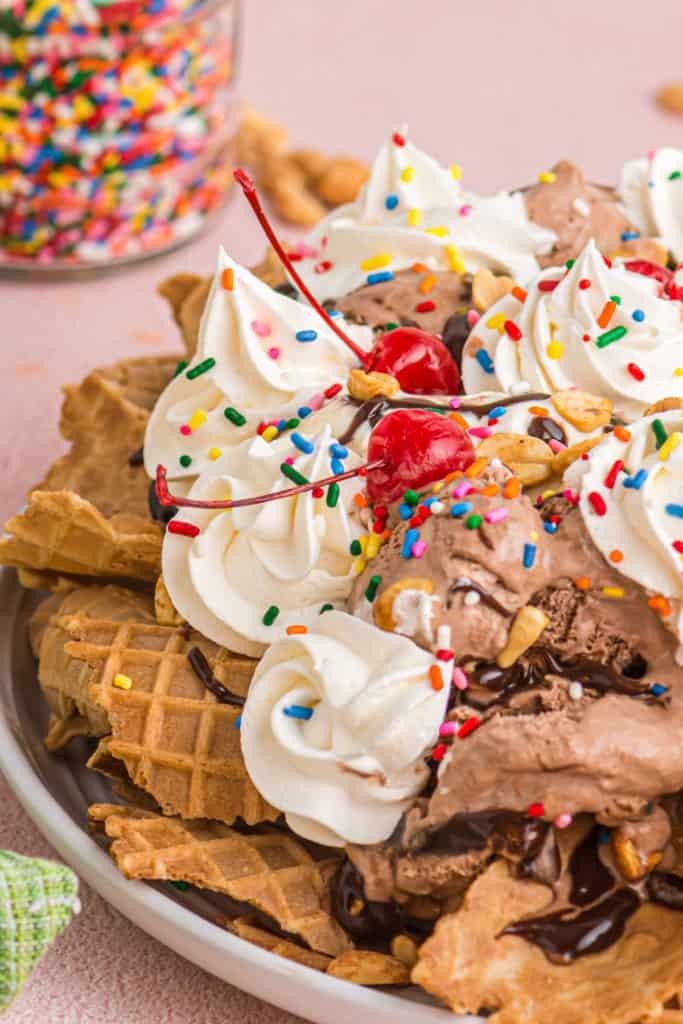 Enjoy!
~Nichole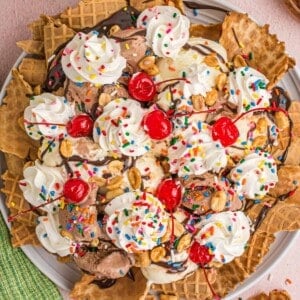 Ice Cream Nachos
Ice Cream Nachos are such an easy and super fun summer treat!  This dessert comes together fast and can be customized with all of your favorite toppings!
Ingredients
Package of 12 Waffle Cones

6

Scoops Vanilla Ice Cream or 3 Cups

6

Scoops Chocolate Ice Cream or 3 Cups

1

Cup

Hot Fudge

½

Cup

Dry Roasted Peanuts

1

Cup

Whipped Cream or Cool Whip

2

Tablespoons

Rainbow Sprinkles

1

Cup

Maraschino Cherries
Instructions
Carefully break apart the waffle cones into tortilla chip size pieces. I did this using kitchen shears. Break the tip off and cut it slowly up along the waffle cone. Break that piece in half and then break those 2 pieces in half to get 4 pieces total plus the tip of the waffle cone. Place the waffle cone pieces on a serving platter or plate.

Arrange the scooped ice cream on top of the waffle cone pieces. In a microwave safe bowl, heat the hot fudge in the microwave in 30 second intervals for a total of 1 minute. Stir after every 30 seconds.

Drizzle the hot fudge over the ice cream and waffle cone pieces. Scatter the roasted peanuts over the "nachos". Using a piping bag or a spoon, add the whipped cream or cool whip randomly over the "nachos".

Sprinkle the rainbow sprinkles and place your desired amount of maraschino cherries. Serve immediately.
Notes
NOTE:  You can use any combination of ice cream and toppings!  See my list above for some fun suggestions!
Like this? Rate & review this recipe below!