Fudgies are amazingly soft and moist, brownie like, and completely grain free cookies.  With only a few simple ingredients, these fudgy cookies are the perfect way to satisfy your chocolate craving, whether you are gluten free or not!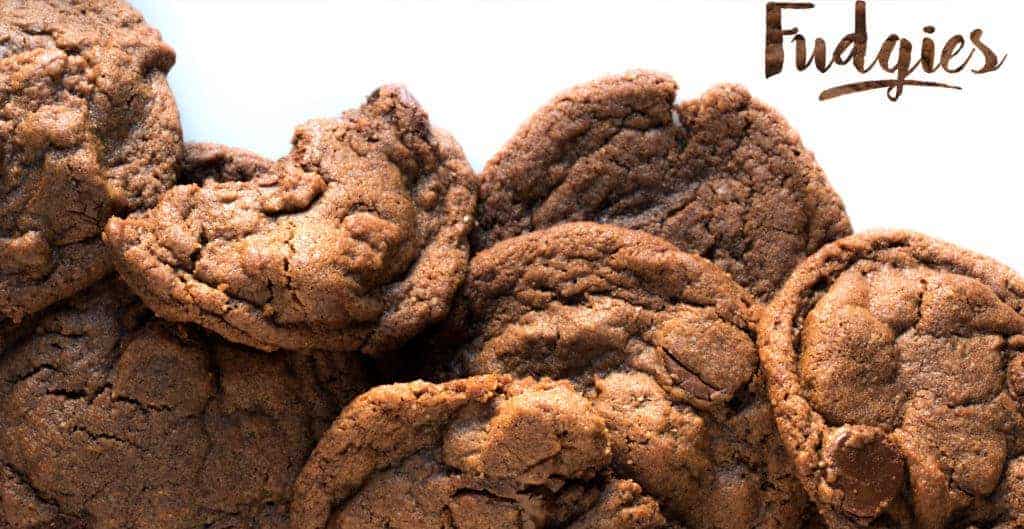 Hey all!  I can't explain to you how much I adore these cookies, they have that super moist center that I always crave when it comes to something chocolate.  They are heaven with a giant cold glass of vanilla almond milk for dunking. Trust me on this.  Know what else I love, friends.  Friends that are super awesome grain free bakers and that share their recipes with me when I am lost in the gluten free department!
I constantly have requests for grain free cookies.  I find myself researching all of the ins and outs and one of the things I read most is that gluten free cookies and other things can end up being "grainy"......well, that sounds pleasant.  Lucky you, lucky me, lucky world, my friend knows what she is doing, because the texture here is perfect. Not grainy, not tough.  I think she's a magician.
I wanted you all to see the dough, and know that it's very very soft and chocolate-y.....which you'd figure out anyway because you're probably like me and stuck your finger right into the batter because you are just impatient around chocolate and just had to have a leetle taste.  You can refrigerate your dough at this point if you'd like, but it's also not necessary if you are ready for cookies right now!
Just a personal tidbit for anyone who might be scared off by the words "gluten free" because I used to be one of those people.  Nobody and I mean nobody knew these were free of the gluten until I told them. I mean, who even needs gluten anyway? Enjoy!
Seriously, best served in stacks with a humongous glass of your desired choice of milk.
Printable recipe below as always!
*Follow me on Instagram and Pinterest*
Ingredients
1

Stick butter

softened

1

Cup

coconut sugar

¾

Cup

cashew butter

1

Egg

1 ½

Cups

almond flour

¾

Tsp

baking soda

½

Tsp

salt

¼

Cup

cocoa powder

½

Cup

dark chocolate chips
Instructions
Preheat oven to 350 degrees and line a baking sheet with parchment paper

In a large bowl, or bowl of stand mixer cream together the butter, sugar, and cashew butter

Add egg and mix until combined

In a separate medium bowl, combine the flour, baking soda, salt, and cocoa powder with a whisk

Add dry ingredients to wet mixture just until combined

Stir in dark chocolate chips

Drop mixture onto prepared pan by rounded tablespoon-fulls

Bake for 8 minutes

Allow to cool on pan for 5-10 minutes, continue cooling on a wire rack.