A takeout favorite made super easy at home in 30 minutes with only ONE PAN!  Tender, juicy chicken paired with broccoli and red peppers in an amazing flavor packed Asian style sauce.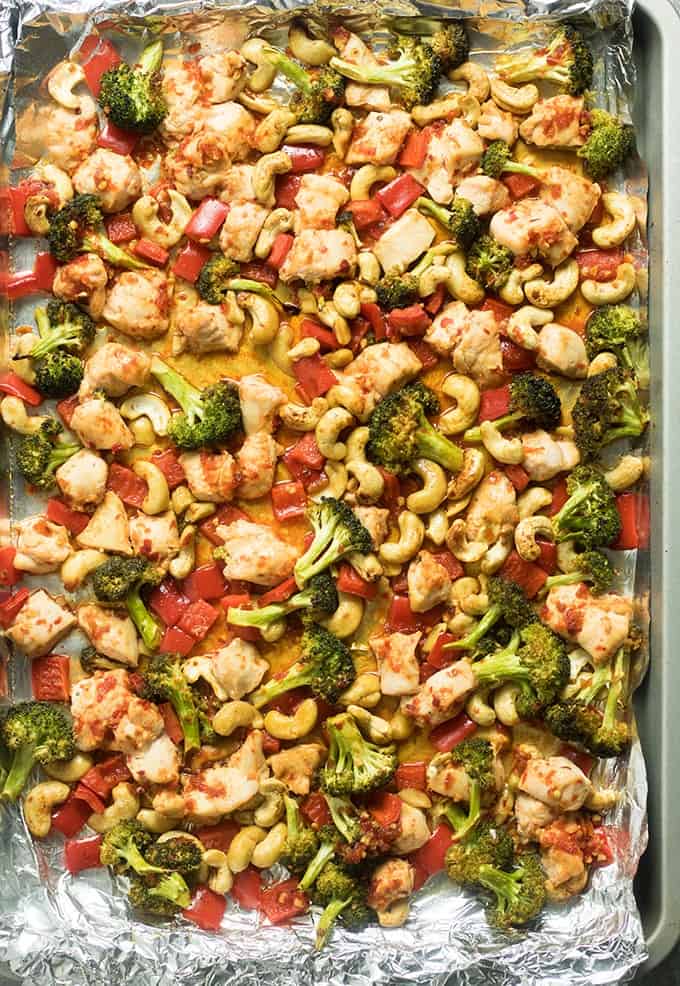 Ok, I'm a little bit obsessed with this cashew chicken right now.
Mostly I'm obsessed with the sauce, I should say.
Next, I'm crazy about the fact that this meal literally produces the least dishes EVER.
One little bowl to mix up the sauce, and one sheet pan.
The easiness kind of blows my mind!
CHECK OUT OUR VIDEO OF THIS RECIPE BELOW!
I love cashew chicken but I'm not a big fan of ordering out for Chinese food.
I always find it a little greasy/heavy.
This is much healthier without loads of breading, lighter, not greasy.
AAAANNND, it totally satisfies my cravings - even more so than takeout.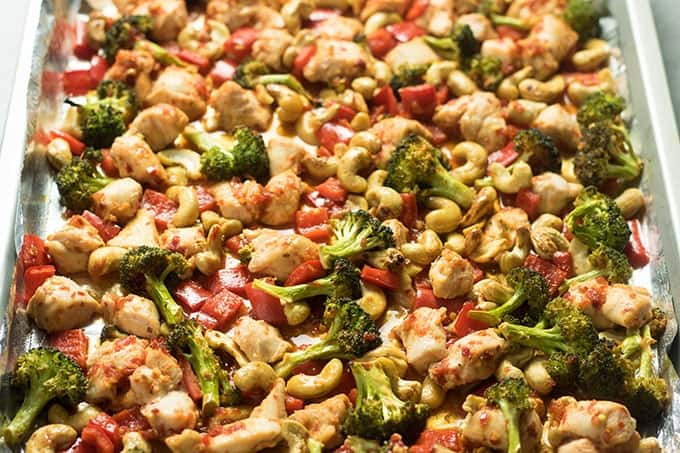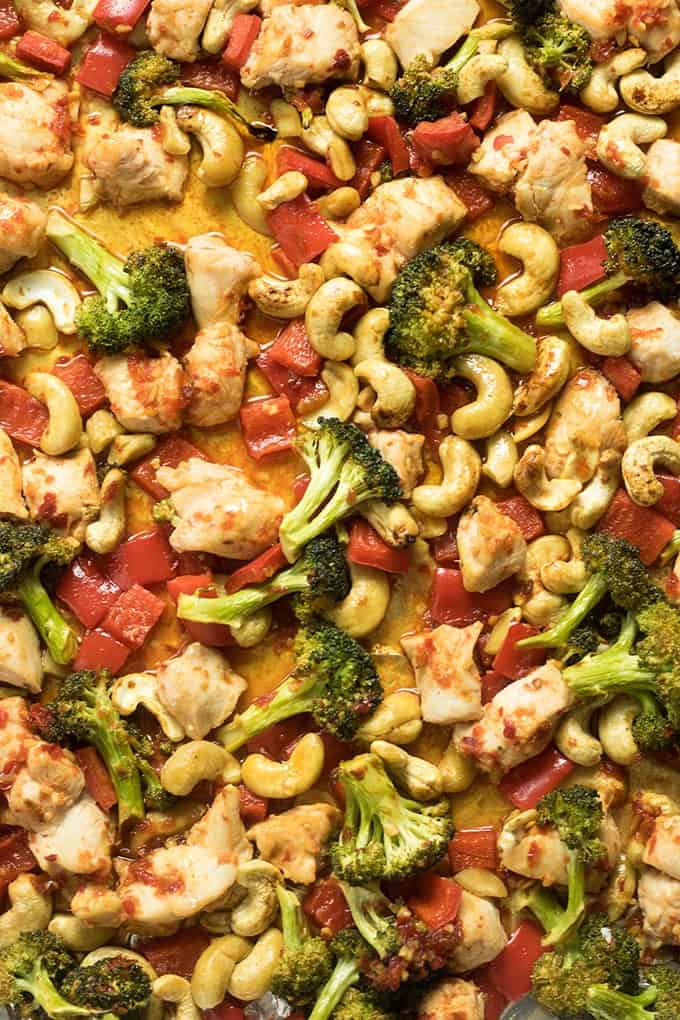 Can we talk about this sauce?  Give me a spoon, leave me alone with the sauce, that's all I want.
It's a tad spicy, but not like eyes watering/steam coming out of your ears spicy.
REALLY garlicy.
The sesame oil combined with the garlic is definitely what hits me - it's addictive and I can't help myself!
I honestly usually make double the sauce that the recipe calls for, because I like to add more at the end.  No shame.
As you've probably figured out from my sauce-raving, I can eat this as is, straight off the pan like I have no manners.
But, it's equally tasty served over rice to soak the saucy goodness up!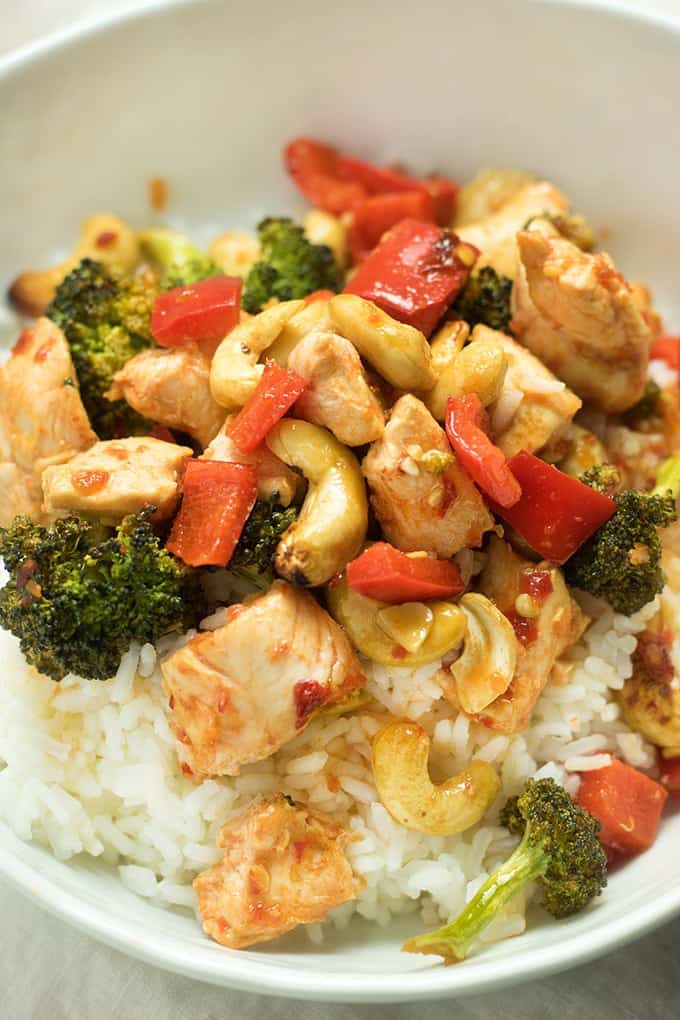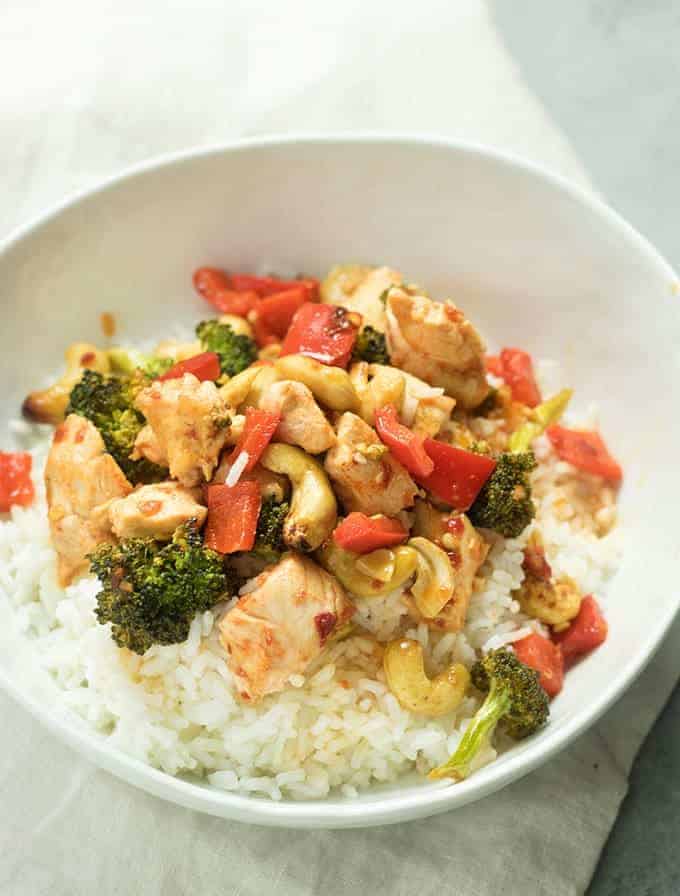 Enjoy your new found fave best friend/30 minute/no fuss dinner!
~Nichole
Come follow me on Pinterest - I'm always pinning the best recipes out there!
Ingredients
1 ½

Pounds

Chicken Breasts

Cut into ¼ - ½ inc pieces

2

Cups

Broccoli Florets

1

Cup

Diced Red Bell Pepper

1

Cup

Unsalted Cashews

3

Tablespoons

Chili Garlic Sauce

Found in the Asian section of your grocery store

2

Tablespoons

Soy Sauce

1

Tablespoon

Vinegar

Rice vinegar, Red wine vinegar, or Apple cider vinegar

2

Tablespoons

Sesame oil

2

Tablespoons

Honey

1

Teaspoon

Garlic

Minced
Instructions
Preheat oven to 400 degrees.

Line a large sheet pan with non-stick foil and spray with non-stick cooking spray.

Place the diced chicken, vegetables, and cashews onto prepared baking sheet, spreading out evenly.

In a small bowl, whisk together the chili garlic sauce, soy sauce, vinegar, sesame oil, honey, and garlic. Pour the sauce over the chicken mixture and mix well with a spoon or tongs.

Bake in preheated oven for 15-20 minutes, until chicken is cooked through and vegetables are tender.
Nutrition
Sodium:
898
mg
|
Calcium:
30
mg
|
Vitamin C:
60.3
mg
|
Vitamin A:
1000
IU
|
Sugar:
10
g
|
Fiber:
2
g
|
Potassium:
722
mg
|
Cholesterol:
72
mg
|
Calories:
343
kcal
|
Saturated Fat:
2
g
|
Fat:
17
g
|
Protein:
29
g
|
Carbohydrates:
18
g
|
Iron:
2.3
mg