Easy Hibachi Chicken is just as good as your favorite Japanese restaurant but made at home in 20 minutes!  This tender and flavorful chicken will become a family favorite!
Easy Hibachi Chicken:
We are in love with this hibachi made at home!  It perfectly satisfies our cravings, it's budget friendly, fast, and uses minimal ingredients and things we consider pantry staples.  Our ingredients are boneless, skinless chicken breasts, salt & pepper, butter, sesame oil, garlic, soy sauce, and lemon!  This dish is great served with white or brown rice, or I love serving it up with noodles like our Sesame Garlic Ramen Noodles or a big bowl of Lo Mein!
When coming up with this easy hibachi chicken, I took it upon myself to watch closely, ask questions, and take notes at our fave hibachi restaurant.  Luckily, they were really kind about it! The key to this recipe is cooking the chicken at VERY high heat!  Have all of your ingredients ready and right next to you as soon as the chicken goes in the pan, because this recipe moves fast.  You'll only need to use salt & pepper on the chicken, it really is flavorful with the sesame, garlic, and soy sauce!  We cook the chicken in butter and sesame oil until it's nice and browned, because your pan is so hot, this only takes maybe 5 minutes.  Then, and in your remaining sauce ingredients and it becomes really caramelized and even slightly crisp on  the outside!  So good!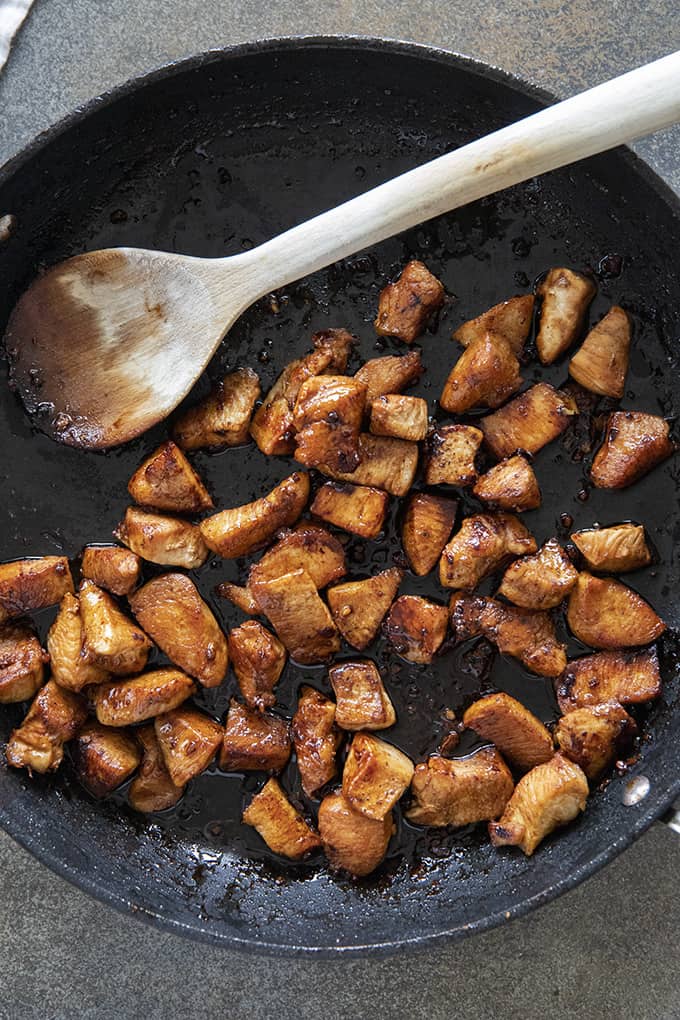 A Few Recipe Tips and Notes:
I find that 1.5 pounds of chicken breasts is enough for my family of four when we serve this with a starchy side.  If you really love this chicken or have a bigger family, you may want to use 2-3 pounds instead, and just double your sauce.
You can also use boneless skinless chicken thighs if you prefer.
The chicken cubes don't have to be perfectly the same size, but get as close as you can.  You'll want it to be in small about 1/2-1 inch cubes so that it cooks thoroughly.
Keep in mind that chicken should be to an internal temp of 165 degrees before consuming, you can always check this with a meat thermometer.
This makes just enough sauce to coat the chicken.  If you prefer a saucier dish, you can double or triple the sauce if you want.
Don't be scared of cooking this on HIGH heat.  Just keep in mind it does cook fast, don't leave the chicken in the pan after cooking or it will dry out.  It shouldn't take more than 8 minutes total from the time the chicken hits the pan, to the last of the sauce going in for it to cook through.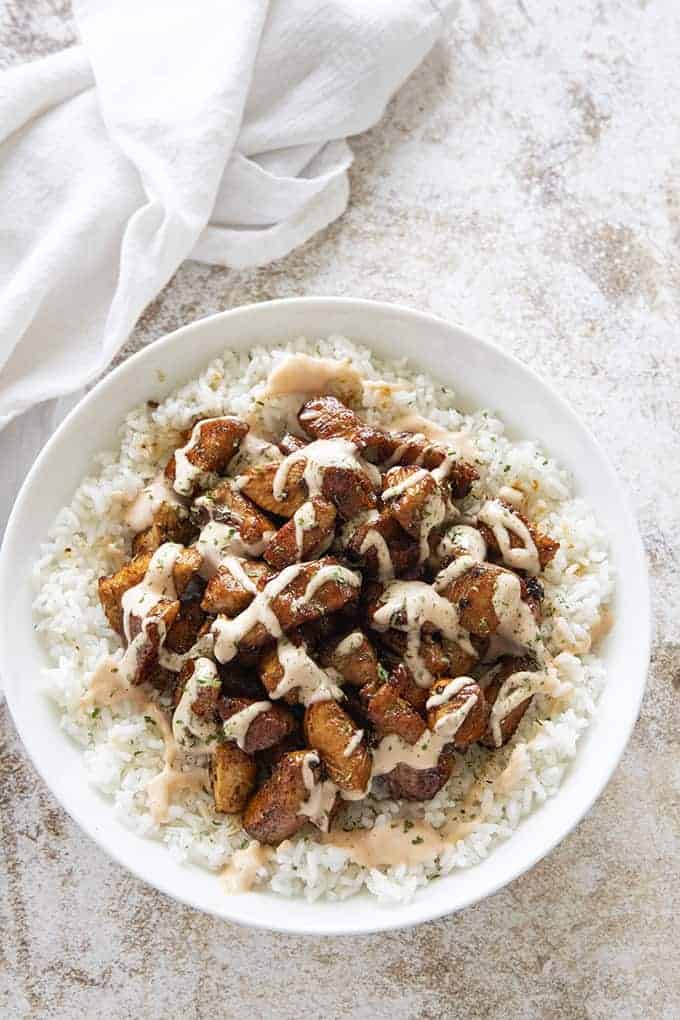 Enjoy!
~Nichole
Easy Hibachi Chicken
Easy Hibachi Chicken is just as good as your favorite Japanese restaurant but made at home in 20 minutes!  This tender and flavorful chicken will become a family favorite!
Instructions
Place the chicken on a large cutting board and cut into bite sized pieces (about 1 inch). Season with salt & pepper to taste.

Heat one Tablespoon of the butter, and one Tablespoon of the sesame oil in a large skillet over high heat.

Add the chicken and cook, turning with tongs, until golden on all sides and cooked through, about 5 minutes.

Reduce the heat to medium. Add the remaining butter, garlic and soy sauce to the pan, and cook stirring occasionally for 2-3 minutes until the chicken is coated in sauce.

Remove the pan from the heat and drizzle the remaining sesame oil over the chicken, then squeeze over the lemon juice and toss to coat.

Serve immediately. Leftovers can be stored in an airtight container in the refrigerator for up to 3 days.
Nutrition
Serving:
0.5
Cup
,
Calories:
230
kcal
Nutrition information is automatically calculated, so should only be used as an approximation.
Like this? Rate & review this recipe below!