Easy Fruit Galette is so simple to make at home with the perfect, flaky and buttery crust!  You can make this galette recipe with any kind of fruit that you have on hand!
Galette:
This classic French pastry is rustic, beautiful, seriously good and one of the easiest desserts you will ever make!  A galette is really similar to a pie, basically it is just a freeform pie with one crust!  Right now while all of the fresh summer fruit is still the very best, it's the perfect time to bake it up!  Sometimes you might also hear this dessert called a Crostata, and honestly they are basically the same thing, just different names!   The pastry comes together really fast in about 5 minutes or so and uses basic ingredients like flour, sugar, salt, butter, and cold water.   Plan ahead a little bit because you do need to chill your dough for about 30 minutes before rolling it out.  If you're looking for more easy desserts while you are here, try our very best Banana Bread it has rave reviews!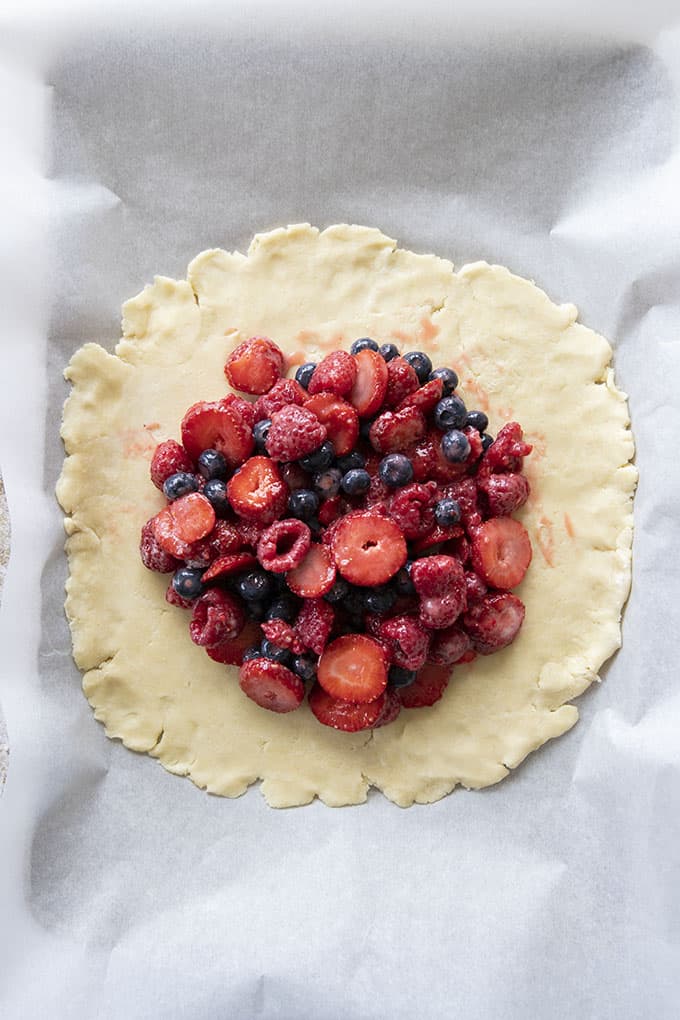 The dough for this galette is really easy to work with!  Once it's chilled, it is very easy to roll out on a lightly floured surface, or even a piece of parchment paper if you prefer.  The beauty of this dessert is that it doesn't have to be perfect at all!  Really, it shouldn't be perfect if you want that rustic look.  You'll want about a 12 inch circle when rolling your dough out, it should be fairly thin.  Then, just heap your fruit up in the middle and leave about a 2-3 inch border around the edges.  Now, you can just lift up the crust and fold it right over the fruit!  When you fold it over, you can pleat the dough as necessary to help it seal and make it look pretty.  But, again, don't strive for perfection.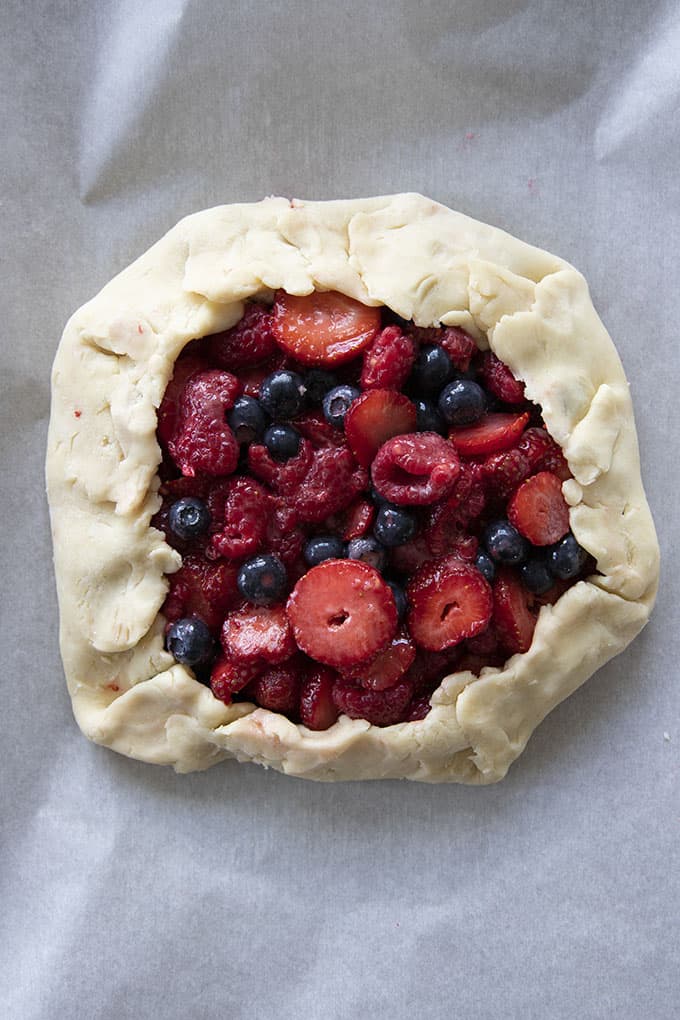 Galette Recipe Notes:
You are going to want to use all purpose flour for this recipe.  I haven't tried it with alternative flours, so I can't say how it will turn out.
Sugar is used as the sweetener here, and you can also use a granulated sugar substitute if you want. I always use about ⅓ of a cup of sugar, but you can add more or less to taste!  I'd recommend at least using ¼ cup and up to ½ cup if you prefer a sweeter dessert.
This galette works with any type of fruit you have!  You can use sliced plums, peaches or nectarines, pitted cherries, even apples!  There is no need to cook your fruit first.  Just make sure if you use a more firm fruit like apples/pears you slice them very thinly so that they get nice and tender.
There are several optional add ins for this recipe to make it your own!  You can use any kind of citrus, lime, lemon, or orange to perk up the flavor.  You can also use cinnamon, vanilla extract, coconut or almond extract depending on what you like.
Don't skip the egg wash on the crust!  It will help give it a really nice golden brown color.  You will need one whole egg (no need to use the whites only) and just a splash of water.  You can also sprinkle with coarse sugar if you have some on hand.
Enjoy!
~Nichole
Easy Fruit Galette
Easy Fruit Galette is so simple to make at home with the perfect, flaky and buttery crust!  You can make this galette recipe with any kind of fruit that you have on hand!
Print
Pin
Rate
Ingredients
1 ½

Cups

All Purpose Flour

2

teaspoons

Granulated Sugar

½

teaspoon

Salt

1 ½

Sticks

(12 Tablespoons) Unsalted Butter

Cut into thin slices

4-5

Tablespoons

Ice Water

4

Cups

Fruit**

See Note

⅓

Cup

Granulated Sugar

2

Tablespoons

Corn Starch

2

teaspoons

Lemon Juice

Optional

1

teaspoon

Vanilla or Almond Extract

Optional

1

Large Egg

2

teaspoons

Cold Water
Instructions
Pulse the flour, sugar, and salt in a food processor until combined. Alternately, whisk together the flour, sugar and salt in a large bowl.

Add in the butter pieces and pulse until the mixture looks like coarse meal. If mixing the dough in a bowl, use your hands or a pastry cutter to incorporate the butter.

Sprinkle with 4 Tablespoons of water and pulse until dough comes together. Add in the last Tablespoon of water if needed for the dough to come together.

Remove the dough from the food processor and shape into a flat disk and wrap in plastic wrap. Chill in the refrigerator for 30 minutes.

In a large bowl combine the fruit, sugar, cornstarch, lemon juice, and vanilla and stir to combine.

Place the dough on a large piece of parchment paper and roll out into a 12 inch circle.

Place the fruit mixture in the center of the dough, leaving a 2-3 inch border around the edges.

Fold the sides of the dough up over the fruit, pleating as needed.

In a small bowl, whisk together the egg with the water. Brush evenly over the folded crust (you don't need to use all of the egg wash).

Bake at 400 for 35-45 minutes until the fruit is hot and bubbly, and the crust is golden brown. Serve immediately.
Notes
NOTE ON FRUIT:  I used 2 cups of sliced strawberries, 1 cup of blueberries, and 1 cup of raspberries for this recipe.  You can also use thinly sliced plums, nectarines, peaches, apples, or pears. NOTE ON MAKING AHEAD:  Galette is best eaten the day it's made if possible.  However, leftovers will keep in an airtight container for up to 3 days in the refrigerator.  You can make the dough ahead and freeze it for up to two months, then thaw in the refrigerator before using. NOTE ON CITRUS:  If you don't have lemon, orange or lime juice are fine as well.
Nutrition
Serving:
1
Slice
|
Sodium:
206
mg
|
Calcium:
9
mg
|
Vitamin C:
1
mg
|
Vitamin A:
40
IU
|
Sugar:
10
g
|
Fiber:
1
g
|
Potassium:
44
mg
|
Cholesterol:
27
mg
|
Calories:
172
kcal
|
Saturated Fat:
1
g
|
Fat:
1
g
|
Protein:
4
g
|
Carbohydrates:
36
g
|
Iron:
2
mg