Easy Chopped Steaks are simple hamburger steaks that are ready in 30 minutes and whipped up in only one pan!  These mouthwatering chopped steaks are coated in a delicious, savory, mushroom brown gravy!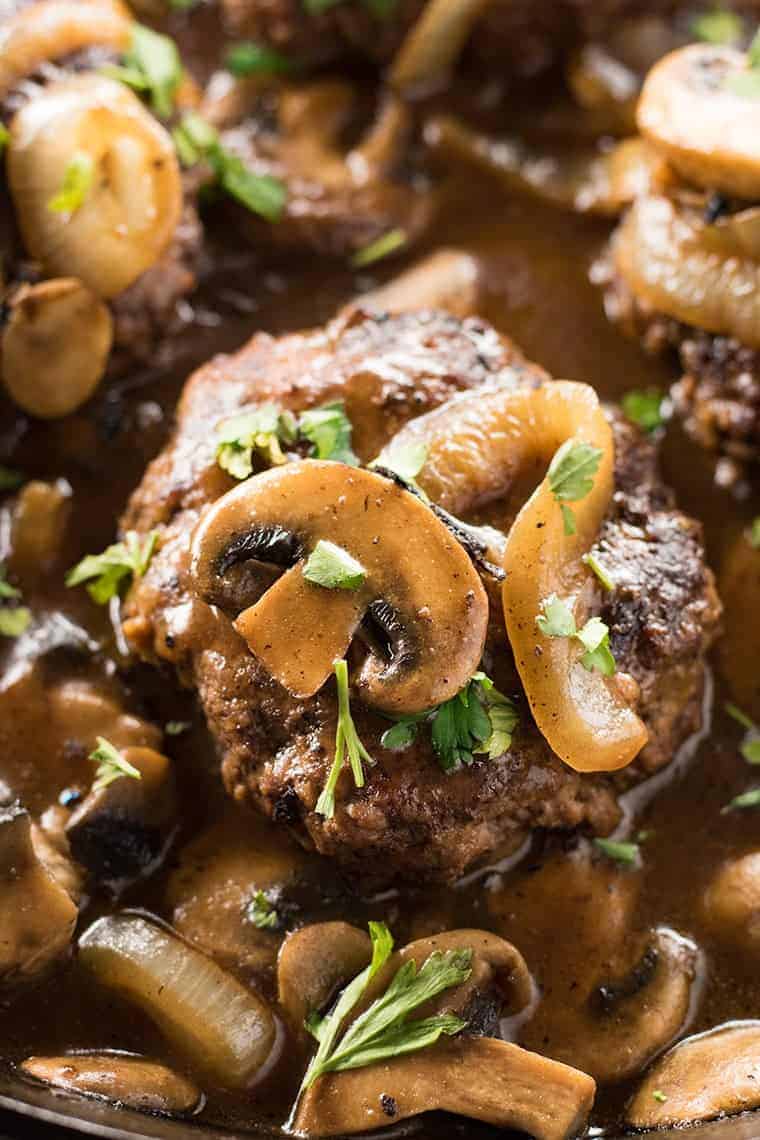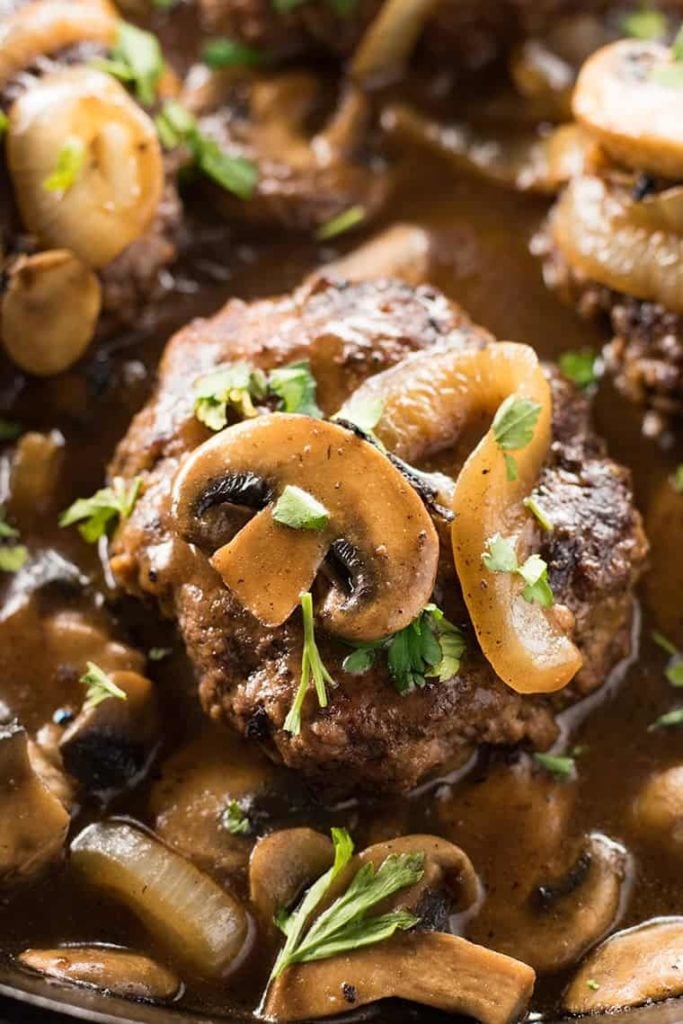 You guys, chopped steaks are easily my favorite ever comfort food on the entire planet. I love going out for dinner and getting a big, juicy, hamburger steak with a side of mashed potatoes.  The ultimate indulgence for sure!  What I love even more is that these are super easy to make at home when I don't want to go out!
Besides the fact that I crave these steaks on a regular basis, I love making them at home during a busy week because they are so quick and easy. When I'm busy prepping for holiday baking and meals, I don't want to have to really think hard about our weeknight supper.
Plus, I am always looking for new things to do with ground beef!
Chopped Hamburger Steaks:
Chopped steak and hamburger steak are virtually the same exact things.  They are "steaks" that are made of ground beef!   Some people say "chopped steak" like I do, and some people call them hamburger steaks.
Whatever you decide to call them, they are a basic hamburger patty loaded up with spices and seared for some amazing flavor! Then, of course, they are always served with a rich and thick brown gravy.
You can purchase pre-made chopped steaks at your grocery store.  I prefer to use a lean (10% fat) ground beef and make my own at home.  I find that they come out much more tender and flavorful this way.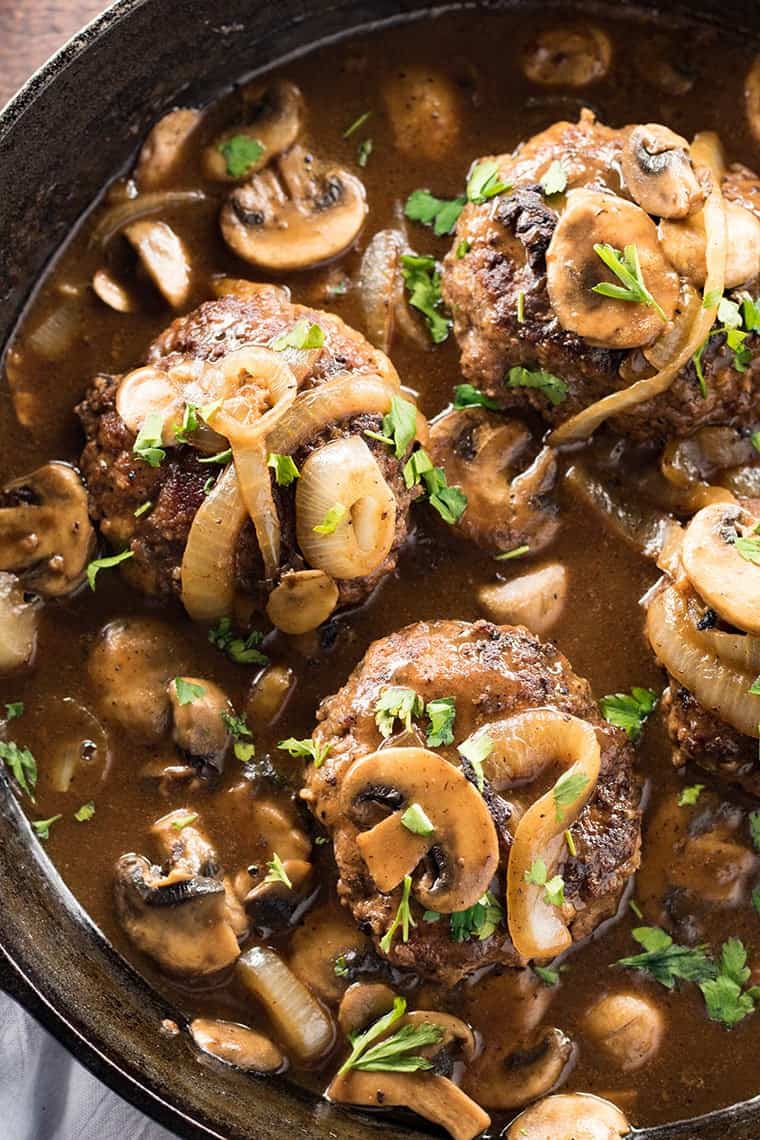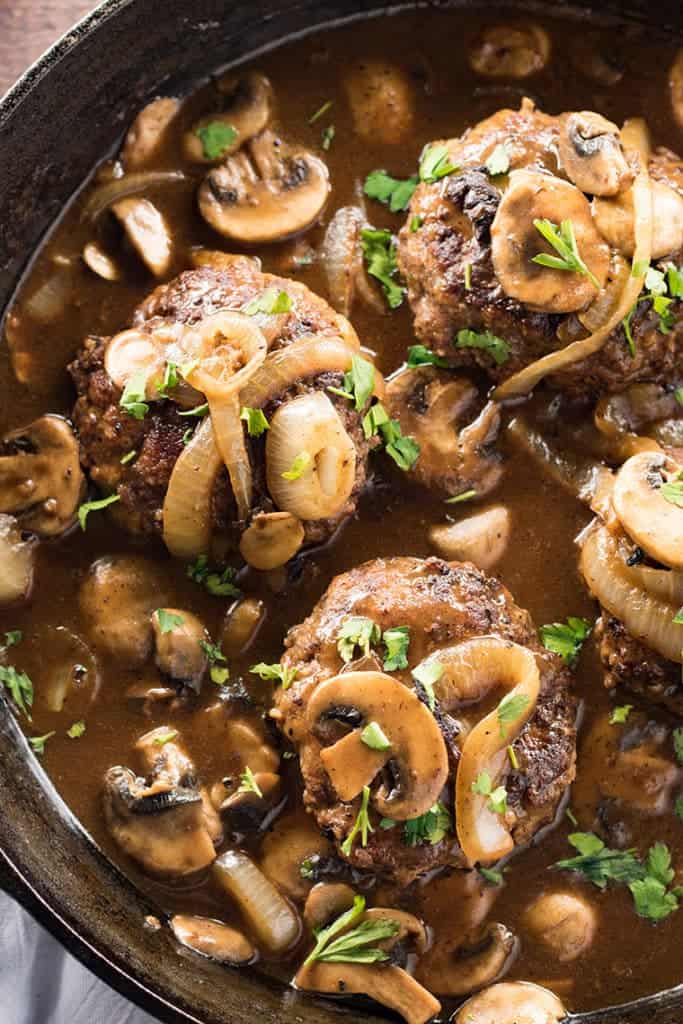 HOW TO MAKE EASY CHOPPED STEAKS AND GRAVY:
Ingredient wise, I really consider everything here a "pantry staple." These steaks can be described as kind of a mini meatloaf. But, they can be made right on your stovetop! No heating up the oven! Now, occasionally I don't have the mushrooms to go along with this recipe. So if you don't have them, or if you aren't a fan, you can just simply leave them out!
Make sure your pan and oil are nice and hot before adding the meat!  Your hamburger steaks will only take 2-3 minutes to sear per side.
One thing you will notice with this recipe is that the chopped steaks get seared first on each side. However, they won't be completely cooked through. That's ok! Set them aside on a plate and cover them with foil to keep warm while you whip up the gravy. This gravy only takes five minutes to make, so your beef will stay nice and hot, no problem!
After about 3-5 minutes your gravy will start to thicken up, at that point, you add your patties back to the pan. Then, they simmer up to super tender, juicy, flavorful perfection!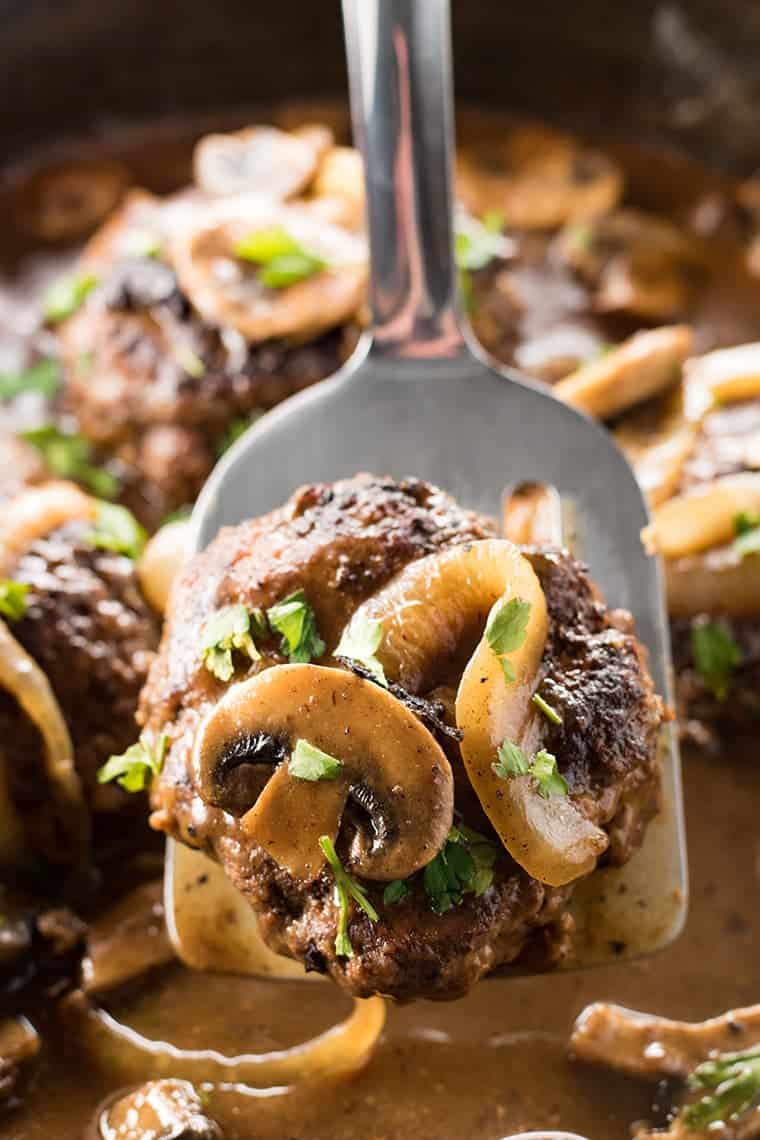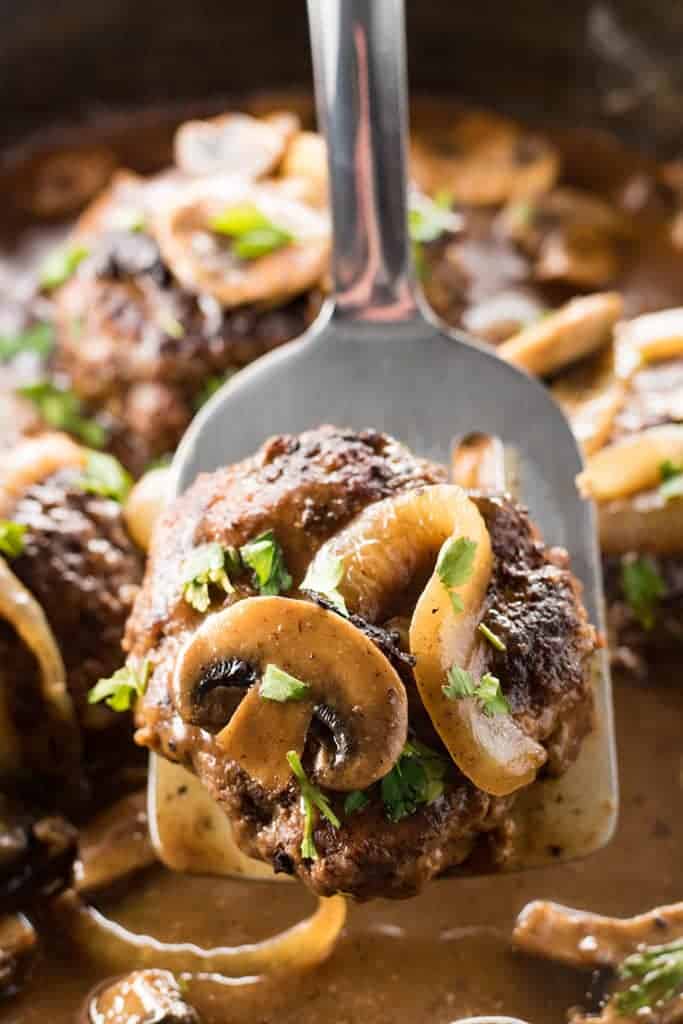 I love serving these chopped steaks with a side of Cream Cheese Mashed Potatoes for a truly unforgettable meal!
Enjoy!
~Nichole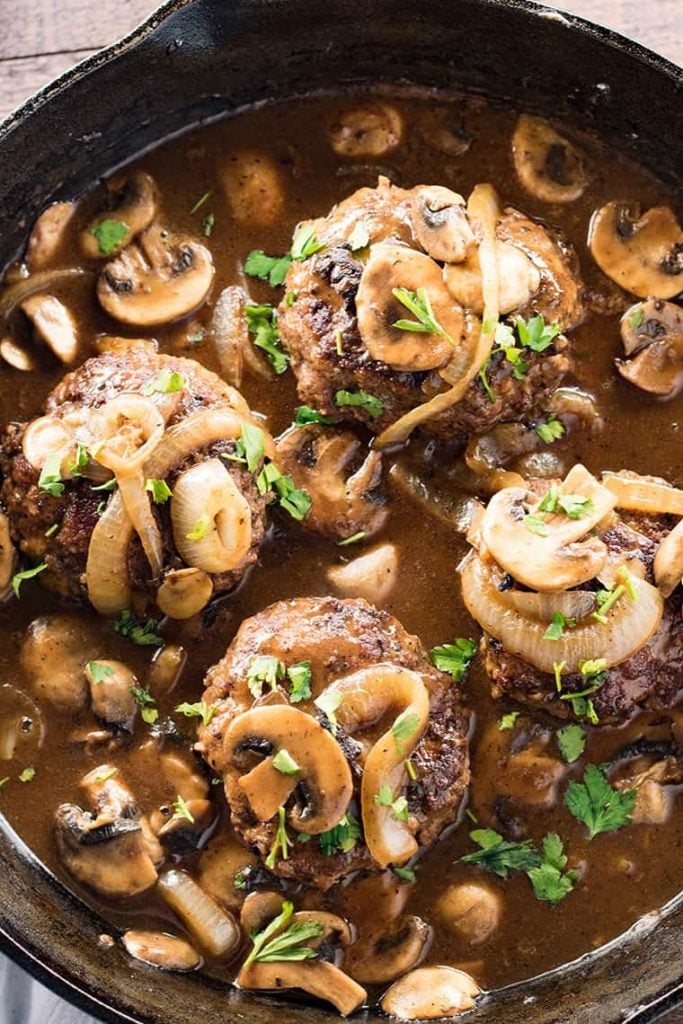 Be sure to follow along with us on FACEBOOK where we always share the tastiest recipes!
Easy Chopped Steaks and Gravy
Easy Chopped Steaks and Gravy - Easy to make chopped steaks that are ready in 30 minutes and whipped up in only one pan! These mouthwatering hamburger steaks are coated in a delicious, savory, mushroom brown gravy!
Print
Pin
Rate
Instructions
In a large bowl mix together the ground beef, egg, worcestershire sauce, garlic powder, onion powder, salt, pepper, and breadcrumbs.

Form the meat mixture into 4 balls, then flatten into patties.

Heat the oil in a large skillet over medium heat.

Add the onions, mushrooms, and hamburger patties to the skillet.

Fry the patties for about 4 minutes on each side. Remove to a plate and keep warm.

Sprinkle the flour over the onions and mushrooms in the skillet. Stir the flour in, cooking for one minute.

Slowly pour the beef broth into the skillet using a wooden spoon to scrape the brown bits from the bottom of the pan.

Reduce heat to simmer and cook the gravy for 3-5 minutes until thickened.

Add the patties back to the pan, simmer for 10 more minutes.
Nutrition