Creamy Pepper Jack Pasta is perfectly creamy with just enough richness and spice to keep you coming back for more!  This easy pasta is ready in 30 minutes or less!
Pepper Jack Pasta:
I am absolutely obsessed with this creamy, tangy and spicy sauce and I could not wait to share it!  This pasta comes from my deep love of our super popular Alfredo Sauce recipe.  It's basically really similar to the alfredo and how you make it.  There is no "roux" involved in this sauce at all!  It's made from cream, butter, and a lot of cheese and it comes out so creamy!  I love pepper jack cheese, and if you aren't familiar with the taste it is basically just Monterrey Jack with some spices added.  It's not super hot so even people that are sensitive to spice will still love this one!
Ingredients:
Butter:  I like to use salted butter but if you know you're sensitive to saltiness, unsalted is fine.  Don't use margarine either, you want the real thing!
Heavy Cream:  I haven't tried using milk or half & half.  Heavy cream gives the richness and thickness that this sauce needs.
Garlic:  You can use freshly chopped or jarred is ok too.  In a pinch, garlic powder will work!  I use 3 cloves but add more if you want.
Pepperoncini Juice:  I use ⅓ Cup of juice right from the jar!
Red Pepper Flakes:  Make sure you use red pepper flakes and not cayenne pepper.  Cayenne is much hotter.
Pepperjack and Parmesan:  Freshly grated off the block is best.
Pasta:  Any short cut pasta will do fine!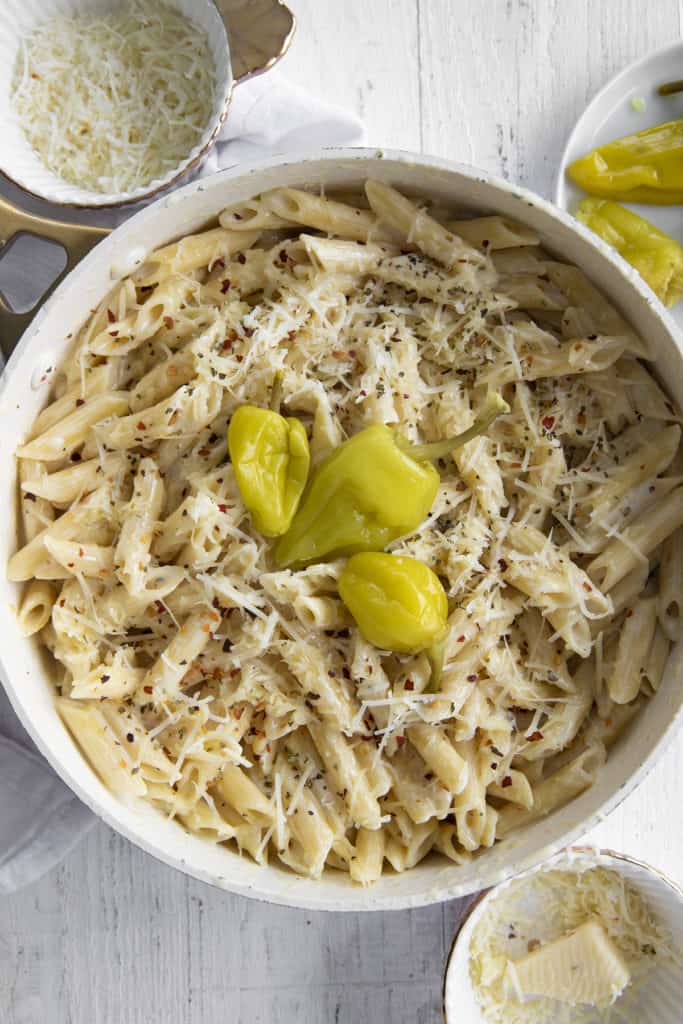 Pepper Jack Pasta Notes:
Gather all of your ingredients before you start cooking.  This one comes together super fast!  I always like to grate up all of my cheese before I start or while the pasta water is coming to a boil.
The pasta actually takes longer to cook than the sauce takes to make!  I tend to start my sauce after the pasta has been boiling for 3-4 minutes and then they're done at the same time.
The pepperoncini juice is totally optional if you want to leave it out.  But, it does add a really nice flavor/tang to the sauce that makes it so delicious!  I like the flavor so much we actually serve extra pepperoncini on the side.
For the red pepper flakes, 1 Tablespoon might seem like a whole lot but I promise the dish isn't too spicy.  If you are concerned about heat level, start with 1-2 teaspoons and taste and add more if you want.
The trick to keeping this sauce super smooth is to whisk constantly!  Once the butter and cream are melted and simmering keep whisking, when you add the pepperoncini juice whisk more, and then again keep whisking when you add the cheese so it doesn't clump!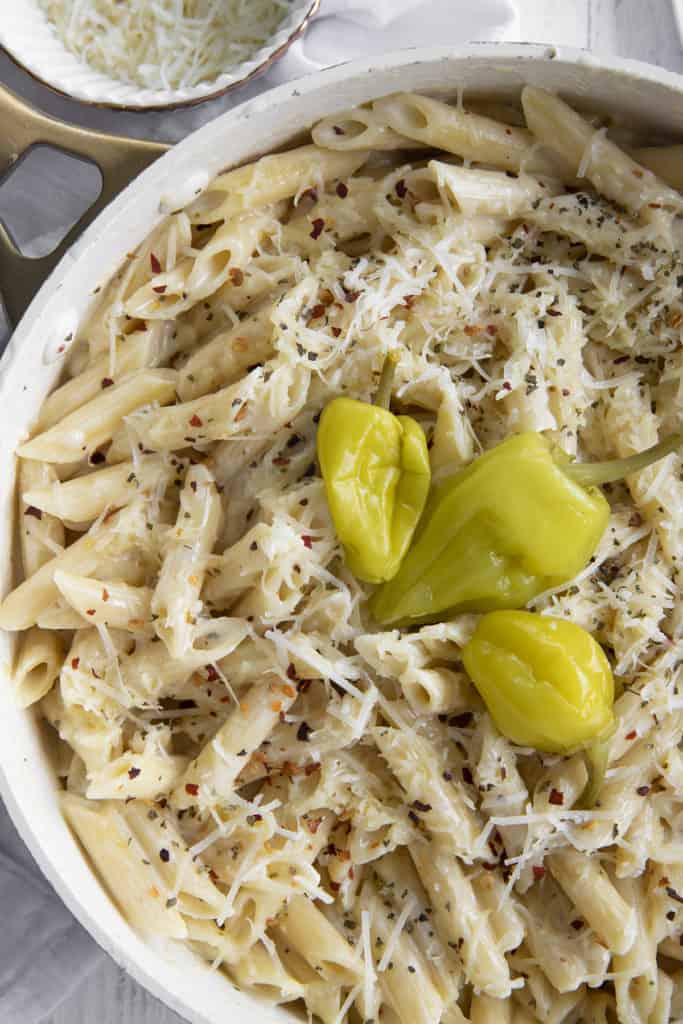 Enjoy!
~Nichole
Creamy Pepper Jack Pasta
Creamy Pepper Jack Pasta is perfectly creamy with just enough richness and spice to keep you coming back for more!  This easy pasta is ready in 30 minutes or less!
Print
Pin
Rate
Instructions
Cook the pasta according to package directions, drain and set aside.

Meanwhile add the butter and cream to a large skillet and melt the butter over medium low heat.

Once the butter is melted, stir and simmer the mixture for 2 minutes.

Slowly pour in the pepperoncini juice while whisking constantly.

Add the garlic, red pepper flakes, and salt and pepper to taste and simmer, stirring occasionally for one more minute.

Turn the heat off and gradually stir in the cheeses in about 3-4 handfuls until completely melted.
Notes
NOTE:  The pepperoncini juice is optional, but it adds an amazing fresh and slightly tangy taste that is so good so I recommend using it! NOTE ON SPICE:  This pasta is only mildly spicy.  You can start off with only 1-2 teaspoons of red pepper flakes if desired, or add more if you like very spicy. NOTE:  SEE THE POST ABOVE THE RECIPE CARD FOR MORE HELPFUL TIPS.