Cheddar Ranch Baked Chicken Tenders - juicy chicken tenders made extra flavorful with ranch dressing and a crispy corn flake and cheddar coating!  A family approved, easy weeknight dinner!
Check out our video for this recipe below!
Ok, you guys, if you'd like to go ahead and ask me what I want to eat for dinner for the rest of my life it would one-hundred-million-percent be these chicken fingers.
I have BIG plans to make these again this week, and I'm not even sorry about it.  They're addicting - you've been warned.
I'm going to admit that I really didn't know until a few years ago how easy it is to make your own chicken strips.  I'm all for keeping some frozen popcorn chicken in my freezer for busy nights, don't get me wrong.
But, if I had a preference (I totally do) these don't take much longer to make, and the flavor is ten times better.
What really makes me love these?  Only four ingredients to chicken tender nirvana.
Chicken tenders
Ranch dressing
Corn flakes
Cheddar cheese
Just going to go ahead and say it - we eat A LOT of ranch dressing in this house, we also eat about a metric ton of cheese per week.  What I'm saying is, I usually always have these ingredients on hand.
TIP:  If you don't usually keep cornflakes on hand you can buy them when they're on sale, crush them or run them through the food processor and freeze them in a zip top bag for 3 months!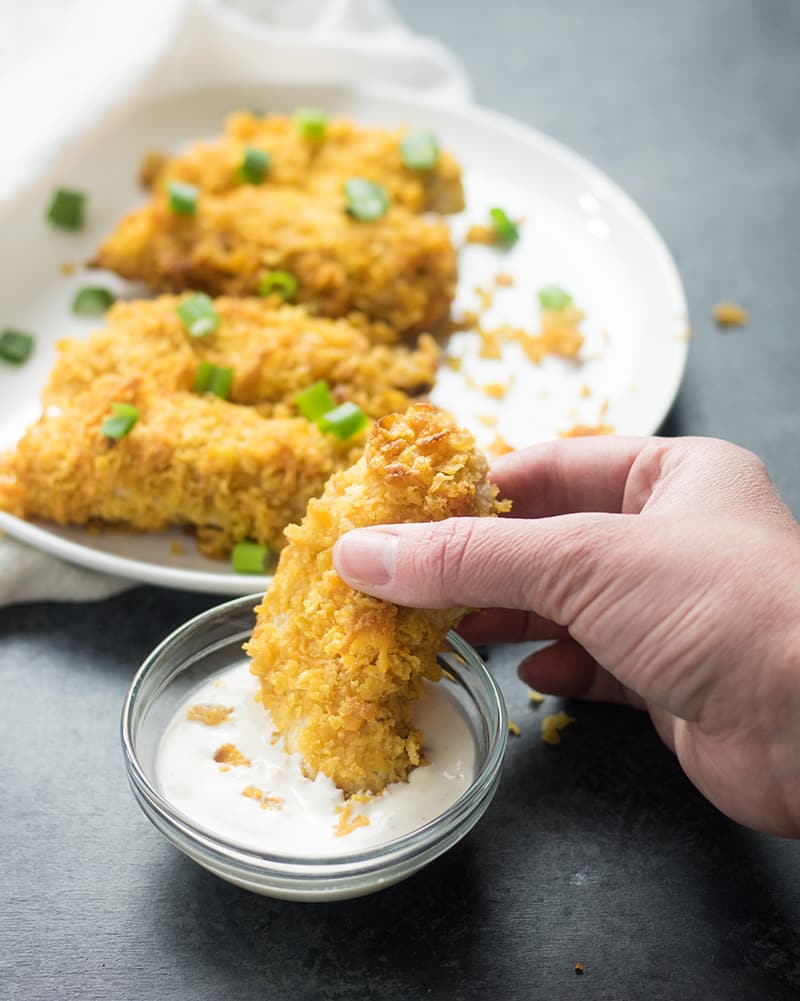 Hope you enjoy these crispy-cheesy-juicy-chicken masterpieces!
Be sure to let me know what you think of them, and don't forget to follow me on Pinterest for all the tastiest food!
~Nichole
Ingredients
1 ¼

Pounds

Chicken Tenders, Boneless and Skinless

About 12

1

Cup

Ranch Dressing

2

Cups

Crushed Cornflakes Cereal

½

Cup

Shredded Sharp Cheddar Cheese
Instructions
Preheat oven to 400 degrees. Line a large baking sheet with parchment paper and set aside.

Add the ranch dressing to one medium bowl. Mix together the cornflakes and sharp cheddar in a separate medium bowl.

Dip the chicken tenders into the ranch dressing, then dredge the chicken in the cornflakes and cheddar mixture, pressing to coat as needed. Repeat with remaining tenders, until all are coated.

Place chicken tenders on prepared baking sheet and bake in preheated oven for 20-25 minutes, until chicken is crisp and has reached an internal temperature of 165 degrees.

Allow chicken to cool on the pan for 5 minutes after cooking. Serve with extra ranch dressing as desired.