From the tidbits I have read here and there, it seems that the tradition of kissing the Blarney Stone in Ireland is something that has been around for many a century. This legend says that if a person is to kiss the stone they will be blessed with the gift of gab. I like to think I already possess that gift, and I can't make it to Ireland today, and I'm not going to pretend to know anymore about this awesome Irish tradition. But, what I am going to do is use my gift of gab to talk about something I know very very well....Cake!!
When you start a food blog, there are requests galore. Everyone wants a piece of yo cake, so to speak. One of my first requests came from my mom. I was about to start mulling over some ideas, and as soon as the words St. Patrick's Day hit my tongue my mom announced, "I wan't Blarney Stones!" And I am a good daughter, so I said yes ma'am, and here we are!
Now, I can't say that these are traditional, but I can say that they are rather tasty. The cake is really soft, light and tender. Kind of like angel food cake, but not because it's in a sheet pan. I decided that my blarney stone cakes needed some green, so I whipped up some fluffy mint buttercream that is pretty much everything your minty dreams are made of. Finish them off by rolling in some chopped peanuts and you have, super soft melt in your mouth cake, dreamy mint frosting, and a little crunchy peanut. Yum.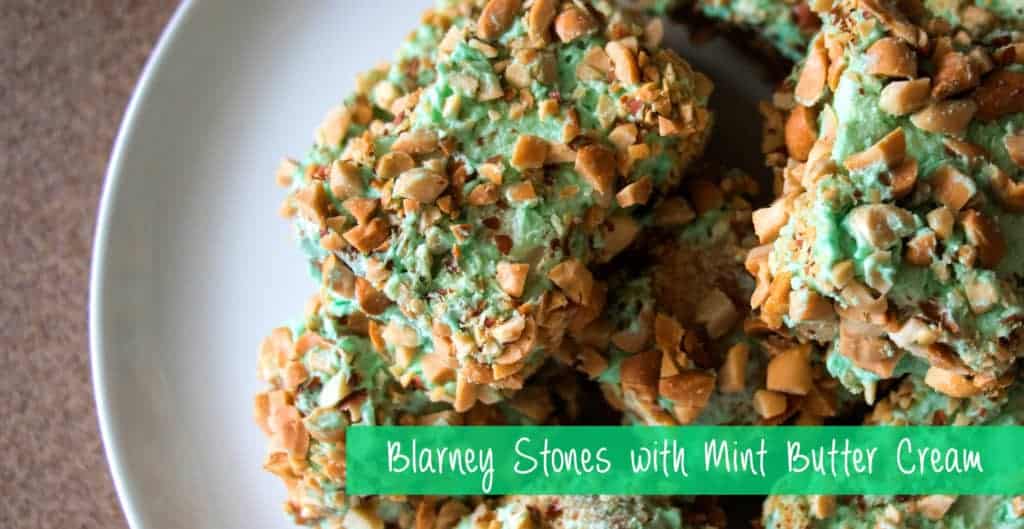 This cake is honestly really easy to throw together.  The most time consuming part is separating out 12 egg whites.  But, while you're doing that you can think of all the delicious things to do with your 12 left over egg yolks, and it will be over in no time.  Just whip em' up with your cream of tartar until you have stiff peaks.  Fold in your dry ingredients about ½ a cup at a time.  Take a big giant spoon and get your batter in your pan.  Let it cook for a good 30 minutes.  Tada! You made angel/not exactly angel food cake.
While your not angel food cake is baking, you can make your mint frosting.  This one's easy, no beating, then adding, then beating, then adding.  Just put the butter, powdered sugar, mint extract, green food coloring, and heavy cream in your mixer bowl and let it go for 2-3 minutes on high.  Take a spoon, taste your work. It's pretty. It tastes green, and it's amazing.
You'll want to turn your cake out onto a wire rack or the biggest cutting board you can find so it can cool.  Then you'll smell it, and take a little tiny piece off and stuff it in your mouth and burn your tongue, like I did. It was worth it. When it's cool go ahead and cut it into cubes of whatever size you like.  By the way, this makes a ton of Blarney Stones. Best to share, unless you don't want to, which I completely understand and will not judge.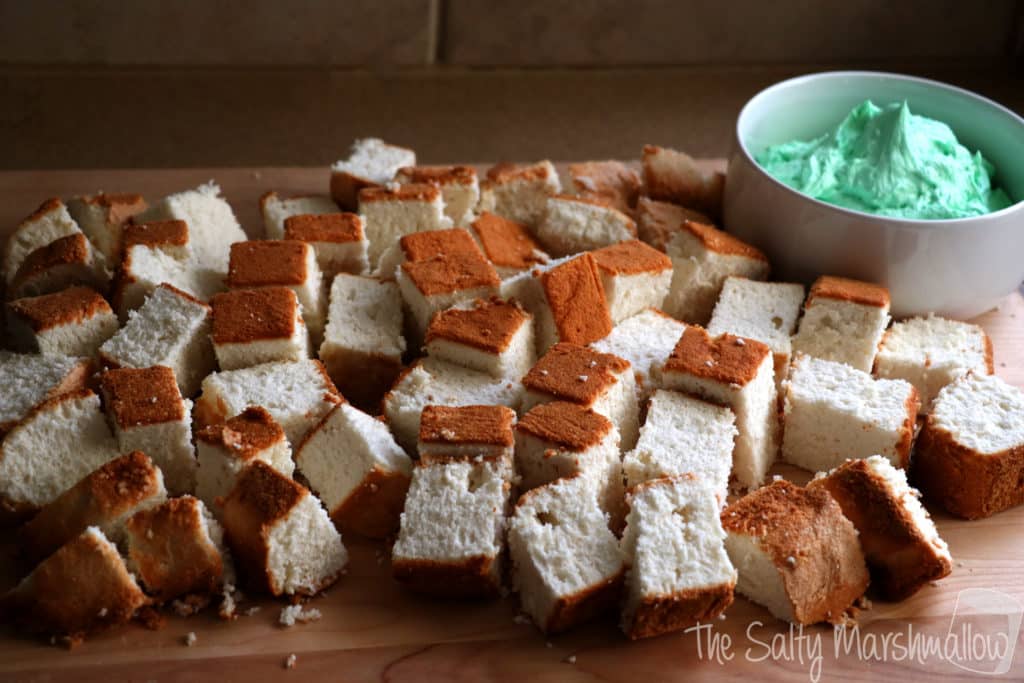 Now it's time to get a tad messy, but it's ok because you get to lick minty and peanutty yum off your fingers when you are finished.  Roll your cake cubes gently in your mint frosting, and when all sides are covered roll them in your perfectly rough chopped peanuts.
One more picture....since they are so nice to look at.
Enjoy! Recipe below!
Ingredients
1 ½

Cups

cake flour

2 ¼

Cups

sugar

Pinch of salt

1

Tsp

Cream of tartar

12

egg whites

½

Tsp

Vanilla extract

½

Tsp

Almond extract

1

Stick softened butter

2 ½

Cups

powdered sugar

1

Tsp

Mint extract

Green food coloring

1

Tbsp

Heavy cream or milk

Chopped peanuts for rolling
Instructions
Mix egg whites and cream of tartar together on high until stiff peaks form

In a separate bowl, whisk the sugar, flour, and salt for 2-3 minutes.

Fold dry mixture into egg white/cream of tartar mixture ½ cup at a time, folding gently after each addition, do not over mix.

Gently fold in almond and vanilla extracts.

Prepare 9x13 inch baking dish with aluminum foil or parchment paper, allow foil or parchment to come 2" over the side of the pan for easy removal.

Spoon batter into prepared pan.

Bake at 375 degrees for 30-40 minutes.

When cool enough lift cake from the pan by using the 2" hangover of parchment or foil.

Turn cake over onto wire rack or other cool nonstick surface and allow to cool for approximately 1 hour.

Beat together the butter, powdered sugar, mint extract, and milk/cream until smooth. 2-3 minutes.

Fold in drops of green food coloring until desired color is reached.

When cake is cool, cut into 2 inch squares.

Dip cake squares into mint frosting on each side and roll in salted peanuts.

Store in an air tight container.