BBQ Ranch Chicken Quesadilla Tacos......WHAT?!  Easy BBQ ranch chicken made in the slow cooker then stuffed inside of a cheesy quesadilla shell.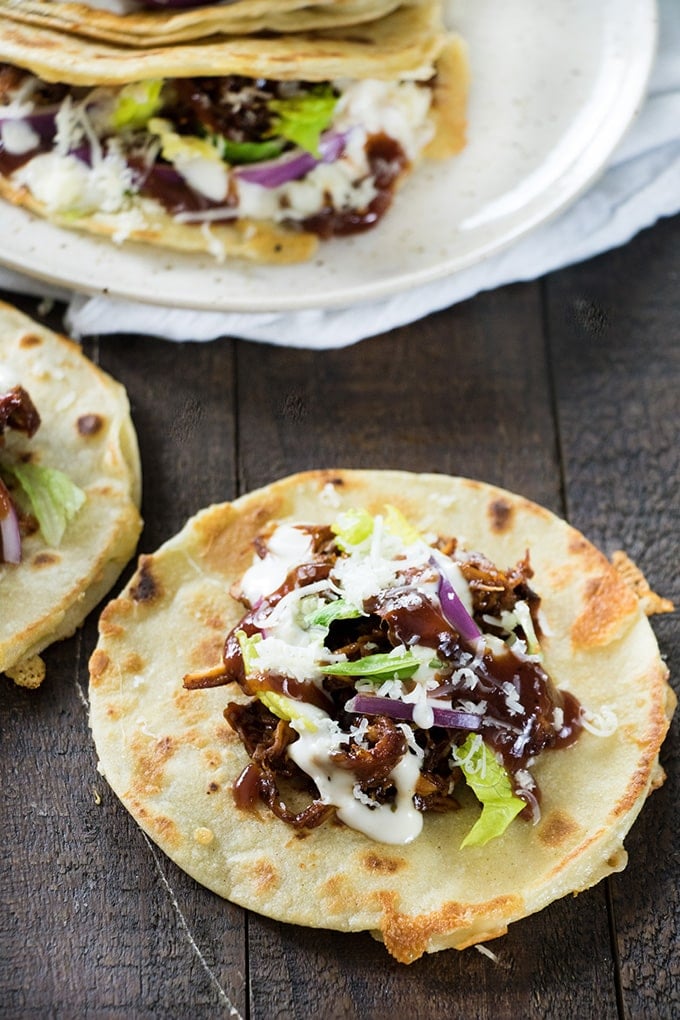 You. Guys.  Why in the world did I wait so long to use a little quesadilla as a taco shell?
I mean, I'm definitely not opposed to getting more cheese in my diet whenever humanly possible.  So, this only seems natural.
We use corn tortillas here, monterrey jack, cook it up in a little olive oil and it gets all crispy on the outside with melty cheesy goodness inside.
Check out the video for this recipe below!
I love a good spin on Mexican or Tex-Mex type food.  This dinner is honestly neither one of those....I like to think of it as a "Midwest-mex" dish if you will.
We love BBQ anything and everything in the Midwest, am I right?
So, this chicken goes right into the slow cooker with your favorite BBQ sauce, and a packet of ranch dressing mix. Cook it all day while your gone and dinner is basically ready when you get home.
If you don't want to use your crock pot, I definitely recommend keeping things easy and using a rotisserie chicken. Shred it up, add your BBQ sauce and ranch, good to go!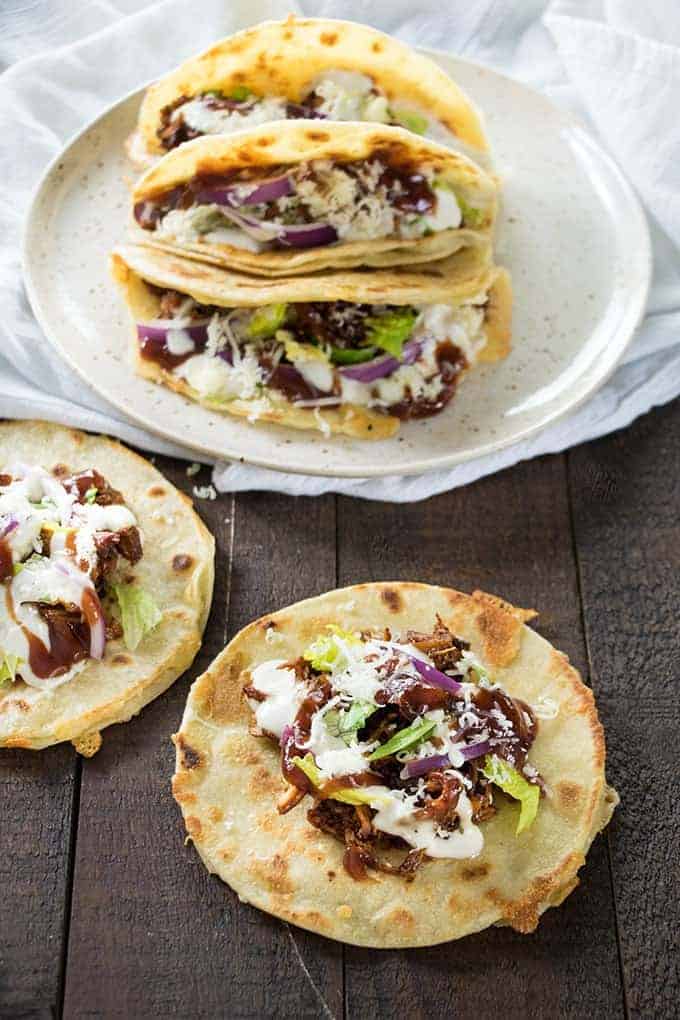 Get these mind blowing midwest-mex bbq chicken quesadilla blow-your-mind tacos on your menu pronto!
~Nichole
Ingredients
Instructions
Place chicken into slow coooker with the BBQ sauce and dry ranch dressing mix, stir. Cook on low for 7-8 hours or on high for 4-5 hours.

When the chicken has finished cooking, remove from slow cooker and shred, set aside.

Heat the olive oil in a large skillet over medium heat. Place one corn tortilla in the skillet, sprinkle with about 1 Tablespoon of shredded cheese, and top with another tortilla. Cook until golden brown, flip the tortilla over and cook until golden brown on the other side. While cooking the second side of the tortilla, you can use tongs to fold the tortilla in half to give it a "taco" shape. Sprinkle with salt as desired.

Repeat steps above with remaining tortillas until you have 8 quesadilla tacos total.

Stuff tacos with shredded chicken and toppings as desired.
Notes
NOTE: Cook time listed is for the slow cooker.